If you are planning a trip to the Land of the Pharaohs you may well be wondering what to wear in Egypt in order to keep cool and comfortable while at the same time respecting cultural norms when you are exploring the country's many attractions. In this post, we will attempt to answer any and all of the questions you may have about what you should wear in Egypt.
Classic Egypt Tours
First Things First
Before we delve into what to wear in Egypt, one needs to understand that Egypt is a Muslim country and also a rather conservative country. With that having been said, tourists are more or less free to dress as they wish. Nonetheless, as a show of respect, visitors should consider dressing on the conservative side. This is especially true when visiting religious sites such as mosques and churches but we will discuss this in greater detail shortly.
Continue reading to find the answers to some of the most frequently asked questions which people have about what they should wear when visiting Egypt.
What to Wear in Egypt as a Female Tourist
If you are a female traveler you might well be wondering what to wear in Egypt as a woman. Contrary to what you may have heard or read online, female tourists are generally free to dress as they wish although they are typically expected to dress more conservatively than men. Also, if you choose to wear very revealing clothes you run the risk of attracting unwanted attention. This is particularly true if you visit places that are off the regular tourist trial. Very few Egyptians will pass comments, but expect to have people staring at you.
With the above in mind, we would recommend that female tourists dressed conservatively. For most months of the year, we would recommend wearing loose-fitting clothes made from light fabrics. Breathable fabrics such as cotton are best. Clothes such as loose pants, loose dresses, flowy skirts and long-sleeved shirts are the best choice for most months of the year. Not only are they in line with cultural norms, but they are the most comfortable, while at the same time providing an effective layer of sun protection.
Why a Head Scarf Should be on Your Packing List
As a female traveler visiting Egypt you should definitely add a head scarf to your packing list if you intend to visit some of the country's breathtaking mosques. Women are required to cover their hair, neck and shoulders when entering a mosque. They should also cover their legs to at least just below the knees. Head scarves and long robes are available for hire at some of the mosques that are popular among tourists. As a woman, if you arrive at a mosque dressed inappropriately, you will need to pay a small fee for a headscarf and/or a long robe which you will have to return once you exit the mosque.
What to Wear in Egypt as a Man
Generally speaking, male tourists get a free pass and can more or less wear whatever they want when they are in Egypt. The Egyptian dress code for males is typically smart casual, but this doesn't really apply to male tourists. With that having been said, male visitors should refrain from visiting mosques in sleeveless tops and short pants.
As is the case with female tourists, we would recommend that male tourists opt for loose-fitting clothes made from breathable fabrics but if you want to wear short pants and t-shirts, feel free to do so. Just be warned that the sun in Egypt can be rather harsh, so if you want to avoid sunburn, we would recommend that you choose long sleeve shirts and long loose-fitting slacks.
The Best Footwear for Egypt
Just because Egypt is generally a very warm country, this doesn't necessarily mean that open sandals are always your best choice of footwear. Of course, there will no doubt be times when a pair of comfortable sandals is perfect. However, for sightseeing, which often involves quite a bit of walking and uneven terrain, we would definitely recommend wearing a pair of comfortable walking shoes.
Any closed toe shoes will suffice, including regular tennis shoes. Still, a pair of comfortable shoes that offer some support for your ankles would be our top recommendation, especially if you intend going inside any of the pyramids or if you plan to go hiking.
What to Wear to the Pyramids in Egypt
If you have ever seen pictures of the Giza Pyramids, you will have noticed that there is hardly any shade at the site. If you want to avoid serious sunburn, then we would recommend wearing the same sort of clothing which we have already discussed further up the page. In other words, baggy, loose fitting garments. Bear in mind that you can get serious sunburn even during Egypt's cooler winter months.
We also highly recommend wearing a wide brimmed hat, not only at the Giza Pyramids, but also at nearly all other archaeological attractions in Egypt. These are great for keeping the sun off your face and your neck. A pair of good quality Polaroid sunglasses is also highly recommended. The harsh sunlight at the pyramids and at many other archaeological sites in the country can be almost unbearable.
Keep in mind that the average pyramids tour lasts for around 2 to 2 1/2 hours. That is a long time to be in the full sun without any form of protection.
Last but not least, if you are planning to go inside any of the pyramids, then you will really want to wear a sturdy pair of shoes or trainers when you visit the sight. There are lots of ramps and stairs inside the pyramids, making sandals a poor choice of footwear.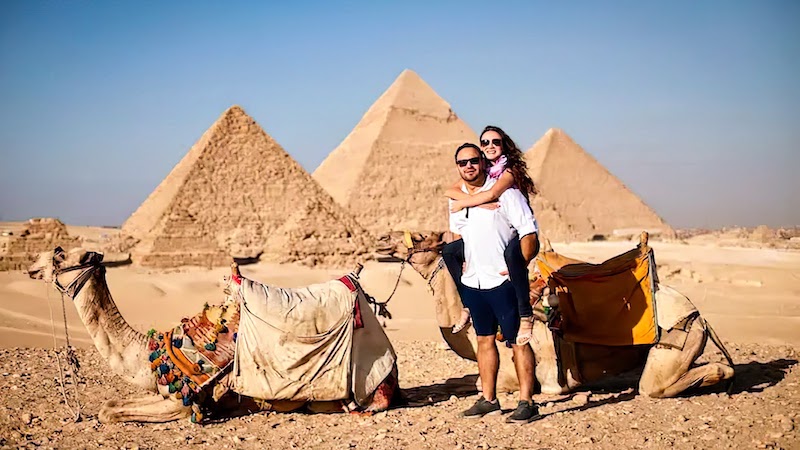 How to Dress for a Nile River Cruise
None of the Nile cruise boats that we know of have a strict dress code in place. However, on some of the better 5 star Nile cruises, passengers are expected to adopt a smart but casual dress code for dinner in the evenings.
All good quality Nile River cruises will include onshore excursions to several of Egypt's most popular tourist sites located in Upper Egypt. For onshore excursions, we would recommend that you wear the same sort of clothing as we have discussed above. In other words, loose fitting, lightweight garments, a wide brimmed hat, etc.
When you are on board the cruise ship, feel free to wear whatever you want to wear, including things like short pants, sleeveless tops, crop tops, short skirts, swimwear, etc. Topless sunbathing is not actually allowed but it is sometimes tolerated. With that having been said, we would advise against it, even if only out of respect for your fellow passengers.
Visiting Popular Beach Resorts in Egypt
If you are wondering what to wear in Egypt when visiting one or more of the country's fabulous beach resorts, don't worry. You can generally wear whatever you want to wear. In places like Sharm El Sheikh and Hurghada, the locals are fully accustomed to tourists and their ways.
All types of swimwear are acceptable on the beaches and around pools at hotels. However, we strongly advise against topless sunbathing (women) on any public beach because it is actually illegal. Some of the larger hotels and seaside resorts have their own private beaches and may or may not allow topless sun bathing.
It is also worth noting that some of the nightclubs and restaurants in places like Sharm El Sheikh and Hurghada have a smart but casual dress code in place.
Packing List Essentials
Hopefully, if you have read this post until this point, you will now have quite a good understanding of what to wear in Egypt. Nonetheless, here is a brief list of things which you should consider packing for your trip:
1or 2 comfortable pairs of shoes
A pair of sandals
Loose-fitting clothing made from breathable fabrics
A wide brimmed hat
A good quality pair of Polaroid sunglasses
A light and thin scarf if you are a female traveler
A light jacket if visiting any time from November to March
What to Wear in Egypt – Month by Month
Summary
Tourists don't have to be overly concerned about what to wear in Egypt. Most Egyptians, and especially those who live in touristy areas, don't expect all tourists to dress as conservatively as they do. With that said, dressing on the conservative side is seen as being respectful of cultural norms.
As we have mentioned throughout this article, baggy loose-fitting clothes are best when visiting Egypt, but it really depends on your personal preferences. Even as a female tourist, you can visit sites like the Giza Pyramids wearing a pair of short pants and a t-shirt if you want to and nobody will even bat an eyelid. However, female tourists should definitely avoid wearing very revealing clothing.
Start Planning Your Dream Vacation Today
If you are longing to visit Egypt our team of travel specialists at EgyptVacations.com can make you dream a reality. So, now that you know what to wear in Egypt, you can contact us right now to begin planning your dream trip or to book one of our epic pre-packaged vacations today.