If ancient Egyptian history fascinates you, then Luxor vacations might be exactly what you are looking for. Nestled on the east bank of the River Nile in Egypt lies Luxor, a city that is steeped in history and culture. Once the capital of Ancient Egypt, Luxor boasts an impressive collection of temples, tombs, and monuments that are a testament to the greatness of its past. Known as the "City of Pharaohs and Temples," Luxor is a destination that offers travelers a fascinating and educational vacation experience.
From the grand Luxor Temple to the awe-inspiring Valley of the Kings, Luxor is a destination that has something for everyone. It provides a true glimpse into the past, showcasing the remarkable achievements of Ancient Egypt's civilization, which dates back more than 3,000 years. Whether you're interested in history or simply looking for a unique adventure, Luxor offers an unforgettable experience that will leave you with a newfound appreciation for the rich cultural heritage of Egypt.
Classic Egypt Tours
Getting to Luxor, Egypt
For those traveling from abroad, Luxor International Airport is the primary gateway into the city. Several major airlines operate flights to Luxor from various international destinations, including EgyptAir, Turkish Airlines, and British Airways. Visitors can also opt to fly into Cairo International Airport and take a domestic flight to Luxor.
Traveling from Cairo to Luxor by Train
If you're looking for an alternative to flying, you can also travel from Cairo to Luxor by train. The train journey takes approximately nine hours and offers a scenic view of the Egyptian countryside along the way. It's a great option for those who want to see more of the country and experience a bit of local culture.
Egypt's national railway service, the Egyptian National Railways, operates several trains daily between Cairo and Luxor. The trains are relatively comfortable, with air conditioning and sleeper cabins for overnight journeys. However, it's essential to book your tickets in advance, especially during peak tourist season, as trains can fill up quickly.
To book your train tickets, you can visit the Egyptian National Railways website or visit a local travel agency in Cairo.
Egypt Vacation Packages that Include Luxor
If you're looking for a hassle-free way to experience Luxor's cultural and historical wonders, consider booking an Egypt vacation package that includes Luxor as part of the itinerary. Many tour operators offer comprehensive packages that cover everything from flights and accommodations to guided tours of the city's top attractions. These packages are especially popular with families looking for a structured and educational Luxor vacation experience.
With a good quality tour package, you can rest assured that everything is taken care of, leaving you free to enjoy all that Luxor has to offer without any stress or worries.
Nile River Cruises
A Nile River cruise from Aswan to Luxor or from Luxor to Aswan is a fantastic way to experience the beauty and majesty of the Nile while exploring the ancient temples and monuments that line its banks. There are many different Nile River cruise options to choose from, ranging from budget-friendly options to luxury cruises which are literally like floating hotels with all the amenities you could want.
If you are going to be entering the country via Cairo, consider flying or taking a train to Aswan, and then boarding a Nile cruise to Luxor.
Top Attractions in Luxor
Luxor is renowned for it many breathtaking ancient temples, tombs and ruins, all of which have been around for thousands of years. If you are planning a Luxor vacation, be sure to add the following five sites to your bucket list of must-see attractions. You will not regret it!
Valley of the Kings
The Valley of the Kings is a famous archaeological site in Luxor that is home to the tombs of pharaohs and powerful nobles from the New Kingdom period of ancient Egypt. This fascinating site is a must-visit for anyone interested in ancient history and archaeology.
Visitors can see the elaborate decorations and hieroglyphics that adorn the walls of the tombs and learn about the stories and rituals of the pharaohs who were buried here. With over 60 tombs to explore, including those of Tutankhamun and Ramses II, the Valley of the Kings is a true highlight of any Luxor vacation.
Temple of Karnak
The Temple of Karnak is one of Luxor's most awe-inspiring ancient sites, and it is considered one of the largest religious complexes in the world. This remarkable temple was built over a period of 2,000 years and was dedicated to the worship of the god, Amun. Visitors can marvel at the beautifully preserved and intricately decorated columns, statues, and obelisks, which give insight into the skill and artistry of the ancient Egyptians.
The Hypostyle Hall, in particular, is a highlight of the temple, with its 134 giant pillars standing at 23 meters tall. Exploring the Temple of Karnak is an unforgettable experience that will leave you with a deep appreciation for the rich history and culture of ancient Egypt.
Luxor Temple
Luxor Temple is one of the most impressive ancient sites in Luxor, known for its stunning architecture and fascinating history. Built over 3,000 years ago, this temple was dedicated to the god Amun and was used for important religious ceremonies and festivals. Visitors can explore the temple's grand entrance, which is lined with towering statues of the pharaohs, and marvel at the intricate carvings and hieroglyphics that adorn the walls.
The temple's inner sanctum is equally impressive, with its massive pillars and ornate decorations that transport visitors back in time to the glory days of ancient Egypt.
Colossi of Memnon
The Colossi of Memnon are two massive statues that have stood guard for over 3,400 years at the entrance to the ancient city of Thebes. These imposing figures, each standing at 18 meters tall, depict the pharaoh Amenhotep III and were once part of a larger temple complex that has long since disappeared. Despite the damage caused by centuries of exposure to the elements, these statues remain an impressive sight to behold and are a testament to the skill and craftsmanship of ancient Egyptian artists. Visiting the Colossi of Memnon is a must on any Luxor vacation, as they provide a unique glimpse into the power and majesty of the pharaohs who ruled the Nile Valley so many centuries ago.
Hatshepsut Temple
Hatshepsut Temple, also known as Deir el-Bahri, is a stunning temple complex located on the west bank of the Nile River in Luxor. This temple was built during the reign of Queen Hatshepsut, one of the few female pharaohs in ancient Egyptian history. The temple's unique design, with its terraced levels and colonnaded structures, stands out among the other ancient sites in Luxor.
Visitors can explore the temple's various chambers and halls, including the beautiful Chapel of Hathor and the Sanctuary of Amun. The temple's impressive reliefs and carvings provide a window into the life and reign of Queen Hatshepsut and her contributions to ancient Egyptian culture and society. As with all of the sites described above, it is best to visit Hatshepsut Temple with a professional guide.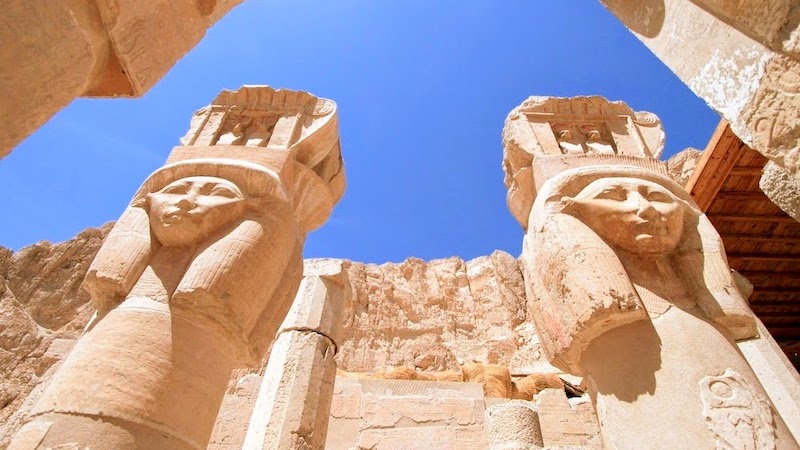 Exploring the Nile River
Exploring the banks of the Nile River is a truly unforgettable experience. In the times of ancient Egypt, pharaohs would rely on the Nile to get from one place to the next, and for convenience, they built their monuments along the river's banks. If you want to follow in the footsteps of pharaohs during your Luxor vacation, then you should seriously consider a Nile River cruise, or even just a felucca ride on the river.
Nile River Cruises
Nile River cruises offer a unique and luxurious way to explore the river and its surroundings. They provide visitors with stunning views of ancient temples and monuments, as well as the opportunity to experience the culture and daily life of modern-day Egyptians. Good quality Nile River cruises are one of the best ways to explore the historic river and its many ancient sites.
These cruises offer visitors the chance to relax and enjoy the scenery as they make their way down the Nile, with stops at important sites along the way. Most cruises from Aswan to include include sightseeing in Aswan, Kom Ombo, Edfu and Luxor where you will visit all the top Luxor attractions mentioned further up the page.
On a 5-star Nile River cruise, visitors can enjoy all the amenities of a luxury hotel, with comfortable accommodation, delicious dining, and plenty of onboard activities and entertainment. Some cruises even offer lectures and presentations by Egyptologists, providing a deeper understanding of the history and culture of ancient Egypt. With the convenience and comfort of a Nile River cruise, visitors can experience the wonders of Luxor and the Nile Valley in style.
Of course, one of the biggest advantages of a Nile River cruise is that it allows visitors to see multiple sites over the course of a few days, without having to worry about transportation or accommodation.
Felucca Rides
For those looking for a more traditional and authentic experience on the Nile, a felucca ride is the way to go. These traditional wooden sailboats have been used on the Nile for centuries and provide a peaceful and serene way to explore the river. Felucca rides are typically shorter than Nile River cruises, usually lasting a few hours, but they offer a unique and intimate perspective on the river and its surroundings.
Visitors can watch the sunset while sipping tea and enjoying the gentle breeze as they sail along the Nile. Felucca rides are also a more affordable option for those on a tight budget, making them a great choice for travelers looking to experience Luxor in a more low-key and relaxed way.
Longer multi-day felucca cruises are also available, but don't expect any creature comforts. Expect to sleep on deck in a sleeping bag, and expect meals to be very basic.
Local Cuisine in Luxor
No Luxor vacation is complete without trying some of the local cuisine. Egyptian food is a delightful blend of flavors and influences from Africa, the Middle East, and the Mediterranean. Many dishes incorporate staples such as beans, rice, and flatbreads, as well as flavorful spices and herbs like cumin, coriander, and mint.
Some must-try dishes include koshari, a hearty dish made with lentils, rice, and pasta, topped with a spicy tomato sauce and crispy fried onions. Another popular dish is ful medames, a breakfast staple consisting of slow-cooked fava beans served with olive oil, lemon, and fresh herbs. For meat lovers, kebabs and shawarma are widely available, often served with a side of fluffy pita bread and flavorful dips like hummus and baba ghanoush.
And, for those with a sweet tooth, be sure to try some traditional Egyptian desserts like basbousa, a semolina cake soaked in syrup, or konafa, a pastry made with shredded phyllo dough and filled with creamy cheese or nuts.
Tips for Traveling in Luxor
When traveling to a foreign country for the first time, it's always good to pick up a few tips before you travel. So, here are a few tips that can help to make your Luxor vacation even better than you expect:
Dress code and cultural norms
It's important to note that Egypt is a predominantly Muslim country with conservative cultural norms. When visiting Luxor, it's recommended to dress modestly and respectfully, covering your arms and legs. However, this is not a hard and fast rule. In fact, you will most likely see many tourists wearing shorts and teeshirts, although this is not permitted inside mosques. Women also need to wearin a headscarf when visiting mosques.
Additionally, it's important to be aware of cultural norms, such as removing your shoes before entering someone's home or not eating with your left hand. Last but not least, public displays of affection are frowned upon in Egypt. Following these customs will not only show respect for the local culture but also make for a more enjoyable and comfortable trip.
Safety tips
Always carry a copy of your passport and visa with you.
Avoid traveling alone at night and stick to well-lit areas.
Be cautious of pickpocketing in busy tourist areas.
Keep an eye on your belongings and do not leave valuable items unattended.
Be aware of your surroundings and do not accept any unsolicited offers or invitations.
Only use licensed and reputable tour operators and taxis.
Follow the instructions of local authorities and respect any cultural or religious restrictions.
Stay hydrated in the hot weather and avoid drinking tap water.
Seek medical attention immediately if you experience any symptoms of illness or injury.
Purchase travel insurance before your trip to cover any unforeseen circumstances.
Visa Requirements
As with any international travel, it's essential to check visa requirements before embarking on your journey. Travelers from most countries can obtain a visa on arrival at any international airport in the country, including Luxor International Airport. These are single-entry tourist visas, valid for up to 30 days. However, some nationalities may need to obtain a visa in advance, so it's best to confirm with your embassy before traveling.
Best time to visit Luxor
The best time to visit Luxor is during the winter months, from November to February, when temperatures are much cooler and more comfortable for outdoor activities. The average temperature during this time is around 20°C (68°F) during the day and 10°C (50°F) at night. This is also the peak tourist season, so expect larger crowds and higher prices for accommodations and tours.
If you prefer to travel during the shoulder season, March to April and September to October, are also good options. The weather is mild, and crowds are smaller, allowing for a more peaceful and relaxed Luxor vacation experience. However, temperatures can still be quite warm during the day, so be sure to stay hydrated and wear sunscreen.
Avoid visiting Luxor during the summer months, from June to August, as temperatures can soar up to 40°C (104°F) or higher, making it difficult to enjoy outdoor activities. Additionally, this is the low tourist season, with some tourism-related businesses closed and limited tour options available.
In summary, the best time to visit Luxor is any time from October to April, for comfortable temperatures and a bustling tourist scene. However, if you prefer a quieter vacation experience, the low season from May to September may be a better option, but think twice before visiting in June, July, or August.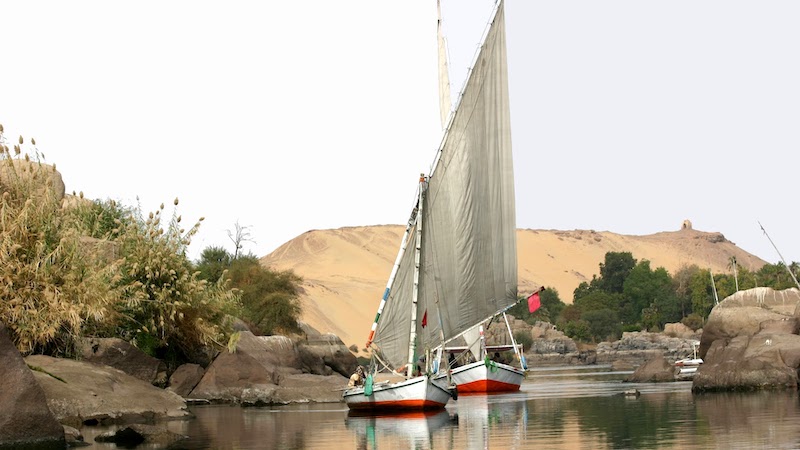 Frequently Asked Questions
Conclusion
In conclusion, Luxor is an ideal destination for friends, families and solo travelers looking for a cultural and educational vacation experience. Don't miss out on the top attractions in Luxor including the Valley of the Kings, Karnak Temple, Luxor Temple, and the Colossi of Memnon. With careful planning and preparation, your Luxor vacation is sure to be an unforgettable experience.
With so much to see and do in Luxor, and with plenty of accommodation options that cater for all budgets, some people would even argue that Luxor is the best city to visit in Egypt, especially if you are fascinated in ancient Egyptian history.
So, what are you waiting for? Visit us today to browse through our epic range of Egypt tour packages that include guided sightseeing tours in Luxor. Alternatively, contact us now and let us help you to plan a flawless Luxor vacation which you will well and truly never forget.