If you are wondering what to do in Luxor, then this post is definitely for you because we will be discussing all the best places to visit and the best things to do. Modern day Luxor has sprung up and grown around Thebes, the ancient Egyptian capital during the New Kingdom era. As a result, Luxor is home to some of Egypt's most breathtaking ancient monuments.
Classic Egypt Tours
The Ultimate Things to See and Do
If you haven't been using professional tour guides up until now during your travels in Egypt, now is the time to do so. Luxor's ancient temples and tombs are not only visually breathtaking, but each one of them is unique, with their own fascinating history. Visiting these sites with a professional tour guide will make your visit more rewarding than you could possibly imagine.
Bus tours that include a guide are one option. However, you may be part of a group consisting of 20 to 30 people, and a single tour guide simply cannot engage with each person in such large groups. To get the most out of your trip, we would strongly recommend that you book a private tour or tours that include your own professional tour guide, driver and air conditioned vehicle.
Okay, let's begin with the top places to visit on the East Bank and West Bank of the Nile River in Luxor:
Karnak Temple – the Largest Place of Worship ever Built on Earth
No visit to Luxor is complete without a trip to Karnak Temple. Built over 2,000 years ago, this complex of temples is the largest ancient religious site in the world. The complex was extended and added to by numerous Egyptian kings over a period spanning more than 2,000 years
This vast site, which is generally believed to be Egypt's second-most visited ancient monument, is full of statues, obelisks and hieroglyphs that finely depict the culture and beliefs of Ancient Egypt. You can also view the impressive columns in the Great Hypostyle Hall and explore the various chapels that were dedicated to different gods.
Luxor Temple and its Towering Statues
Luxor Temple is an ancient temple complex located near the modern city of Luxor, Egypt. It was built by Pharaoh Amenhotep III and it was added to by Tutankhamun, Ramses II and Alexander the Great, among others. The temple is a stunning sight with its towering statues, obelisks and hieroglyphics.
Its impressive structures include the First Pylon, which is adorned with scenes of battle and conquest. The walls are also adorned with scenes from the Book of Gates and other texts from Ancient Egyptian mythology. You can also explore the Birth House, where Pharaoh Amenhotep III's daughter Meritamun was born. There are also shrines dedicated to gods such as Isis, Osiris and Amun. Once again, this is a site which you definitely want to visit with a professional tour guide.
For a truly enchanting experience, we would also recommend visiting Luxor Temple at night to enjoy a spectacular professionally narrated Sound and Lights Show during which this ancient temple complex is beautifully illuminated.
Valley of the Kings – Home to 62 Royal Tombs
The Valley of Kings is an ancient royal necropolis located on the west bank of the Nile River near the modern city of Luxor. The site is home to more than 60 ancient Egyptian tombs, including Egypt's most famous tomb, that of King Tutankhamun which is truly a spectacular tomb. However, there are even more elaborate tombs at the site.
The valley Of Kings was reserved mostly for royal tombs but a number of high-ranking officials and high priests were also laid to rest in the valley. Nearly all of the tombs at the site were looted and raided in antiquity, with the tomb of King Tutankhamun being a rare exception, since his tomb was still sealed upon its discovery in the early 20th century.
The Mummy of King Tutankhamun is on display in his tomb in the Valley of Kings, but most of the artifacts and relics that were discovered in his tomb are now on display at the Grand Egyptian Museum at Giza on the outskirts of Cairo.
Several of the tombs are open to visitors. A general admission ticket for the site typically includes entry to3 or 4 tombs. However, to enter some of the more famous tombs, visitors are required to purchase additional tickets at the site, so budget for an extra cost if you want to enter these so-called special tombs.
Be sure to add the Valley of Kings to your "What to do in Luxor" bucket list. We can assure you, you won't regret visiting this incredible site.
The Mortuary Temple of Queen Hatshepsut – One of Egypt's Incomparable Ancient Monuments
The Mortuary Temple of Queen Hatshepsut is one of the grandest and most impressive monuments in all of Egypt. Located at the base of steep cliffs on the west bank of the Nile River near Luxor, this awe-inspiring structure was dedicated to Pharaoh Hatshepsut who ruled during the 18th dynasty.
The temple was constructed over a period of 15 years and features an impressive colonnaded courtyard and a stunning central chapel with its distinctive terraced design. The temple's walls are adorned with beautiful reliefs depicting scenes from Queen Hatshepsut's reign as well as religious texts, while its columns feature carved figures of deities such as Isis, Hathor, Amon-Ra and Ptah.
Built to serve as a funerary temple, Hatshepsut Temple is without question one of Egypt's most famous temples and also one of the most popular attractions in Luxor.
A visit to this legacy of one of Egypt's only true female pharaohs is really a must if you are wondering what to do in Luxor. Again, having a professional tour guide with you will make your visit more rewarding than ever.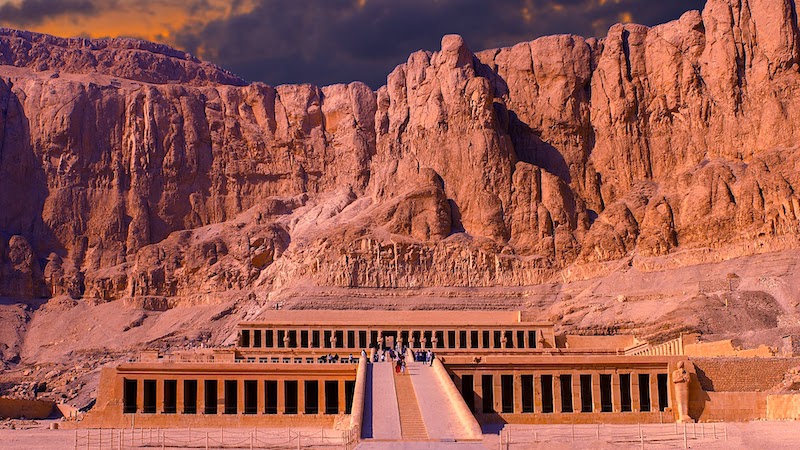 The Towering Colossi of Memnon
The towering Colossi of Memnon is one of the most iconic sites in Luxor. Situated on the west bank of the Nile, these two huge granite statues stand guard like sentinels over the entrance to what was once Amenhotep III's mortuary temple. The colossal statues measure a staggering 18 meters in height and each weigh an estimated 700 tons! They are believed to be representations of Pharaoh Amenhotep III himself.
Both of these tall statues were badly damaged by an earthquake in 27 BC and have since become known as the Colossi of Memnon. The site has been frequented by visitors for centuries, and even today it's one of the most popular tourist destinations in Luxor.
Temple of Medinat Habu – A Mortuary Temple of Ramses III
The Temple of Medinat Habu is a remarkable mortuary temple of Ramses III, located on the west bank of the Nile in Luxor. Constructed during the 19th Dynasty, this impressive site is considered to be one of the best-preserved temples in Egypt and it's often compared to Karnak Temple due to its enormous scale and grandeur.
The imposing structure is composed of several pylons (gates) which lead into a complex system of courtyards, halls and columns famously known as the 'Million Years Palace'. The walls are decorated with intricate reliefs depicting scenes from battles against enemies, scenes from hunting expeditions, as well as religious texts and images related to ancient Egyptian gods and goddesses.
The Temple of Medinat Habu is a must-see if you're wondering what to do in Luxor, and it's definitely worth the hassle of getting there. Make sure to bring your camera because this is one site that you will absolutely want to capture on film!
The Valley Of Queens
The Valley of Queens is an incredible site located on the west bank of the Nile in Luxor. This valley, also known as Ta Set Neferu or 'The Place of Beauty', was once the burial place for many members of Egyptian royal families, including queens, princes and princesses. The valley consists of over 90 tombs, most of which are from the 18th Dynasty, although some date back to earlier periods.
The main tombs at this site belong to Queen Nefertari and Tutankhamun's mother Queen Kiya, as well as Queens Tyti, Tiaa and Henuttawy. The tomb of Queen Nefertari is particularly impressive with its beautifully painted walls depicting scenes of ancient Egyptian gods and goddesses. A visit to the Valley of Queens is definitely a must if you're wondering what to do in Luxor!
Valley of the Nobles
The Valley of the Nobles, located on the west bank of the Nile in Luxor, is a remarkable site that was once a burial ground for many of Egypt's most powerful and influential individuals. This valley contains several tombs from different periods as well as a number of monuments and temples dedicated to various gods and goddesses.
The most impressive tomb at this site is undoubtedly that of Useramun, vizier to Pharaoh Thutmose III. His tomb features stunning painted reliefs depicting scenes from his life as well as religious texts. Other notable tombs include those of Ramose, governor under Amenhotep III; Huy, viceroy under Tutankhamun; Nakht, an official under Akhenaten; and the tomb of Padihor, Overseer of the Granaries.
Exploring the Valley of the Nobles is a great way to discover more about ancient Egyptian life and culture and it's definitely worth adding to your list of things to do in Luxor!
Deir Al-Medinah – The Workers Village
Located just outside of Luxor on the west bank of the Nile is Deir Al-Medinah, an archaeological site which was once a workers village. This ancient village dates back to the time of Amenhotep III and it's believed that it was used as a place for workers to live while they were constructing nearby tombs and monuments.
The site consists of several ruins, including houses, workshops and chapels dedicated to various gods and goddesses. It also contains a number of tombs belonging to high-ranking officials and their families.
Exploring Deir Al-Medinah is a great way to discover more about life in Ancient Egypt and it's also definitely worth adding to your list of things to do in Luxor!
Visit the Luxor Museum
Is Luxor Museum worth visiting? Absolutely! Located in the heart of Luxor city, the Luxor Museum houses an impressive collection of artifacts and relics from ancient Egypt. It houses over 3,000 objects representing ancient Egyptian history, ranging from mummies to jewelry and sculptures to pottery. One of the most famous pieces on display here is a statue of King Tutankhamun, which was discovered by Howard Carter in 1922. Other highlights include ancient papyrus scrolls with hieroglyphs, and a stunning huge statue of Amenhotep III.
The museum also offers visitors a unique view into the life and times of ancient Egypt with its detailed exhibits and displays. The museum has recently undergone extensive renovations to make it more accessible and more enjoyable for tourists.
Luxor museum certainly cannot compete with the Egyptian Museum in Cairo or the Grand Egyptian Museum at Giza, but it is an excellent place to visit for anyone who wants to learn more about the ancient history of Luxor, Egypt.
A Felucca Boat Ride to Banana Island
If you're looking for something a bit different than the typical sites and monuments in Luxor, why not take a felucca boat ride to Banana Island? Located to the north of Luxor, this island offers visitors an unforgettable experience as you sail across the river enjoying views of Luxor's iconic monuments. Once on the island, explore its beautiful gardens and enjoy some traditional Egyptian snacks while admiring the lush banana trees that grow here.
The felucca boat rides usually last around two hours and there are plenty of experienced captains who will be happy to show you around. If you book your trip for the late afternoon, you will almost certainly also get to enjoy a truly spectacular sunset. A boat ride to this lush island is absolutely perfect for people who need a break from the hustle and bustle of the city and the area's hot and dusty archaeological sites.
You can book your felucca boat ride to Banana Island directly through one of the boat owners, but be prepared to haggle hard in order to get a good deal. If you want to avoid this sort of stress and hassle, consider booking through a reputable travel agent.
Take In a Breathtaking Hot Air Balloon Ride
One of the most exhilarating things to do in Luxor is to take a hot air balloon ride. Drifting high above the stunning monuments and ancient tombs of Luxor, a hot air balloon ride will provide you with some truly breathtaking views. The balloons can reach altitudes of over 1,000 feet, and you'll be able to spot some iconic landmarks such as the Valley of the Kings, Karnak Temple and Habu Temple from on high.
There are several companies in Luxor offering hot air balloon rides, but it's best to book your trip through a reputable operator that has been given the necessary permits by the Civil Aviation Authority. As of the time of writing, the prices for private flights were ranging between $150 and $200. This might seem like a lot, but an early morning sunrise hot air balloon ride, is worth every penny for the experience of a lifetime.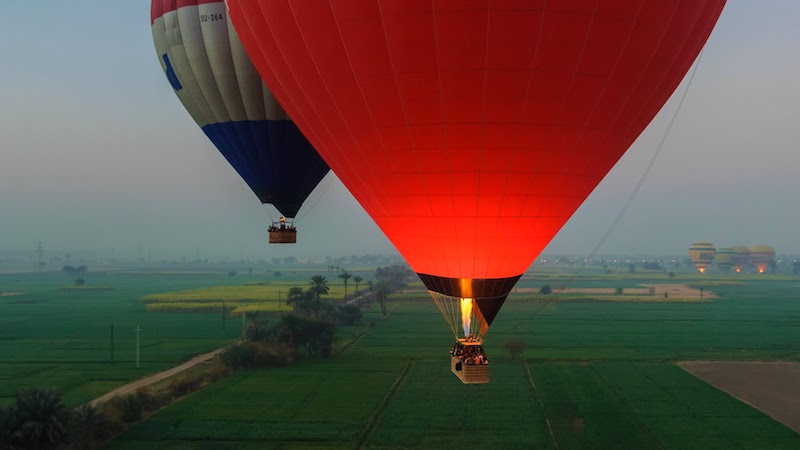 Enjoy a Quad Bike Safari in the Desert
For those looking for a unique adventure in Luxor, a quad bike safari in the desert is an unforgettable experience. Covering around 8km and typically lasting for around 2 hours, a safari will take you on winding paths through the golden sand dunes of the desert and provide you with captivating views of Luxor's iconic monuments from afar. During your journey, your guide will point out interesting facts about the local flora and fauna, as well as discuss the history of ancient Egypt.
The tour can be tailored to suit any level of experience, so don't worry if you've never been on a quad bike before. The bikes are all automatic and easy to operate; they also come with helmets for safety reasons. At the time of this post being written, prices for a quad bike safari were typically starting at around $50 per person.
Before booking your safari you should ask your chosen tour operator whether water is included. If it is not, then be sure to take a good supply of bottled water with you to quench your thirst and stay hydrated while you are in the desert.
What to do in Luxor, Egypt at Night
Luxor, Egypt, is a city full of fun things to do, both during the day and at night. At night, the city's monuments and tombs take on an entirely different charm as they are illuminated with floodlights. To experience this magical atmosphere, one of the best things to do in Luxor at night is to take a guided tour of some of the monuments and tombs. Professional tour guides will explain all about the fascinating history behind each site and give you plenty of time to take photos along the way.
Another great option for seeing Luxor at night is to take an evening cruise down the Nile River. Most cruises offer dinner on board which usually includes a choice of traditional Egyptian dishes such as koft a (ground beef). After dinner, you will be able to enjoy panoramic views of Luxor's monuments and tombs as they are lit up by the moonlight.
If you want to combine dining with entertainment then head to one of the city's many bars or clubs. You'll find everything from traditional belly dancing shows to international DJs spinning the latest hits.
Try your luck in a Casino
Several online sources will tell you that gambling is illegal in Egypt. In reality, however, Egypt is home to many casinos. If you are feeling lucky and you want to try your hand at some gambling, the staff at the hotel where you are staying will be happy to point you in the right direction.
As of the time of writing, Egyptian citizens were not allowed to take part in gambling activities or even enter casinos. For foreigners, it is a very different matter altogether. It is also worth noting that only shore-based casinos are legal in Egypt. In other words, don't expect to find any casinos on Nile cruise ships.
Is Luxor Safe for Tourists?
Is Luxor city safe, and especially at night? Luxor is a generally safe and secure city for tourists, particularly during the day. Tourists should however be aware of pickpockets and petty theft in crowded places, so it is advisable to keep your valuables well hidden away.
At night it is also best to stick to areas within the city center that are well-populated and avoid going out alone. It is also recommended to use taxis instead of walking around after dark.
Visitors should also make sure that their hotel has 24-hour security at its entrance, as this will help to ensure their safety when returning late from sightseeing or nights out. There are also plenty of tourist police stationed throughout Luxor who can be called upon if needed. If you do find yourself in need of help, it is usually best to find a public place and ask for assistance from a local.
Book a Luxor to Aswan Nile River Cruise
Luxor is often described as being one of the world's most impressive and biggest open air museums, And there really is no better way to experience it than by way of a good quality five star Nile River cruise. At EgyptVacations.com, we offer a spectacular range of Nile cruises that include excellent accommodation, excellent cuisine, and professional Egyptologist guided excursions to all the top sites located along the banks of the Nile River from Luxor to Aswan.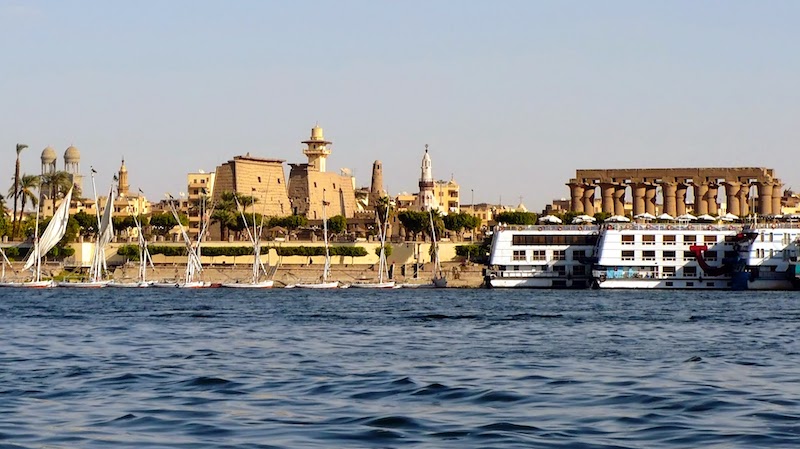 In Conclusion
If you are wondering what to do in Luxor, Egypt and/or, is Luxor worth visiting, we can assure you that it's one of the most fascinating major cities in the country that has plenty to offer for everyone who visits. Whether you are a devoted history buff, or whether you simply want to take a step back in time, a visit to Luxor is guaranteed to leave you with lifelong memories. Luxor really is an incredible city with so much to see and do for all types of travelers, and it is by far the most interesting and most fascinating city in all of Upper Egypt.
Start Planning your Once in a Lifetime Vacation Today
At EgyptVacations.com, we have a spectacular range of Egypt package tours, all of which can be customized to meet your own exact needs. We also offer personalized tailor-made tours that are based on your own individual needs and requirements. And, when you book your vacation through us, you are booking through an Egypt tour operator that has been selling high quality package tours and Nile River cruises for more than 60 years, so you can be sure that your journey through Egypt will be well and truly flawless from beginning to end.
Contact us now to find out more about what to do in Luxor, or to begin planning your dream vacation to Egypt today.