Luxury Nile Cruises
Luxury Nile Cruises that you book with us really take Nile River cruises to a whole new level. They are the perfect match for anyone who is longing to explore Ancient Egypt while at the same time enjoying a luxurious travel experience. From the moment you arrive for your luxury Nile river cruise, to the moment you board your flight back home, your vacation is guaranteed to be absolutely flawless in every possible way.
From VIP customer service to world-class dining and 5-Star accommodation, our luxury Nile cruises make it possible for you to enjoy the best of Egypt in unforgettable style.
CREATE YOUR DREAM TRIP
YOU DESERVE THE EXPERIENCE OF LUXURY NILE CRUISES
You Deserve The Experience Of Luxury Nile Cruises.
Whether you are a first-time traveler to the amazing land that is Egypt, or you have been many times before, it is a very good idea to consider booking passage on one of the different luxury Nile cruises. While luxury itself is a wonderful thing to enjoy during any holiday, there is a difference between a luxury cruise and luxury Nile cruises.
For example, a luxury cruise is usually about the pampering you receive aboard the ship, and your journey may not involve much activity on shore. You may see many beautiful things, enjoy a few fun excursions, and savor lots of fine dining and comforts while sailing, but this sort of luxury is entirely different from what you encounter during luxury Nile cruises.
DEFINING LUXURY NILE CRUISES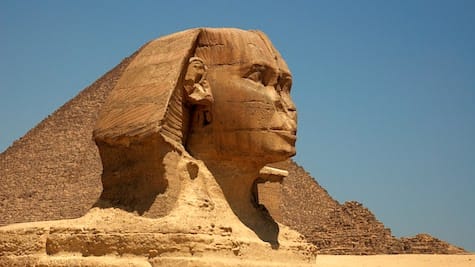 If you are heading to Egypt in order to enjoy visits to some of the most famed destinations in the world, such as the different pyramids spread throughout the landscape, the gorgeous temples, and the different burial sites, doing so from the comfort of luxury Nile cruises is a fantastic option. Though there are many ways to visit Egypt and to do so in great luxury and style, if you are eager to take in most of the Pharaonic or Ancient Egyptian sites, the different luxury Nile cruises are the ideal option.
Yes, you can use the trains, air transportation and even private car, but few things can compare to approaching temples and ancient sites from the water – as the Ancient Egyptian leaders and peoples did. There is little that can compare to sitting on the deck of your luxury cruiser or classic dahabiya and gazing up at the stars or hearing the voices or songs of the modern Egyptian farmers as they plow their fields with oxen. This is the epitome of comfort and adventure, but also of luxury, and it starts to explain how different luxury Nile cruises are from standard luxury travel.
This is because the term luxury encompasses many different things when it occurs aboard a Nile cruise. Luxury is certainly what you will find in your onboard experiences, for instance. From large and beautifully appointed cabins, to a long list of world-class amenities that might range from spas and boutique shopping to five-star gourmet meals and attentive service from the crew, luxury is in abundance. Yet, luxury is also in the overall experience onboard the vessel and during your land excursions.
For instance, it is usually only the luxury Nile cruises that include expert lectures aboard the ship, and usually from noted historians, archaeologists, Egyptologists and others. They also deliver guided tours when you make shore excursions, taking questions and making the experience far more satisfying than any other approach. They may even be able to provide access to locations or sites that other travelers are unable to reach or witness.
Of course, the luxury of these cruises is also seen in the pace. While a typical four or five-day tour from Luxor to Aswan might dedicate a morning or a portion of the day to the West Bank sites at Luxor, it ends up being rushed at best. Luxury Nile cruises can often provide a full day in these world-famous areas, and days paced to allow you to see the most wonderful destinations including King Tut's tomb, Hatshepsut's gorgeous temple, and both the Luxor and Karnak temples, among other sites. Yes, you will need a bit of stamina, but not so much that you are exhausted by the early afternoon!
Then, there are the options for onboard entertainment, and while some cruises may provide the iconic djellaba parties that encourage guests to don traditional Egyptian robes, or belly dancing, the luxury Nile cruises improve upon such options. You may be able to see an authentic Nubian dance troupe or enjoy some time learning how to prepare authentic Egyptian dishes. Your ship may even have shops or a boutique that allows you to enjoy access to the premium souvenirs without the need to haggle in a market or souq.
So, the different options for luxury Nile cruises actually expand upon and even re-define the term luxury right from the start. They also build upon the concept by incorporating everything from luxury land transportation options and all-inclusive packaging, to such desirable features as hotel add-ons and trip extending tours.
As a simple example of this, some luxury Nile cruises may run from Cairo and all of the way to Aswan. They might also extend beyond Aswan and incorporate a few days of sailing along Lake Nasser and all the way to glorious Abu Simbel at the southernmost border of Egypt. The very best might include a few days of touring Cairo and then air transport to the departure point south of the city and the most difficult to navigate cataracts along the journey.
The point here is that luxury Nile cruises are going to be remarkably flexible and full of options.
THE SEASONS FOR LUXURY NILE CRUISES
Naturally, there are the usual seasons for ideal travel in Egypt, and the cruising season is no different from the regular tourist season. In other words, the very best weather is going to begin around November and run through March – though many advise travel as soon as September and extending into late April. This is the period when humidity is at its lowest, though daytime temperatures are still quite high.
This is also when most of the famous sites are their busiest and when you will need to strategize if you want to avoid the hustle and bustle of the crowds. Fortunately, this is also when luxury Nile cruises work to your advantage. After all, they may come with premium access or special treatment at some of the most coveted locations.
Your guides might also make a point of helping you to avoid the busiest hours. For example, the bulk of the cruise ships arrive at specific times of day, flooding certain sites (like the Valley of the Kings as an example, or Karnak Temple). The luxury Nile cruises will often arrange your visits to work around those hours or allow you access to them outside of those peak times.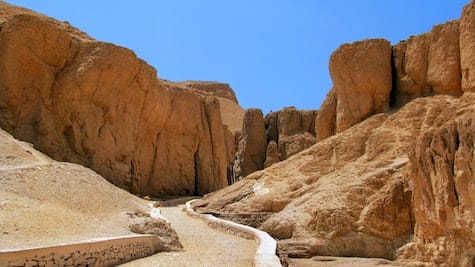 Do they also run during the off seasons? Yes, but it is important to note that the months of May through September may be acceptable in the northern areas, but in the far south, near Aswan, the summer heat can be overwhelming and even intolerable for some. You can book your travel for this time, but it is advisable to opt for longer tours and cruises as you may wish to pace yourself to avoid the worst of the mid-day heat and sun.
WHAT CAN YOU EXPECT DURING LUXURY NILE CRUISES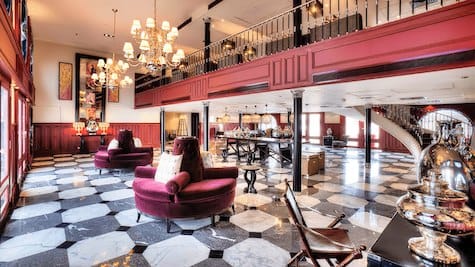 As we have said, luxury Nile cruises view the concept of luxury travel a bit differently than your standard tourism provider. For instance, shipboard life is going to be very different from the much larger vessels offering premium tours. There are not multiple dining halls, casinos and bars, endless entertainment spaces, and so on. Instead, there are those smaller and more low-key experiences. The dining is always going to be gourmet but may include buffet-styled meals at breakfast and lunch. Alcoholic beverages are not always going to be included and may be quite expensive due to the taxes imposed upon them.
Yet, if you want to get to know your fellow passengers – who are likely to be as enthusiastic about the shore excursions, shipboard lectures, and smaller size as you – the luxury Nile cruises won't disappoint.
Of course, not all ships are the same and your idea of luxury might be a small dahabiya with large sails and very few cabins. Alternately, you may want one of the larger luxury cruisers with its four or five decks and dozens of premium suites. Either way, there are many options from which to choose, and you should base your choice first on the itinerary and then the type of ship.
After all, most of the premium cruises are going to begin in the Luxor area (in fact, the majority of all Nile cruises depart or arrive here). From Luxor, your vessel will pay a visit to sites like Esna, Edfu and Kom Ombo on the way to Aswan. Now, that is the basic five-day itinerary, and you may find longer journeys that run from Cairo and all of the way to Aswan. Typically, that would require a journey of ten or more days to complete and would the ultimate way to take in the vast majority of historic sights.
For example, you might fly into Cairo and spend a few days touring such sights as the famous Khan el Khalili marketplace, the Egyptian Museum (in its original or new location), the Giza Plateau and more. Your land tour could also include visits to sites like Alamein and Siwa and even a journey east into the desert where you might visit one of the nearby oases, such as the famed Bahariya or even Kharga. Alternately, you could sail from the city and make stops at many locations along the way – including famed Amarna and the pyramids at Maydom, or Minya and Dahshour – before reaching Luxor.
From that point, luxury Nile cruises can often provide a far more leisurely pace to allow for comprehensive visits to the most recognized sites. For instance, and as already stated, you might spend an entire day in the Valley of the Kings and finish up with a late day walk into the nearby Valley of the Queens or to the famous temple of one of the few female pharaohs, Hatshepsut.
And for the rest of the journey, you would have land excursions to the most familiar locations, with detailed tours of such sites as the Temple of Horus and that of Sobek the crocodile god. Upon arrival in Aswan, the luxury tours don't just depart for home or head back to Cairo on a quick flight. Instead, they incorporate a day or two of exploration and touring to such appealing sites as Philae, the Unfinished Obelisk and even a tour of the Aswan High Dam.
From there, you could end the holiday and fly back to Cairo, or you could board a new luxury vessel on Lake Nasser and enjoy a sail all of the way to Abu Simbel, stopping at sites like New Kalabsha and others during the tour.
The point here is that the luxurious part of your cruise is not just the fineness of your quarters, with their private bath and premium linens. It is also about the treatment you can expect from the crew, the opportunity to speak with and be guided by experts in all things to do with ancient or modern Egypt, and the comprehensive services onboard and on land as you enjoy your excursions and tours. While a fine and opulent cruise is always about comfortable lounges, beautiful vistas, delicious food and quality staff, when you opt for luxury Nile cruises, it is far more than that.
Whether you choose a luxury cruise that runs just a few days, or you choose one of the extended tours that last upwards of two weeks or more, you are promising yourself the most complete experience of Egypt possible. Luxury, after all, is also about having time to dedicate to an experience, and this is what your tour of the Nile and Egypt should allow. A bit of time to take in the lesser known sights, like that farmer plowing his fields with only the power of his oxen, the twinkling stars above the lush banks of the ancient river, and the sights and beauty of the dazzling sun from some of the world's most mysterious and appealing wonders. These are part of the luxury of a tour of Egypt aboard a high-quality vessel, and if you make the journey to this wonderful land, you owe it to yourself to book passage on what is sure to be a journey of a lifetime.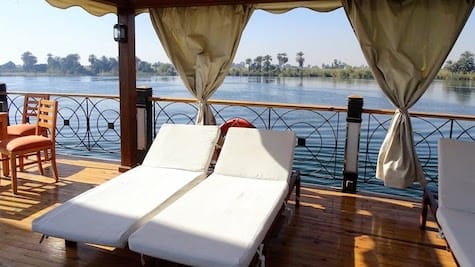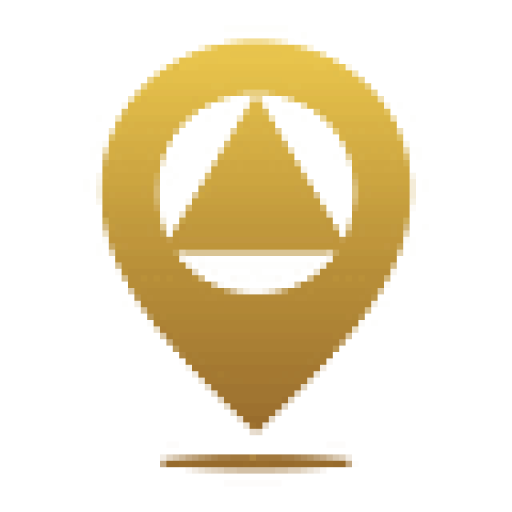 DESIGN YOUR CUSTOM TRIP
Explore Egypt your way
by selecting only the attractions you want to visit
Why Book With Us
Come explore the best of Egypt your way. All Egypt Vacations are customizable.
EGYPT YOUR WAY
All of our Egypt Vacations are fully customizable and can be tailored to meet your own exact needs because it's your vacation, and we believe you should be able to enjoy it your way.
24/7 SERVICE
We cater for a global audience scattered over numerous time zones, so our team of highly experienced travel consultants are standing by 24/7 to answer queries and to offer assistance with tour arrangement.
TRAVEL EXPERTS
With more than 65 years of experience, we believe that no other Egypt tour operator is as well-equipped as we are to provide Egypt Vacations which are as flawless and as rewarding as ours are.
INTERNATIONAL TEAM
Our online travel consultants and on the ground tour guides are fluent in multiple languages, including English; French; German; Italian; Portuguese; Spanish and Arabic.
HIGH QUALITY SERVICE
Personalized high quality services. We are experts in Egypt travel – Since 1955. Dedicated local staff with first-hand experience. Hassle-free travel saving you time, money and energy.
EPIC NILE CRUISE HOLIDAYS
Top rated Nile cruise ships. English speaking egyptologist guides. Explore the best of Egypt with experience by your side. We don't just sell amazing Egypt Vacations; we make your dreams come true.