Long Nile Cruises
Our range of Long Nile Cruises are particularly well-suited for those who simply love being out on the water, and for those people who want to explore the Land of the Pharaohs at a somewhat more leisurely pace. Not only does it mean more time on the water, more pampering, and more 5-Star living; it also means you get to see even more amazing ancients sites than ever.
Because our long Nile River cruises typically begin in Cairo, enjoy private guided tours the area's most famous attractions, then kick back and relax while you enjoy the sort of cruise experience which dreams are made of.
CREATE YOUR DREAM TRIP
LONG NILE CRUISES ENSURE TRAVELERS THE AMAZING SIGHTS
Sunrise at the Obelisks of Karnak Temple.
There are Nile cruises, and then there are long Nile cruises and they are quite different experiences. Typically, any Nile cruise is wonderful, and gives you the unforgettable experience of traveling in the way of the Ancient Egyptians, heading up or down river and passing stunning temples, beautiful landscapes, and quiet scenes of everyday life.
That alone is enough to inspire most visitors to book short or long Nile cruises. And the good news is that there are so many options for these delightful excursions.
THE MANY OPTIONS IN LONG NILE CRUISES
Almost all cruises can be enjoyed in a few different styles, ranging from the classic and timeless dahabiyas powered by wind to the large and modern luxury cruisers with multiple decks and every possible amenity. Cruises also differ in the directions they head, with some traveling upriver (south) towards Aswan, while others head downriver (north) towards Luxor and even Cairo.
Many cruises have a list of popular destinations and stops along the way, usually taking in some of the most famous and beautiful sites related to ancient pharaonic history. For instance, a cruise from Luxor to Aswan will usually pay a visit to Edfu, Kom Ombo and even Philae before docking at Aswan.
WHAT WILL YOU DO DURING LONG NILE CRUISES?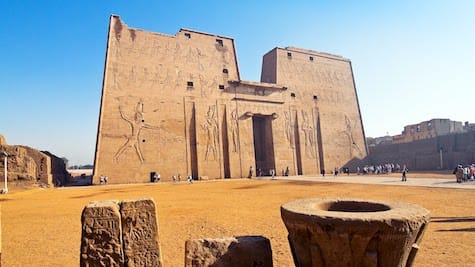 Your experiences on almost all cruises will also mean time spent on shore, and usually in the company of an expert guide.
It could be a well-trained Egyptologist, archaeologist or even a renown historian or author.
The point is that some of the very best cruises combine the luxuries of a premium hotel with informative excursions and non-stop scenery.
The long Nile cruises, though, are different. Not only are they longer in terms of the days you spend traveling, with most lasting six days or more, but authentic long Nile cruises are the cruises that have been unavailable for many decades. Due to a few different complications and challenges, departures from Cairo have not been available for many years. And it is the cruises that depart from Cairo that are, traditionally, described as the long Nile cruises.
HOW LONG NILE CRUISES PROVIDE SO MUCH MORE
As one travel expert explained of the long Nile cruises, the sites visited are often a mix of popular locations and the "smaller, quieter and more personalized and would be otherwise almost impossible to reach. They include…the former capital Tel el Amarna (built by pharaoh Akhenaten), Beni Hassan, Abydos and Denderah…As well as being chock-full of factual detail [cruise] tours thankfully allowed for time to absorb the sites and scenes."
These sights are not available on more traditional cruises, even the luxury Nile cruises lasting seven days or more. It is the authentic long Nile cruises that head out from or complete their journeys in Cairo that offer access to such amazing sites.
ONBOARD IN CAIRO
Whether a tour departs from Aswan towards Cairo or heads south from Cairo towards Aswan, the stops, experiences and sights are often identical. Many like to leave from Cairo, and it can be just like stepping back in time, when long Nile cruises were the only easy way to get to the popular areas south of the great city.
What would a journey look like? Well, imagine spending a few days exploring such spots as the Egyptian Museum, the pyramids and Sphinx of the Giza Plateau, and the magic of Khan el-Khalili – the classic souq or marketplace that looks like something straight out of a daydream. You might take in other amazing locations such as the Old City, the Citadel, stunning mosques, and more.
Yet, with long Nile cruises, your explorations don't end with a flight south. Instead, you might also head to areas like Memphis where the Saqqara necropolis is home to the stunning Step Pyramid (the oldest pyramid in Egypt), as well as the Red and Bent pyramids. You might pay a visit to Beni Suef and the majesties of the Dahshour and Maydum pyramids.
Long Nile cruises would continue heading southward, with stops at lesser known sites like Minya where you can enjoy land tours in areas like Ashmunein and Tuna El Gebel (the necropolis of the city of Hermopolis, sacred to Hermes). After this appealing stop, the long Nile cruises would head to Asyut where the famed city of the "heretic king" Akhenaten awaits at Tel El Amarna. The king's tomb is here along with many other royals, and you can even visit the Great Palace where the pharaoh and his queen, Nefertiti, ruled and worshiped only one god, the Aten.
From there, long Nile cruises continue to Sohag, which takes almost a full day and from there it is on towards Quena, with stops at El Balyana where you can head to the oldest city from the ancient world – Abydos. The temple is easily one of the most photogenic and typically a final stop before famed Luxor.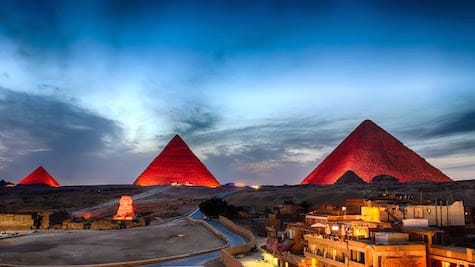 If you have done any research about short or long Nile cruises, you know what awaits in Luxor. The Karnak and Luxor temples on the eastern side of the river, the historic Valley of the Kings to the west, as well as the Valley of the Queens and stunning Deir el Bahri. South lies Edfu and Kom Ombo, with their not-to-be-missed temples, and finally you reach Aswan. Home to the famous High Dam, but many amazing historic sites like Philae Temple, authentic Nubian villages, the Unfinished Obelisk and more.
Some long Nile cruises also incorporate daytrips to Abu Simbel or even allow you to continue on to a Lake Nasser cruise in order to explore historic Nubian Egyptian sites as well as Abu Simbel far to the south of the lake.
It is easy to see how the longer cruises along the Nile offer the most comprehensive experiences of Egypt and its historic sites, stunning landscape and hospitable people. Consider booking your cruise today and spend a week or more coasting along the unending beauty that is the Nile.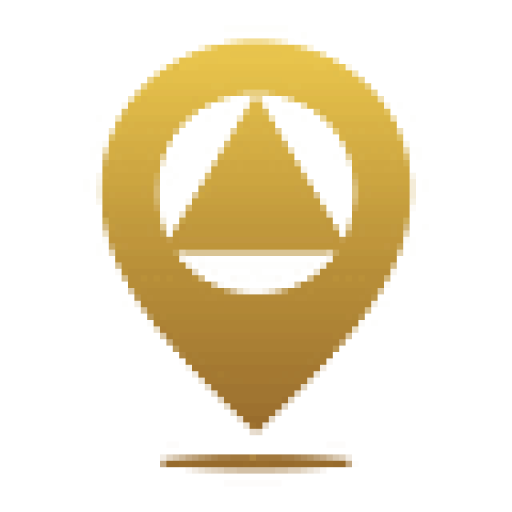 DESIGN YOUR CUSTOM TRIP
Explore Egypt your way
by selecting only the attractions you want to visit
Why Book With Us
Come explore the best of Egypt your way. All Egypt Vacations are customizable.
EGYPT YOUR WAY
All of our Egypt Vacations are fully customizable and can be tailored to meet your own exact needs because it's your vacation, and we believe you should be able to enjoy it your way.
24/7 SERVICE
We cater for a global audience scattered over numerous time zones, so our team of highly experienced travel consultants are standing by 24/7 to answer queries and to offer assistance with tour arrangement.
TRAVEL EXPERTS
With more than 65 years of experience, we believe that no other Egypt tour operator is as well-equipped as we are to provide Egypt Vacations which are as flawless and as rewarding as ours are.
INTERNATIONAL TEAM
Our online travel consultants and on the ground tour guides are fluent in multiple languages, including English; French; German; Italian; Portuguese; Spanish and Arabic.
HIGH QUALITY SERVICE
Personalized high quality services. We are experts in Egypt travel – Since 1955. Dedicated local staff with first-hand experience. Hassle-free travel saving you time, money and energy.
EPIC NILE CRUISE HOLIDAYS
Top rated Nile cruise ships. English speaking egyptologist guides. Explore the best of Egypt with experience by your side. We don't just sell amazing Egypt Vacations; we make your dreams come true.