Let us guide you through the wonders of an ancient civilization with flawless and totally unforgettable high quality Egypt tours. Discover the secrets of the ancient world with our amazing guided tours in Egypt that have been designed by people who are as passionate about travel as you are.
Our experienced guides and drivers will take you through the wonders of this fascinating country in comfort and style, bringing ancient history to life as you explore its awe-inspiring monuments and archaeological sites that have been standing for thousands of years.
From the Great Pyramids of Giza near Cairo, to the majestic temples of Luxor and Aswan, you can experience the secrets of Ancient Egypt with our epic guided tours. Get ready to unlock the secrets of one of the oldest civilizations on the planet, and explore the beauty and culture that have endured throughout the ages.
Classic Egypt Tours
What Types of Egypt Tours are Available?
The different types of Egypt tours available can vary widely in terms of focus and duration. Some of the most popular categories include:
Historical tours that cover ancient sites like the Pyramids of Giza, the Egyptian Museum, the temples of Luxor, and the Valley of the Kings with its many ancient tombs.
Cultural tours that highlight things like traditional Egyptian food and art, etc.
Adventure tours that offer activities such as hot air balloon rides over Luxor, camel trekking in the desert, and SCUBA diving in the Red Sea.
Nile River cruises that provide a leisurely cruise along the Nile while allowing visitors to see many ancient monuments, along with some of the country's beautiful landscapes from a unique vantage point.
We also provide specialized tours that cater to specific interests such as birdwatching and religious pilgrimage. No matter what type of experience you're looking for, you're sure to find something amazing in our selection of high quality Egypt tours.
Read on to find out more about the different types of tours we offer…
Guided Egypt Tours
Our guided Egypt tours offer something for everyone, regardless of whether you're looking for in-depth exploration of the country's ancient history, or a more relaxed experience that focuses on its vibrant culture and beautiful landscapes.
We have a great selection of guided tours ranging from historical to adventure-based, cultural to religious, and even many that include Nile River cruises that allow you to take in the beauty of the country in the same way the ancient pharaohs once did.
Our travel specialists and our experienced guides will make sure that your experience in Egypt is one you will remember and cherish forever!
Create your dream itinerary with our fully customizable guided tours. Tailor your experience to your exact preferences and make your trip to Egypt unforgettable.
Private Egypt Tours
We offer a wide array of private Egypt tours that cater to any interest. Our private tour packages are also fully customizable, so you can choose the perfect combination of activities and experiences that best suit your own individual interests and needs. Our personalized itineraries will take you to the best attractions and monuments in the country, from the Great Pyramids of Giza to the Valley of the Kings in Luxor, and everything in between.
During all tours, you'll be accompanied by our experienced guides who will bring the country's history and culture to life. With our private tours, you'll be able to explore Egypt at your own pace for a truly unforgettable experience.
Egypt Pyramids Tours
Our Egypt pyramids tours offer an unforgettable experience for any traveler with a passion for history and archeology. Our packages include expertly guided tours of the famous Pyramids of Giza, while some also include a visit to the world's oldest pyramid, the Step Pyramid of Pharaoh Djozer at Saqqara, along with a visit to the ancient Dahshur Pyramids as well.
Our experienced guides will ensure that you get the most out of your Egypt pyramids tour, providing in-depth knowledge and insights into the history of these ancient monuments. We guarantee that you'll get a unique and unforgettable experience that will stay with you long after your tour has ended.
Epic Combination Tours of Egypt and Jordan, and Israel
Our combined tours of Egypt and Jordan, and even Israel offer the perfect combination of incredible sightseeing and unique experiences. From the majestic Pyramids of Giza in Egypt, to the ancient Lost City of Petra in Jordan, these tours have something for everyone.
Along the way, you'll discover the fascinating culture and history of this part of the world, as well as its diverse landscapes and stunning views. With experienced guides by your side, you'll get the most out of your experience and come away with a newfound appreciation for these three incredible destinations.
Our combined tours of Egypt, Jordan and Israel are the perfect way to explore the region's many wonders. From the ancient ruins of Egypt to the religious towns of Jerusalem and Bethlehem, and the breathtaking sights of Petra and the Dead Sea, you'll get to experience all the highlights of this spectacular part of the world in a single trip.
With our experienced guides and/or drivers by your side, you'll have a chance to explore the local culture, sample mouthwatering cuisine, and soak up the history of each country regardless of whether you're visiting cosmopolitan cities or small rural villages. With each destination more unique than the last, an Egypt, Jordan and Israel tour is a tour you will truly never ever forget!
Egypt Tours with Nile Cruises
Our Egypt Tours with Nile Cruises offer the perfect opportunity to explore the beauty of Egypt in a unique and immersive way. Enjoy private guided tours in Cairo, then travel along the iconic Nile River between Aswan and Luxor, stopping at various ports along the way to explore the ancient wonders of Egypt.
Our experienced guides will ensure that you get the most out of your unique journey, providing you with insights and knowledge of Egypt's culture and timeless history. With our classic Egypt tours with Nile cruises, you'll get to experience Egypt like never before, and create memories that will last a lifetime.
Luxury Egypt Tours
For those who demand the very best, our luxury Egypt tours and Nile cruise packages offer a once-in-a-lifetime sightseeing experience in Cairo, an unforgettable 5-star Nile River cruise with professionally guided tours, and the finest accommodations throughout. During these tours, you will get to explore the ancient wonders of Egypt in detail, with experienced guides providing you with in-depth knowledge and insights into the rich culture and history of the attractions you visit.
Our luxury Egypt tours provide an unforgettable experience in the lap of luxury that will stay with you for the rest of your life.
Group Tours to Egypt
Our group tours to Egypt and small group tours provide a more affordable alternative to private tours. However, they still deliver the same unforgettable experience in this ancient land. Our professionally guided small group tours offer the perfect balance between exploring the highlights of the country and discovering its hidden gems.
We'll take you and your group to see the most iconic sites in Cairo and along the banks of the River Nile between Aswan and Luxor, and even show you the beauty of some of Egypt's more remote locations, depending on which group tour you choose.
In addition, we provide private group tours for you, your large family, colleagues, or any size party. Get started planning by contacting us today.
Egypt Day Tours
Our Egypt day tours provide the perfect opportunity to explore this ancient land in a short amount of time. Whether you are looking to explore the iconic sites of Cairo, or wander through the hidden gems of Upper Egypt, our high quality day tours will allow you to discover some of the best attractions of Egypt in as little as a single day.
Our knowledgeable guides will provide you with all the necessary information and insights about the history of the sites you visit so you get the most out of the experience.
From day tours in Cairo, to day tours to Luxor or Alexandria, you are bound to find a day trip right here on our site that will be a perfect match for your needs and requirements. Whether you want to explore Egypt's ancient monuments; spend a day trekking in the mighty Sahara Desert, or go scuba diving in the Red Sea, we can make it happen. Our day tours offer a comprehensive experience that you won't soon forget.
Tailor Made Egypt Tours
If you can't find the perfect tour package on our site, then why not create your own dream trip? Our tailor-made Egypt tours offer an experience like no other. You can customize your preferred itinerary to include only those attractions and activities you're most interested in, and we will make sure you get the perfect balance of sightseeing, relaxation and adventure.
With our dedicated team of experienced tour consultants and expert guides, you can get to explore the hidden gems and iconic attractions of Egypt that you won't find on any mainstream tours. So, don't wait any longer – create your dream trip today!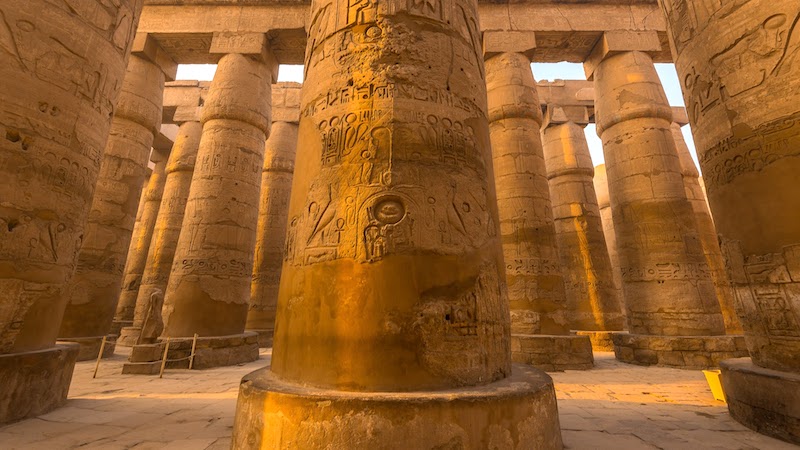 What to Expect from Our Egypt Tours?
Discover everything you want to know about the ancient wonders of Egypt, going for a cruise on the Nile, visiting the remains of iconic temples and more. Get to know the culture and history of Egypt through visits to local villages and markets. Enjoy the unique beauty of the region's landscape, with desert oases, lush riverbanks, and vibrant cities.
With quality Egypt tours you can expect to learn all about some of Egypt's most iconic ancient sites, along with some of the lesser known sites. You will also learn about local culture, get a chance to mingle with locals, and have the opportunity to shop in vibrant markets like the historical Khan el Khalili Bazaar in Cairo. Rest assured, our guides will make sure you will have the time of your life.
Last but not least, you can expect top-class accommodation and a level of service and expertise that will exceed your expectations.
Explore the Wonders of Ancient Egypt
Unlock the mysteries of the ancient Giza Pyramids and Sphinx with our one-of-a-kind guided tours. Our experienced expert guides will lead you on a journey of discovery, unraveling the hidden secrets of these ancient marvels. Learn about the advanced engineering techniques used by the ancient Egyptians to construct these massive structures and explore the hieroglyphs and tombs found inside.
Get up close and personal with the mysterious Sphinx, and gain unique insights into the history and culture of this incredible civilization.
Don't just focus on the famous Giza Pyramids – there's so much more to discover in Egypt. You should also try to visit the lesser known pyramids, such as the Bent Pyramid, the Red Pyramid, and the Step Pyramid of Djozer, and uncover their secrets as well. Unearth the mysteries of ancient Egypt as you explore its many pyramids temples and tombs, and come away with a greater appreciation of fascinating Egypt's history and culture.
Cruise the Nile in Style
Cruise along the famous Nile River and experience the magic of Egypt like never before with a luxurious Nile River Cruise! Cruise along this legendary river and explore the ancient wonders that line its banks in Upper Egypt, including the awe-inspiring mortuary temple of Queen Hatshepsut, Karnak Temple, Luxor Temple, the Valley of the Kings and more.
Relax and enjoy the scenic views of the banks of the Nile, with its lush greenery, desert oases and vibrant cities. Enjoy beautiful Egyptian sunsets, along with delicious food and drinks that come with the cruise.
Experience first-hand the unique culture of Egypt, from its rich history and traditions, to the vibrant markets and local villages.
Visit the Iconic Temples of an Ancient Civilization
Explore the ancient temples of Karnak and Luxor, and unlock the mysteries that lie hidden within the walls of these iconic structures. With our knowledgeable and experienced guides, you'll gain insight into the rich history and culture of ancient Egypt. Learn about the stories behind the hieroglyphs, and marvel at the beautiful architecture and intricate carvings and sculptures.
Experience the majesty of the breathtaking Abu Simbel Temples complex, one of the most impressive and iconic sites in Egypt. Enjoy a guided tour of the temples and witness the grandeur of their colossal statues and well-preserved reliefs.
As you explore the temples with your guide, you will gain a deeper understanding of the significance of this ancient site, and the significance it had for Pharaoh Ramses II and the ancient Egyptians.
The mortuary temple of Queen Hatshepsut is another must-see site and one which features in many of our Egypt tours. Queen Hatshepsut was one of Ancient Egypt's most powerful rulers, reigning as pharaoh during the 18th dynasty of the New Kingdom. Her famous mortuary temple, located at Deir el-Bahri near the Valley of the Kings, is truly a marvel to behold.
The elegant terraces, colonnades and obelisks of this gorgeous temple are a testament to the great power of Hatshepsut and her accomplishments as pharaoh. The temple is filled with ancient art and hieroglyphics that tell the story of the great queen and her reign. With its intricate carvings and detailed reliefs, the mortuary temple of Queen Hatshepsut is an awe-inspiring sight, and a must-see for anyone wishing to explore the ancient wonders of Egypt.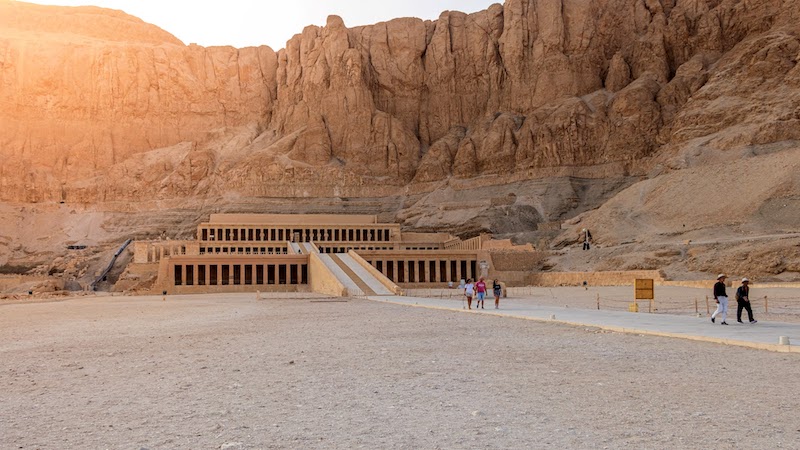 Experience Luxury Accommodation from Beginning to End
Our Egypt tours feature luxurious accommodation in 4 and/or 5-Star Hotels and Resorts, located in some of the most stunning locations in the country. Enjoy a stay in beautifully appointed rooms, with all the modern amenities you need for a comfortable and relaxing stay. All the hotels and resorts that we partner with provide a very high level of service and hospitality. They also have exquisite dining options, spas, pools and gyms. You will be pampered and spoilt for choice during your stay, guarateed.
Upgrade for an even Better Experience
Upgrade your hotel stay to include even more luxury, more pampering, and a range of exclusive extras. Nearly all of the top 4-star and 5-star hotels we work with offer upgrades of one kind or another. Additionally, if you want to upgrade to a completely different hotel, you only need to tell us, and we will make the necessary arrangements.
Learn about Ancient Egyptian Culture
Get to Know the Locals and Their Traditions
We offer plenty of opportunities for visitors to interact with local people to learn more their customs and traditions, and to learn about their spiritual beliefs. Join us on a journey to discover the treasures of Ancient Egypt and gain a unique insight into this fascinating culture. Visit unique local markets and shopping centres, and take part in traditional customs for an even more memorable experience.
Uncover the Ancient Egyptian Way of Life
The ancient Egyptians had a unique way of life that was highly revered and respected. They believed in the gods and goddesses and their powerful influence on the world around them. Their lives were centered around honoring these gods and goddesses through rituals and ceremonies, and they dedicated much of their time and resources to constructing temples and other religious sites.
Ancient Egyptians also enjoyed leisure time and spent it with their family and friends. They engaged in activities such as hunting, fishing, and playing board games. Ancient Egyptians also had a great appreciation for art and literature, and had a sophisticated writing system known as hieroglyphics. Life for the ancient Egyptians was full of mystery, culture, and tradition, and exploring their way of life is a truly enriching experience.
Learning a bit about how the ancient Egyptians lived before you travel to Egypt can make your trip all the more rewarding. If you visit Egypt with us, you will also have a professional guide to further enlighten you about the ancient Egyptian way of life.
Enjoy Luxury Experiences
If you are going to be traveling all the way to Egypt, enjoying sightseeing which is beyond words, and going for a magical Nile River cruise, then why not enjoy a few more luxuries along the way…
Sip Cocktails at the Poolside Bar – Enjoy refreshing cocktails at the outdoor pool bar at your hotel, resort, or while sailing along the Nile with the sun setting in the background.
Indulge in a Luxury Spa Treatment – Take some time for yourself and relax in your hotel or on board your Nile cruise ship with a wonderful spa treatment. Enjoy aromatherapy and massages to help you truly unwind.
Enjoy a Romantic Nile River Dinner Cruise – Take a romantic dinner cruise on the Nile River and enjoy a pleasant, candlelit dinner and stunning views of the ancient monuments and sites that line the banks, along with on-board entertainment.
Egypt Tours FAQs
Embark on an Unforgettable Adventure with our Epic Egypt Tours!
We have a wide range of tours that allow you to explore the wonders of Egypt, from the ancient Pyramids of Giza to the ancient tombs and temples of Luxor, to the tranquility and beautiful beaches of Hurghada, Sharm El Sheikh and Safaga on the Red Sea coast.
Whether you're looking for a cultural tour, a deep dive into history, or a fun-filled adventure, our Egypt tours will give you an experience you'll never forget.
All our tours are tailored to your needs, so you can be sure you'll get exactly what you're looking for. Plus, we provide all the necessary equipment, accommodations and transportation for a hassle-free experience. So come join us and unlock the secrets of Egypt!
Your Dream Vacation Is Only A Few Clicks Away
Discover the true magic of Egypt, the ancient, the old, and the new in absolute comfort and style. No matter what sort of Egyptian vacation you are looking for, you are bound to find the perfect travel package on our site. Alternatively, use our user-friendly travel planner and let us help you to create your own unique Egypt tour from scratch.
Contact us now to begin planning your trip or to book one of our epic Egypt tours today.