Luxury Egypt Tours Packages
Our luxury Egypt tours packagesare well and truly designed to be flawless in every way possible. Not only do they make luxury travel affordable, but they also make it simple and straightforward. Apart from making your booking; packing your belongings, and boarding a flight to Cairo, there is absolutely nothing else you have to do because we take care of the rest. And, because we have been doing this ever since 1955, we really do know what we are doing, just like we know exactly what our clients want and expect from a luxurious Nile cruise and stay in the Land of the Pharaohs.
CREATE YOUR DREAM TRIP
LUXURY EGYPT TOURS ALL BEGIN AT CAIRO INTERNATIONAL AIRPORT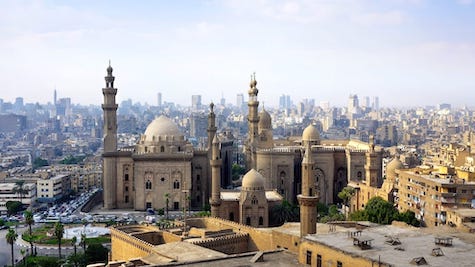 Our unwavering commitment to customer satisfaction and excellence begins from the moment you contact us, but the real magic of our luxury Egypt tours packages begins a few minutes after you disembark from your flight at Cairo International Airport. While hundreds of other visitors are joining mile-long queues at the airport, your tour manager will be there to meet you, and to see to it that you avoid the queues, thanks to our fast-track visa service.
With your visa requirements having been taken care of, you will be assisted with your luggage, and you will be escorted out of the airport to where one of our professional drivers will be waiting for you is one of our deluxe air-conditioned vehicles. Simply get in the vehicle and relax while our driver navigates his way through Cairo's infamous traffic to the up market hotel where you will be staying while you are in Cairo.
Once in the hotel, your tour manager will see to it that you enjoy a smooth and hassle-free check-in, and then he or she will briefly go over your tour itinerary with you, and also confirm a pick-up time for the following day's tour. With introductions and formalities out of the way, enjoy a free Welcome Drink on us, and then we will leave you alone to spend the remainder of your first day in Egypt as you wish.
Of course, if you don't wish to stay at the hotel all day, your tour manager will be more than happy to arrange an outing for you, such as a visit to nightly Sound and Lights show at the Giza Pyramids, or even a fantastic Nile cruise dinner in the evening. However these aren't included in the prices of our Luxury Egypt tours packages.
UNLOCKING THE ANCIENT SECRETS OF THE GIZA NECROPOLIS
The real magic of our luxury Egypt tours packages begins in earnest on the second day of your trip, following a good night's rest and hearty hotel breakfast. While Cairo might at first glance appear to be nothing but a bustling and often chaotic city with congested traffic, there really is so much to see and do, both in the city itself, and also in the surrounding areas.
Regardless of which one of our luxury Egypt tours deals you opt for, you can be sure that we are going to take you to some of the very best attractions in and around Cairo. The famous Giza Pyramids and the Sphinx, for example, feature in all our Cairo tours. In fact, the Giza necropolis is typically the first site you will visit once your tour begins, and of course you will have your own private driver and one of our very friendly and very knowledgeable Egyptologist tour guides to make sure that you really do get to enjoy your tour in comfort and style.
Seeing the pyramids in pictures or on postcards is one thing, but you really need to see them in person in order to fully appreciate them. When you are standing right there in front of them, it is amazing to think that they have been standing there for thousands of years already, and that at one point they actually contained the mummies of some of Ancient Egypt's most powerful pharaohs.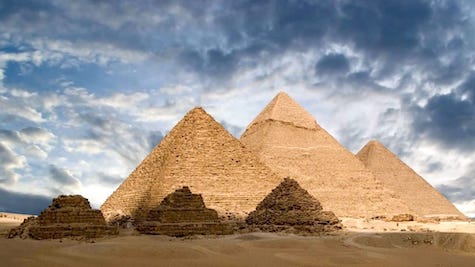 Contrary to what some people believe, there is far more to the Giza necropolis than just the pyramids and the Sphinx, and when you visit, you will be so glad that you have an Egyptologist guide with you to show you around and to tell you all about this incredible site.
There's also a somewhat small but very interesting museum called the Solar Boat Museum. Generally speaking, admission tickets for the museum are not included in the price of our Luxury Egypt tours, but tickets can be purchased at the site. If you have a ticket for the museum, then you will also be able to use it to go inside one of the pyramids if you wish.
THE EGYPTIAN MUSEUM AND MORE IN CAIRO
The Egyptian Museum of Antiquities has more than 200.000 ancient artifacts on display.
No visit to Cairo would be complete without a visit to the spectacular Egyptian Museum in Cairo. With the world's largest collection of ancient Egyptian artifacts, you can be sure there is plenty to see, including a permanent exhibition featuring all the artifacts and treasures that were recovered from the tomb of King Tutankhamen when it was discovered and opened during the early 20th century in the Valley of the Kings in Luxor. This collection is housed in a special area in the museum known as the Treasures Room.
Other sites that also feature in most of our luxury Egypt tours include places such as the Cairo Citadel which is home to two more museums, and also the incredibly impressive Muhammad Ali Alabaster Mosque. All of our tour packages also include a visit to the extremely colorful and vibrant Khan el Khalili Bazaar which has been around since about 1389.
LUXURY NILE TOURS – A TASTE OF WHAT LIES BEYOND CAIRO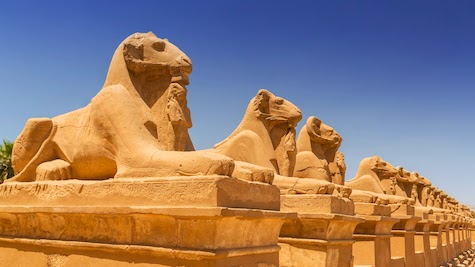 Depending on which of our luxury Egypt tours packages you book, you will most likely also enjoy visiting another ancient necropolis at Saqqara, just a short drive away from Cairo.
The biggest draw of this particular site is the famous Djoser Pyramid which is considerably older than the pyramids at Giza. Also known as the Step Pyramid, it is believed to be the first pyramid ever built. There is so much more to this pyramid that just the structure that you see pointing towards the sky, and it would be a shame to visit this site without a professional guide.
In addition to the Saqqara necropolis, you will most likely also visit Memphis to see the remains of what was once the capital of the Old Kingdom. Once your tours are over, you can simply sit back and relax in cool air-conditioned comfort while guide and your driver take you back to your hotel in Cairo for another wonderful night's rest.
CRUISING THE NILE RIVER IN THE LAP OF LUXURY
There is no denying the fact that an overnight train ride from Cairo to Aswan can be a wonderful experience. In fact, it lends a sense of authenticity to a journey through Egypt, but there is nothing luxurious about an overnight train ride, and especially when you could rather be spending the night in a beautifully appointed cabin aboard a 5-Star cruise ship instead.
So, when you book one of our luxury Egypt tours, we will put you on a short domestic flight instead, either to Aswan or to Luxor, depending on which tour package you choose. Of course, when your plane lands in Aswan or Luxor, we will once again have one of our people there to meet you, and to escort you to the place where you will board your luxury Nile cruise.
You can be sure that your cruise between Aswan and Luxor will be an experience not soon forgotten. With 3 delicious meals each day; world-class amenities; on-board entertainment; beautifully appointed cabins, and friendly crew members always on hand, a Nile River cruise really is a magical experience.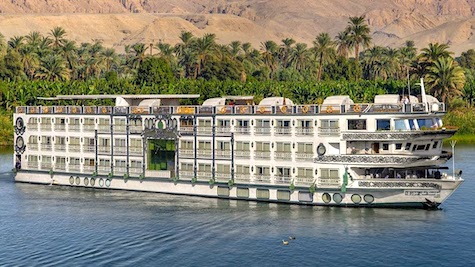 Visit some of Egypt's most cherished ancient monuments; relax next to the pool; enjoy a professional massage; sip on cocktails under the stars, and so much more as you make your way through the Nile River Valley tracing the footsteps of the great pharaohs that went before you.
EXPLORING THE TIMELESS TREASURES OF THE NILE VALLEY
No matter which one of our luxury Egypt tours you choose, you are going to see some absolutely magnificent ancient monuments, and yes, you will once again have one of our friendly Egyptologist tour guides with when you visit these sites because one or more of our guides will be sailing aboard the cruise ship as well. All Nile cruise tours and excursions are small group tours that are shared with a small group of our other clients, with each small group having their own dedicated guide.
When your cruise ship is docked in Aswan, we'll take you to see the Aswan High Dam; the Unfinished Obelisk, and the magnificent ancient Temple of Philae. This remarkable temple was dedicated to the goddess Isis and it was once one of the holiest temples in all of Egypt. According to legend, birds never even flew over it, and fish never approached the shores of the Philae Island on which it once stood. Remarkably, the temple was moved to its current location in its entirety when the Aswan High Dam was being built, or else it would have vanished below the waters of Lake Nasser following the completion of the dam.
If your cruise is heading from Aswan to Luxor, then your next excursion will be at Kom Ombo to see another fascinating ancient temple complex that was dedicated to two different gods. Depending on your chosen luxury tour itinerary, you might enjoy a wonderfully relaxing night on the water at Kom Ombo, and then a leisurely cruise to Edfu the following day. Alternatively, you might set sail directly after your Kom Ombo tour, in which case you can look forward to a night on the water at Edfu instead.
Of course, another timeless wonder is waiting for you at Edfu, this time it is the ancient Temple of Horus, and also be best-preserved temple ever discovered in Egypt. Experience another night in the lap of luxury on the quiet waters on the Nile, either at Edfu or at Luxor.
Enjoy on-board entertainment; relax out on the deck under the stars; enjoy a drink at the ship's bar, or simply retire to you cabin for another wonderful night's rest.
Whether you explore Luxor at the beginning of your cruise or at the end of your cruise, you can be sure that you are going to be in for a real treat, visiting no less than 5 incredible ancient sites: Luxor Temple and Karnak Temple complex on the East Bank, and Valley of the Kings; Queen Hatshepsut's mortuary temple, and the Colossi of Memnon on the West Bank.
Have you ever wondered where Tutankhamen was buried? Well, when you visit Valley of the Kings you will be able to see exactly where he was laid to rest, and also were other royals were laid to rest. Many people incorrectly believe that most of Ancient Egypt's rulers were laid to rest in pyramids, but actually, far more were laid to rest in tombs that were carved out of the bedrock in various parts of the country, with Valley of the Kings being one of the finest examples.
Pyramids were easy targets for grave robbers, so later rulers turned to excavated tombs in the hope that they would be spared from robbers and looters, but sadly this wasn't the case. In fact, Tutankhamen's tomb is one of only a few royal tombs to have been spared.
The mortuary temple of Ancient Egypt's only female ruler, Queen Hatshepsut, is another ancient site which is quite literally beyond words. Painstakingly carved out of the surrounding bedrock, this vast complex was excavated and decorated by the same workers who were responsible excavating and decorating the tombs in the Valley of Kings.
LUXURY EGYPT TOUR PACKAGES BEYOND THE NILE VALLEY
Also, just as with all our package tours, our luxury Egypt tours can be customized and tailored to meet your own exact needs. Remember, at NileCruiseHolidays.com, we don't only strive to meet your expectations; we strive to exceed them.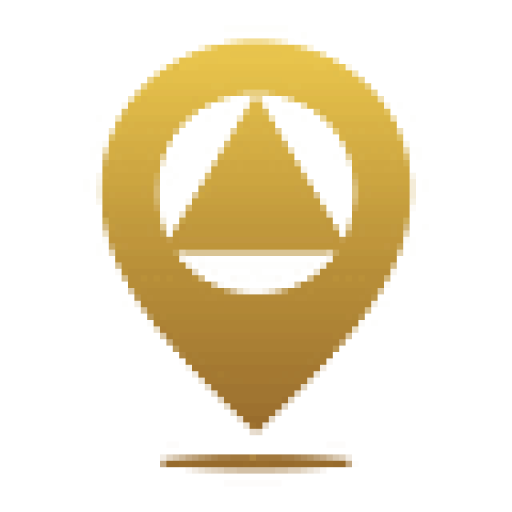 DESIGN YOUR CUSTOM TRIP
Explore Egypt your way
by selecting only the attractions you want to visit
Why Book With Us
Come explore the best of Egypt your way. All Egypt Vacations are customizable.
EGYPT YOUR WAY
All of our Egypt Vacations are fully customizable and can be tailored to meet your own exact needs because it's your vacation, and we believe you should be able to enjoy it your way.
24/7 SERVICE
We cater for a global audience scattered over numerous time zones, so our team of highly experienced travel consultants are standing by 24/7 to answer queries and to offer assistance with tour arrangement.
TRAVEL EXPERTS
With more than 65 years of experience, we believe that no other Egypt tour operator is as well-equipped as we are to provide Egypt Vacations which are as flawless and as rewarding as ours are.
INTERNATIONAL TEAM
Our online travel consultants and on the ground tour guides are fluent in multiple languages, including English; French; German; Italian; Portuguese; Spanish and Arabic.
HIGH QUALITY SERVICE
Personalized high quality services. We are experts in Egypt travel – Since 1955. Dedicated local staff with first-hand experience. Hassle-free travel saving you time, money and energy.
EPIC NILE CRUISE HOLIDAYS
Top rated Nile cruise ships. English speaking egyptologist guides. Explore the best of Egypt with experience by your side. We don't just sell amazing Egypt Vacations; we make your dreams come true.