If you are wondering what to do in Aswan, you have come to the right place because in this post we will discuss 10 of the very best things to do while you are in this charming city. Aswan cannot compete with Luxor in terms of ancient temples and tombs, but there is still a lot to see and do in Aswan.
Located in Upper Egypt, relatively close to the Egypt-Sudanese border, Aswan has a reputation of being Egypt's hottest and driest city. However, this does not mean you cannot have a fantastic time while visiting Aswan which is also considered to be Egypt's most laid-back city.
Classic Egypt Tours
1. Enjoy a Felucca Boat Ride on the Nile
The banks of the Nile River in and around Aswan are particularly scenic, and there is no better way to appreciate this stunning scenery than by way of a felucca boat ride. The best time to enjoy a ride on one of these small traditional sailboats is early in the morning or in the late afternoon. There are many locals offering one or two hour rides/cruises, and prices can vary dramatically from one to the next. How much you end up paying will largely depend on how good your haggling skills are. If you are not fond of haggling, consider booking your felucca cruise through a travel agent.
2. Visit Philae Temple
The ancient Philae Temple, also sometimes referred to as the Temple of Isis, is Aswan's most visited tourist attraction, and for good reason. It is thought to be one of the very last true Egyptian temples to have been built, and it really is breathtaking. The temple was originally dedicated to Isis, the mother of Horus, the falcon-headed god.
What makes a visit to this site even more remarkable is the fact that this beautiful temple complex was relocated to higher ground in its entirety to save it from the rising waters of Lake Nasser following the construction of the Aswan High Dam.
Because Philae Temple is located on a small Nile River island (Agilika Island), visitors need to take a boat trip from the nearby marina. There are several official boats that transport visitors to and from the island. Most good Nile River cruises also include a visit to Philae Temple. This is Aswan's most famous attraction, and one which we definitely recommend visiting.
3. The Aswan High Dam – An Engineering Marvel
The construction of the Aswan High Dam was one of the most ambitious engineering projects ever carried out in Egypt. This mammoth undertaking began back in 1959 and was finally completed in 1970. It was designed to control floods on the Nile River and generate hydroelectric power for Egypt.
The sheer scale of this man-made marvel is something that cannot be appreciated properly unless you have seen it with your own eyes. You can take a guided tour of the dam and its associated facilities, which includes a visit to the Visitor Center. A visit to the high dam is included in many Nile River cruises. There are also several bus tours available from central Aswan. You can also get a taxi from Aswan city to the High Dam, but for the best pos
4. The Unfinished Obelisk – A Monument to Egyptian Ingenuity
The Unfinished Obelisk is one of the most fascinating and most enigmatic monuments in all of Aswan. This large unfinished obelisk, which dates back to the reign of Queen Hatshepsut, was discovered in a granite quarry just south of the city. Discovered in the late 19th century, this huge obelisk was never completed. It is thought that the quarry workers made a mistake when cutting the stone, causing it to become unstable and thus unsafe for use.
The Unfinished Obelisk gives us a fascinating insight into the techniques used by ancient Egyptians in order to create these enormous monuments. It will likely remain unfinished but still stands as a monument to Egypt's ancient ingenuity.
5. Explore the Nubian Village of Sehel Island
Situated on an island in the middle of the Nile River, the small village of Sehel is a must see for any visitor to Aswan. Here you can take a step back in time and get a glimpse into traditional Nubian life and also sample traditional Nubian food. The village itself consists of several picturesque mud-brick houses, and the locals are some of the friendliest you will ever meet.
The island is also home to a number of ancient monuments, including several Greco-Roman temples and an ancient Christian monastery. There are plenty of opportunities to take fantastic photographs here, so make sure you bring your camera with you. You can get to Sehel Island by taking a boat from the Aswan Marina.
6. Book a Day Trip to the Abu Simbel Temples
If you're looking for a truly unforgettable experience in Aswan, then you can't go wrong with a day trip to the incredible Abu Simbel Temples. Located about 280 miles south of Aswan, this site is home to two of Egypt's most iconic monuments, the Great Temple and the Small Temple. Both were built by King Ramses II to commemorate his victory over the Hittites at the Battle of Kadesh.
Like Philae Temple, the two massive Abu Simbel Temples were relocated to higher ground during the construction of the Aswan High Dam.
Visiting Abu Simbel is an experience you'll never forget and is definitely one of the highlights of any trip to Aswan. There are several day tours available from Aswan. The drive from Aswan to Abu Simbel takes approximately 4 hours, so be sure to book a tour that includes transport on a first-class tour coach with air conditioning and reclining seats.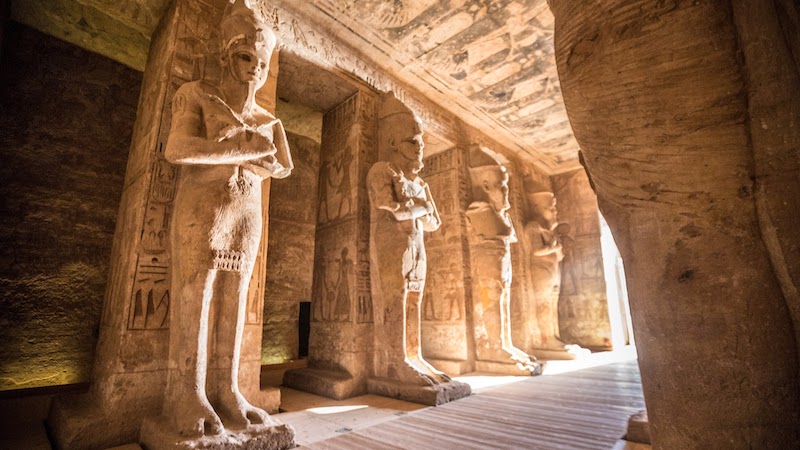 7. Take a Felucca Ride to Elephantine Island
If you're looking for a break from sightseeing, then why not spend an afternoon gliding down the tranquil waters of the Nile to Elephantine Island. From Aswan, you can take a felucca ride to Elephantine Island, which is home to some of the oldest settlements in Egypt.
On Elephantine Island, you'll find a small village with a few cafes and shops. You can also take a tour of the island's ancient ruins and archaeological sites, including the tomb of Petosiris and the ruins of the ancient temple of Khtum, an important feature in ancient Egyptian history. A felucca ride to Elephantine Island really makes for a tranquil and enjoyable day out in Aswan.
8. The Nubian Museum
The Nubian Museum in Aswan is another must-see attraction and a great place to learn more about the fascinating culture of the Nubian people. Here you can find an extensive collection of artifacts, including jewelry, pottery, tools and weapons. There are also displays relating to traditional Nubian customs, music and dance. The museum boasts one of the largest collections of Nubian artifacts in the world and provides a great insight into the history of this unique culture.
9. Lord Kitchener Island and the Aswan Botanical Gardens
If you're looking for a peaceful escape from the bustling streets of Aswan, then Lord Kitchener Island is definitely worth a visit. Located in the middle of the Nile River, this small island is home to the stunning Aswan Botanical Gardens. Here you can wander among exotic plants, lush palm trees and fragrant flowers while admiring the views across the river.
The gardens are also home to a variety of birds, reptiles and other animals. This is one of the top tourist attractions in Aswan, and it is the perfect spot to relax and enjoy some peace and quiet away from the hustle and bustle of downtown Aswan.
10. Saint Simeon Monastery & the Tombs of the Nobles
The remains of the monastery of Saint Simeon are located on the more or less uninhabited west bank of the Nile River at Aswan. Built during the 7th Century by Coptic monks, this old monastery looks more like an old fortress than a monastery. It is in surprisingly good shape considering the fact that it was abandoned during the 13th century and is certainly worth a visit.
If you are going to be visiting the monastery of Saint Simeon, then we would suggest that you also visit the Tombs of the Nobles. These are a collection of ancient tombs which were cut out of the river bank cliffs near Kitchener's Island. There are also a number of tombs from a later Roman era.
What to do in Aswan at Night
If you're looking for something to do in Aswan at night, then you won't be disappointed. Whether you want a romantic dinner with a view or an evening of entertainment, there are plenty of options available.
Take a sunset cruise on the Nile and enjoy dinner in style as you watch the sun dip below the horizon. Or if you prefer to stay on shore, why not check out one of the many rooftop bars or restaurants that offer stunning views of the river. There are also some great live music venues and clubs where you can dance the night away.
Alternatively, if you're looking for a unique experience, then why not take a barge ride along the Nile and watch the stars twinkle in the night sky. Whichever you choose, you're sure to have an unforgettable night in Aswan.
Aswan to Luxor Nile Cruise
If you are planning to also visit Luxor during your trip to Egypt, there are a number of companies that offer a 3-nights cruise and/or a 4-nights cruise from Aswan to Luxor. The price varies quite considerably depending on which cruise you choose. For the best and most rewarding experience, we would recommend booking a five-star cruise that includes full board, along with daily onshore excursions led by a professional Egyptologist guide. There really is no better way to experience the ancient history of Upper Egypt than by way of a Nile River cruise.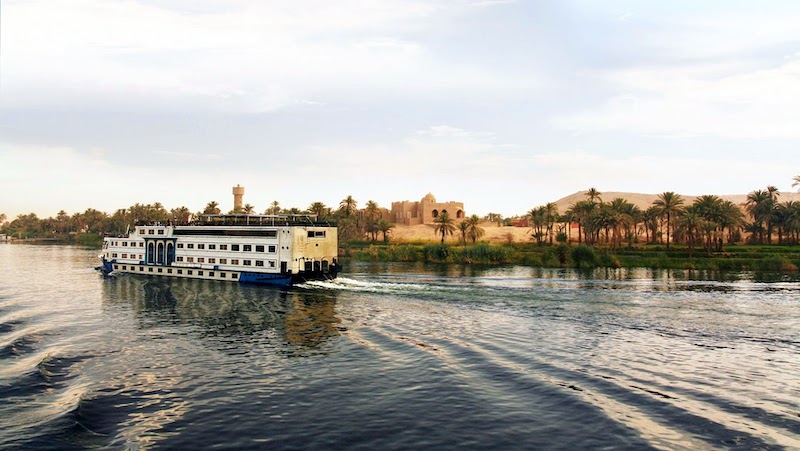 How to get from Cairo to Aswan
To visit Aswan from Cairo, you have a number of options, including taxis, buses, trains, and flights. There are a number of daily flights from Cairo to Aswan, and obviously this is your quickest and most convenient option but not your cheapest option.
Due to the distance involved, we would not recommend traveling by road, despite this being quite a popular option, especially among backpackers. Instead, we would recommend that you consider train travel if you want to avoid the cost of air travel. Deluxe sleeper trains which depart from Cairo train station are a great option, and if you are willing to pay a little bit extra for your overnight train journey, you can have your own private berth, complete with dinner and breakfast.
Is Aswan Worth Visiting?
We certainly think so! Aswan is one of the most charming and most laid back cities in Egypt, and there is certainly plenty to see and do if you are willing to venture beyond the comfort of your hotel. And, besides visiting the city's many popular tourist attractions, also be sure to visit the Aswan Souq where you will be able to purchase some really affordable souvenirs and also try some delicious Egyptian food that will only set you back a few Egyptian pounds.
Start Planning your Dream Trip Today
If you are longing to visit Aswan and other fascinating parts of Egypt, we can help you to plan and design a truly unforgettable trip to the Land of the Pharaohs. So, what are you waiting for? Contact us right now to find out more about what to do in Aswan, or to begin planning your once in a lifetime holiday to Egypt today.