Middle East Tours
Middle East Tours are your gateway to one of the most fascinating regions of the world; a region where the past, the present, and the future blend together seamlessly. Our Middle East tour packages are affordable; luxurious; 100% safe, and totally unforgettable. Whether you choose to visit Egypt and Jordan; Dubai and Turkey, or magical Morocco, you can be sure that we have taken care of every last detail so that you can enjoy a truly carefree and hassle free travel experience.
Join us for an incredible journey and let us bring your dreams to life.
CREATE YOUR DREAM TRIP
MIDDLE EAST TOURS SINCE 1955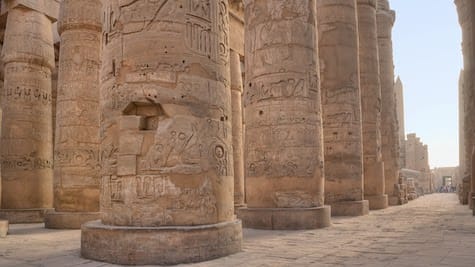 At NileCruiseHolidays.com, you can book Middle East Tours with complete and absolute peace of mind. After all, we have been offering high quality Middle East tour packages for more than half a century.
The tours which we offer are based on the experience we have gained over this vast period time, and on the fact that we are also travelers. As is to be expected, people who want to enjoy an unforgettable vacation in the Middle East tend to have numerous questions, and of course, many are also concerned about things such as personal safety. The truth of the matter is, providing that you book your Middle East tour packages through a reputable and trustworthy Middle East tour operator, you really have nothing to worry about.
VISITING ONE OF THE MOST FASCINATING REGIONS OF THE WORLD
There is just no denying the fact that the Middle East is one of the most fascinating regions in the world. After all, this is essentially the birthplace of humanity.
From the ancient tombs and temples of Egypt, to the magnificent cathedrals and other delights which await you in Turkey, or the futuristic skyscrapers of Dubai, Middle East to tour packages never fail to impress those who are searching for a vacation they will never forget.
TO EGYPT AND BEYOND WITH NILE CRUISES HOLIDAYS
At EgyptVacations.com, our mission is to offer Middle East tours  and Egypt Vacations which are perfectly flawless in every way; high quality tours which allow you to experience the true magic and the incredibly fascinating history of the Middle East; a region of the world which is as old as humanity itself. And, when you travel with us, you will be traveling in comfort and style every step of the way.
Experienced English speaking tour guides; air-conditioned vehicles; 4 and 5-Star hotels, and 5-Star cruises ships all come together in perfect harmony to ensure that your Middle East vacation is a vacation you will well and truly never forget.
ARE MIDDLE EAST TOURS SAFE?
Quite understandably, many people have concerns about the safety of Middle East tours, given the fact that large swathes of the Middle East have been ravaged by wars and conflicts, but in reality, most of the Middle East is perfectly safe for those who want to visit.
At EgyptVacations.com, we would never, under any circumstances, take any of our clients to areas which are deemed to be unsafe for travel. In short, when you book Middle East Tours through us, you have absolutely nothing to worry about because we care about your personal safety and wellbeing just as much as you do.
EGYPT AND JORDAN TOURS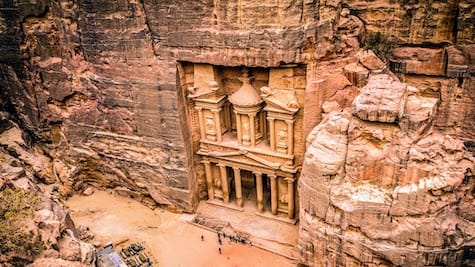 At EgyptVacations.com, we strive to provide Middle East tours to suite all taste and budgets; tours which can also be enjoyed by people of all ages, and our range of meticulously structured Egypt and Jordan tour packages are a perfect fit.
When you book Egypt and Jordan tours through us, your vacation begins with private guided tours in and around Cairo, during which you will visit several of the very best Cairo tourist attractions. From Cairo, we then fly you to Luxor or Aswan where you will board a 5-Star Nile cruise ship for an unforgettable cruise through the Nile River Valley.
During your cruise, you will enjoy small group tours that will see you visiting some of the best ancient attractions in the region, and of course, one of our Egyptologist tour guides will accompany you on all tours to make the experience more rewarding than ever. After enjoying a few relaxing days on the Nile, it will be time for your departure to Amman in Jordan where more amazing sightseeing opportunities await you.
Our tour itineraries differ from one tour package to the next, but you can be sure that we will be taking you to see some of the very best Jordan tourist attraction while you are in the country, including places like the Rose City of Petra, an ancient city that was carved out of the walls of a long and deep gorge.
EGYPT AND MOROCCO TOURS
Who doesn't want to visit Morocco, and particularly Marrakech? That is not to say that Marrakech is the best place in Morocco, but there just seems to be something about Marrakech that makes people dream about visiting. Quite often, when you speak to others who have visited Morocco, Marrakech is often one of the first things they talk about. In reality, however, there is so much more to Morocco than only Marrakech. Morocco has 4 other imperial cities as well, including Casablanca; Meknes; Fez, and Rabat which is current capital of Morocco. Each of these cities has their own unique charm and fascinating history.
Morocco also has a vast amount of unspoiled natural beauty, something which immediately becomes apparent if you start making your way into the High Atlas Mountains, or even into the vastness of the desert. For many people who visit Morocco, it is the timelessness of the country which they find most endearing. In much of the country, it is almost as though time, at some point, just stood still. Arts and crafts in the country are a prime example.
In Morocco, skills and traditions are not easily lost with the passing of a generation. Instead, they are passed down from one generation to the next, and so it continues.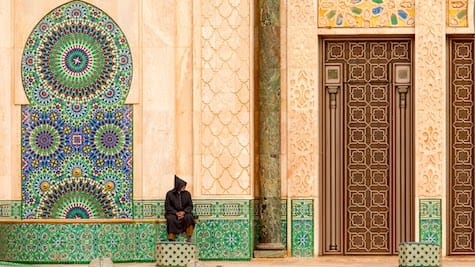 If you visit the tanners in Fez for example, you will see tanners busy tanning hides using the same techniques and materials as their forefathers did, and this isn't restricted only to the tanners. You will see much the same thing with carpet weavers; carpenters; ironmongers and more.
Morocco tour packages, and particularly our Egypt and Morocco tours are very popular, and they are popular for a good reason. What better way is there to finish an unforgettable vacation in Egypt than ending it with a trip through magical Morocco?
EGYPT AND DUBAI TOURS
Night view of Dubai Marina.
They say opposites attract, and this saying certainly rings true when it comes to our Egypt and Dubai tour packages. It really is like going from one extreme to the next, but in an indescribably wonderful sort of way. Regardless of which one of our Egypt and Dubai tours you book, you can be sure that it will include some of the very best attractions in Egypt, and also some of the very best Dubai tourist attractions, and the difference between the two simply cannot be put into words.
Imagine spending a week or more surrounded by the antiquity of Ancient Egypt; days spent visiting and exploring ancient pyramids, tombs and temples, and then suddenly you are in the air on your way to Dubai, and on stepping out of the airport, you now find yourself surrounded by obvious opulence and all things futuristic.
You see traffic police, not in Toyotas; Fords or Nissans, but in Lamborghinis instead. Don't be surprised if you see gold plated Ferraris either, and nobody will blame you if you starting questioning whether this is sure a dream.
You may or may not see gold plated cars during your stay, but no matter which direction you look in, you will see a world which is unlike anything you could possibly have imagined if you have never visited Dubai before. Yes, popular tourist attractions can certainly blow you away, but when you visit Dubai, just about everything blows you away.
EGYPT AND TURKEY TOURS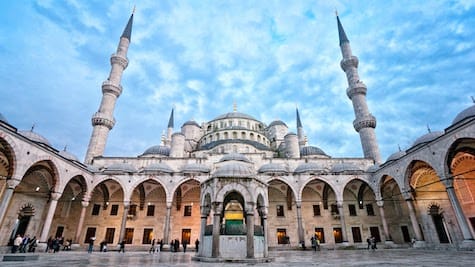 If you really want to overdose on sightseeing with some time for relaxation along the way, then our Egypt and Turkey tour packages will almost certainly be a perfect match. So many people mistakenly only see Turkey as a place where they can enjoy affordable vacations in seaside resorts, but there is so much more to Turkey. The country is quite literally overflowing with ancient sites and magnificent historical monuments that reflect Turkey's long and incredibly fascinating history.
If magnificent architecture fascinates you, then be sure to opt for a tour package that features places such as the Hagia Sophia; the Basilica Cistern; the Blue Mosque; the Mosque of Suleiman the Magnificent, and of course, Topkapi Palace, all of which are conveniently located in Istanbul.
On the other hand, if it is true antiquity you are after, then you need to find a tour package that includes spending some time exploring in and around Cappadocia. Cappadocia and the surrounding area are home to so many indescribable attractions, including natural rock fortresses and monasteries; ancient underground cities, and countless rock-carved dwellings.
From luxurious seaside resorts and a vibrant nightlife, to absolutely mind boggling archeological wonders, Turkey really has so much to offer, and our Egypt and Turkey tours that include some time in Turkey are expertly designed to ensure that our clients get to see the very best that Turkey has to offer.
MAGICAL NILE RIVER CRUISES
Boat cruising on the river nile with Aga Khan tomb on the shore near Aswan.
At EgyptVacations.com, our range of Middle East tours are almost exclusively multi-destination tours that feature Egypt, along with one or more other destinations, such as Morocco; Jordan; Turkey; Jerusalem, and even Kenya. Regardless of which of these tours you decide to book, you can look forward to a truly wonderful Nile River cruise, and with NileCruiseHolidays.com, you can be sure that you will be sailing on a beautifully appointed 5-Star cruise ship; a cruise which has all the services and amenities that you would expect to find at any good hotel.
Apart from being the very epitome of relaxation, our Nile River cruises also include some of the best sightseeing tours and excursions imaginable to make your journey through the Nile River more memorable than ever. It is often said that no visit to Egypt is complete without a Nile River cruise, and no truer words have been spoken.
MIDDLE EAST TOURS SINCE 1955
When you book your Middle East tours through us, you are booking your tours through an Egypt tour operator that has been offering high quality Middle East tours ever since 1955; a tour operator that has had more than half a century to fine tune and perfect Middle East tours so that they seamless, flawless and quite simply unforgettable.
And, if you cannot find the perfect package amongst our existing Middle East tour packages, then please know that we also offer customized Middle East tours, or alternatively, our team of travel specialists can work with you to build your perfect tour package from scratch. Remember, whether you are only wanting discuss one of our Middle East tours, or whether you want to request changes to a tour you have already book, we are only a call away, and we are always happy to help in any way we can.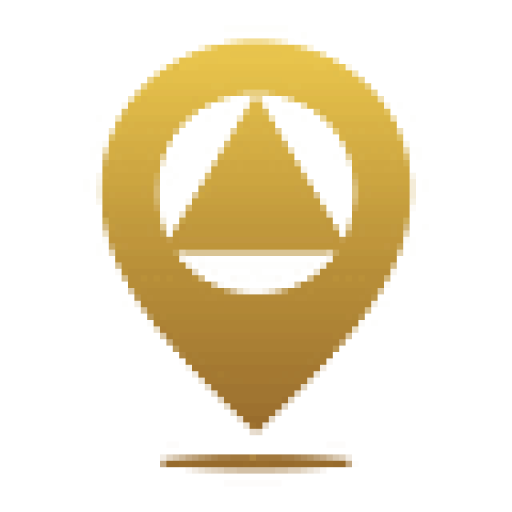 DESIGN YOUR CUSTOM TRIP
Explore Egypt your way
by selecting only the attractions you want to visit
Why Book With Us
Come explore the best of Egypt your way. All Egypt Vacations are customizable.
EGYPT YOUR WAY
All of our Egypt Vacations are fully customizable and can be tailored to meet your own exact needs because it's your vacation, and we believe you should be able to enjoy it your way.
24/7 SERVICE
We cater for a global audience scattered over numerous time zones, so our team of highly experienced travel consultants are standing by 24/7 to answer queries and to offer assistance with tour arrangement.
TRAVEL EXPERTS
With more than 65 years of experience, we believe that no other Egypt tour operator is as well-equipped as we are to provide Egypt Vacations which are as flawless and as rewarding as ours are.
INTERNATIONAL TEAM
Our online travel consultants and on the ground tour guides are fluent in multiple languages, including English; French; German; Italian; Portuguese; Spanish and Arabic.
HIGH QUALITY SERVICE
Personalized high quality services. We are experts in Egypt travel – Since 1955. Dedicated local staff with first-hand experience. Hassle-free travel saving you time, money and energy.
EPIC NILE CRUISE HOLIDAYS
Top rated Nile cruise ships. English speaking egyptologist guides. Explore the best of Egypt with experience by your side. We don't just sell amazing Egypt Vacations; we make your dreams come true.