Lake Nasser Cruises
Lake Nasser Cruises share the same luxurious qualities which you can enjoy with Nile River cruises, but they act as your gateway to the ancient history of an area which was once known as Upper Nubia. Following the construction of the Aswan High Dam, much of this area became flooded resulting in what is today Lake Nasser. Many of the ancient monuments you will see with our Lake Nasser cruises where painstakingly relocated to higher ground before being claimed this vast lake.
Join us for a luxurious cruise on this magnificent lake as we explore the fascinating relics of Upper Nubia.
CREATE YOUR DREAM TRIP
DON'T MISS THE MANY DELIGHTS OF LAKE NASSER CRUISES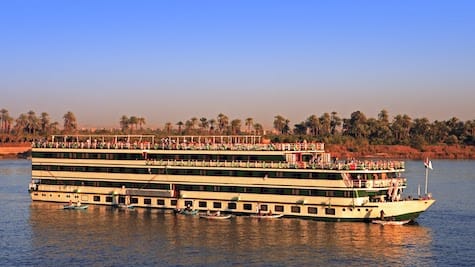 Cruises in Egypt are often seen as rides up and down the famous Nile. Yet, there are also Lake Nasser cruises offering an astonishing array of historic sites and unforgettable scenery. In fact, if you are planning an upcoming visit to Egypt, you will want to include at least few days on both bodies of water – enjoying a Nile river cruise, but also ensuring that your journey features a cruise along Lake Nasser.
Why? Egyptian history didn't end at modern-day Aswan – though many travelers make that mistake. The borders between Ancient Egypt and its southern neighbor, then Nubia but today modern Sudan, were not defined by Lake Nasser. It was a region in which the Nile did indeed flow through, but it was also a place where caravans made their way into and out of Egypt, and where the defeated Nubians were reminded of their Egyptian leaders through monumental architecture, standard temples, and more.
It is difficult to envision this region today as it was thousands of years earlier, and this is due to the presence of the enormous body of water that now covers a huge swath of land that was once desert, ancient roads and Nubian villages.
The building of the Aswan High Dam created the enormous body of water now known as Lake Nasser. Ranked as one of the world's largest, man-made bodies of water, it hides many ancient Egyptian and Nubian sites that could not be spared from the rising waters caused by the dam's completion in 1970, and even some villages there were not relocated, too.
Stretching beyond Egypt's borders it is over 290 miles long and almost ten miles at its widest point. It covers more than two thousand square miles and is a vast reservoir that actually crosses national borders into Sudan. The area within Egypt is called Lake Nasser while the Sudanese government refers to the rest of the lake as Lake Nubia.
The majority of Lake Nasser cruises sail to one of the southernmost points in the Egyptian area of the lake, and this is to visit the stunning and awe-inspiring site known as Abu Simbel. One of Ramses II's (aka Ramses the Great) epic monuments, it stands in a new location, as it was one of several structures relocated as the waters of Lake Nasser rose. Though it might seem that the only destination on most Lake Nasser cruises is this amazing monument, there is much more to see and do.
Unlike Nile cruises, the size of Lake Nasser means that larger vessels are available for Lake Nasser cruises. This means you have a nice array of ships from which to choose, with most being multi-deck vessels offering trips lasting four to five days in total. And many who have enjoyed Lake Nasser cruises agree that you do not even have to disembark or set foot on land to find the entire experience magical and unforgettable.
THE LUXURY OF LAKE NASSER CRUISES
First and foremost, you should note that there are many types of cruise options, including five-star luxury cruises, available. If you are heading to the area, you owe it to yourself to book on one of the premier ships. The journey you undertake is in one of the hottest areas of Egypt, and even during the cooler season it can be quite uncomfortable. Because of that, you should choose a high-quality cruise provider with top of the line amenities and all-inclusive services.
This will ensure you can board your ship, unpack once, and then sit back and savor the adventure. On board the better ships, you will enjoy gourmet meals, expert guides who may do presentations and lectures ahead of your visits to the major stops on the cruise, and fantastic accommodations with every comfort and luxury possible. Once you arrive at each of the sites, your booking will include transportation in air-conditioned vehicles, any excursion or entrance fees, and meals and drinks when not onboard, too.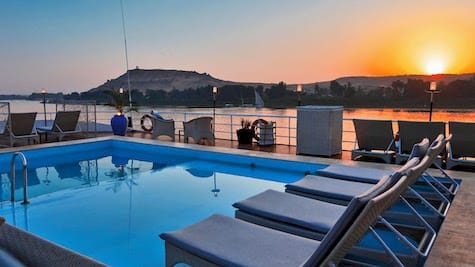 Just consider that the lake sits far from any cities or even towns. Because of this, the stars in the night sky are unlike any most have ever witnessed. Darkness down to the horizon means brilliant pin points reflecting back into the waters all around. The daylight hours are just as enchanting because enormous teams of dedicated scholars made great efforts to carefully and relocate stunning monuments and temples to higher ground, with some areas now enchanting islands in the midst of the lakes sparkling waters.
WHAT YOU CAN ENCOUNTER ON THE BEST LAKE NASSER CRUISES
The Abu Simbel Temples is the most famous in all of Egypt after the Giza Pyramids, dedicated to Ramses II and his wife.
In fact, all of the sites you can visit during a Lake Nasser cruises are deemed UNESECO World Heritage Sites and part of the organization's Nubian Monuments collection.
Of them all, Abu Simbel perpetually rates as one of the most stunning. Though many travelers know of the four enormous statues of Ramses II that seem to stand guard for all eternity along the ancient border of Egypt, the area is actually home to a temple complex with one built by and dedicated to Ramses II as well as a second temple just north of it dedicated to his wife Nefertari. The main temple features those iconic colossi standing over 65 feet each. They include carvings of Ramses wearing the crowns of Upper and Lower Egypt, and at his feet are different statues of his wife, mother and children.
Constructed around 1264 BCE (and with building taking another 20 years), they were finished in 1244 BCE. One of the largest figures collapsed shortly after its completion, and when the entire temple was relocated n the 1960s, it was left as it was rediscovered by a Swiss explorer in the early 1800s. The site does not contain the carvings alone and the entire temple structure was lovingly disassembled and relocated out of harm's way.
There are three halls inside the cliffs along with paintings and other figures. The entire complex is considered a must-see location during any of the Lake Nasser cruises, and because the very best are accompanied by Egyptologists and experts, you will see and learn much during your visit.
Yet, Lake Nasser cruises also take travelers past other rescued structures and sites, including Amada.
Here you find a true oddity amongst the many building projects undertaken by Ramses II. The Temple of Derr sits along the eastern shore of the lake, which was once the eastern shore of the Nile, and is a remarkable structure because of its stunningly colorful painted reliefs, very characteristic of Ramses II.
There is also the oldest Egyptian temple in Nubia at the Amada site. Known as the Temple of Amada it was built during the 18th Dynasty and eventually expanded upon and restored by subsequent pharaohs, including those of the 19th dynasties. It is very primitive from the exterior but surprisingly beautiful inside, with its painted reliefs depicting unusual scenes.
WADI EL SEBOUA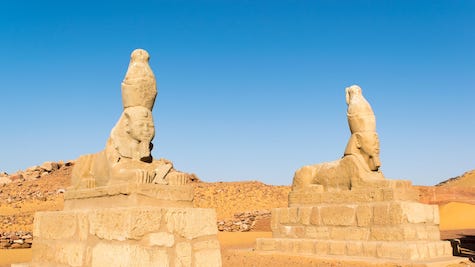 Another site completed by Ramses II, its name translates from the Arabic and means the Valley of the Lions because of its row of sphinxes leading to the temple's large and imposing pylon. The site includes the Temple of Wadi El Seboua, notable as a temple constructed by Amenhotep, the famed heretic king and father of King Tut. Greatly altered upon his death, Ramses II undertook the restoration and even added to it – creating the alley of sphinxes that remain today.
The site is just as famous for the Temple of Dakka, constructed around 220 BCE by the Nubian king to honor the Egyptian god Thoth.
Experts agree construction was also supported by the Ptolemaic pharaoh of that era and that the building underwent many changes during the Roman period afterward. Famous for its imposing pylon, it is considered a must see for anyone on one of the many Lake Nasser cruises.
The area is also home to the Temple of Amun, which was also built by Ramses II to honor his many years of rule in Egypt. Today, it still retains its courts, pylons and pillars. Lastly, you see the lovely but unfinished Temple of Maharraqua with its unique stair to the rooftop and its total absence of indications of who built it, or even why.
NEW KALABSHA
Just south of Aswan is this island formed by the creation of Lake Nasser. It includes the impressive Temple of Kalabsha, built by Amenhotep II and completed during the Ptolemaic era. Yet, it also shows signs of work under Roman rule, though all of the relief carvings are dedicated to the Egyptian gods, including Horus.
Close to the temple are other equally appealing sites, including the Gerf Hussein, also a Ramses II structure that had already partially succumbed to the flood waters before being saved and rebuilt on the island; the Beit el-Wali, dedicated to Ramses II and full of beautifully restored paintings; and the lovely Kiosk of Qertassi with its six remaining columns beautifully carved and finished.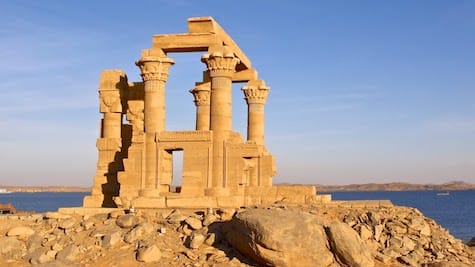 A TRIP THROUGH HISTORY WITH LAKE NASSER CRUISES
When visiting such sites during the best Lake Nasser cruises it is impossible to ignore the stunning and dynamic reign of Ramses II, as this is where he left such a profound mark on the Egyptian and Nubian landscape. Travelers aboard Lake Nasser cruises will learn from their guides about the pharaoh's love of color and preference for rock cut structures but will also discover a great deal about the later years of pharaonic Egypt and even the period of time after that long era came to an end under Roman rule.
Yet, the history of the region also includes the more modern history, and the very best Lake Nasser cruises often incorporate a bit of that into the experience. As an example of this, your cruise may begin at Aswan and include a day of exploration in this region. You may get a formal tour of the Aswan High Dam (bring a camera to ensure you get amazing shots of the unimpeded, panoramic view of the entire region), the Unfinished Obelisk, and the appealing museums in town. You will then board and disembark, heading south and making stops at the sites mentioned earlier.
Many Lake Nasser cruises do not use a round-trip approach to the journey but will instead begin at the top of the lake in Aswan and head south to Abu Simbel or begin all of the way at the southernmost area and head north. Many travelers wonder which is best, and there is no good answer.
For instance, you may want to book the south to north Lake Nasser cruises if you are hoping to visit Abu Simbel at sunrise. You may be able to book a stay in the town and head to the site early in the morning hours. Alternately, you may wish to complete the journey with a final evening of slumber aboard the ship and in full sight of the stunning Abu Simbel complex.
As you can see, just as the many premium Nile cruises can fit into your custom itinerary for the ultimate Egyptian experience, so too can the Lake Nasser cruises available. As suggested earlier, it is a good idea to plan for both since these bodies of water both define Egypt. The Nile is the eternal force that has shaped and built Egypt while the lake supplies the modern Egyptian world with the water it needs for agriculture and prosperity. Both are surrounded by stunning, historic sites and majestic landscapes, and are essential experiences when visiting this remarkable land.
You can book Lake Nasser cruises as the first part of a journey or the final leg of a trip before heading to Cairo and departing Egypt. With Abu Simbel awaiting at the southern end of the lake, you just cannot think of your explorations of Egypt as complete until you set eyes on their stunning scale and impossible engineering, and it is best done by booking one of the Lake Nasser cruises as part of your experience.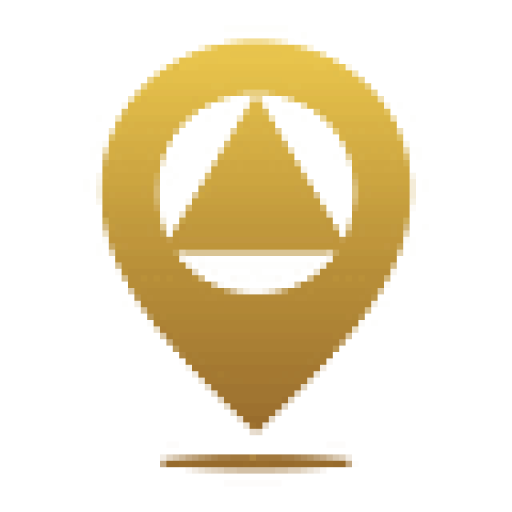 DESIGN YOUR CUSTOM TRIP
Explore Egypt your way
by selecting only the attractions you want to visit
Why Book With Us
Come explore the best of Egypt your way. All Egypt Vacations are customizable.
EGYPT YOUR WAY
All of our Egypt Vacations are fully customizable and can be tailored to meet your own exact needs because it's your vacation, and we believe you should be able to enjoy it your way.
24/7 SERVICE
We cater for a global audience scattered over numerous time zones, so our team of highly experienced travel consultants are standing by 24/7 to answer queries and to offer assistance with tour arrangement.
TRAVEL EXPERTS
With more than 65 years of experience, we believe that no other Egypt tour operator is as well-equipped as we are to provide Egypt Vacations which are as flawless and as rewarding as ours are.
INTERNATIONAL TEAM
Our online travel consultants and on the ground tour guides are fluent in multiple languages, including English; French; German; Italian; Portuguese; Spanish and Arabic.
HIGH QUALITY SERVICE
Personalized high quality services. We are experts in Egypt travel – Since 1955. Dedicated local staff with first-hand experience. Hassle-free travel saving you time, money and energy.
EPIC NILE CRUISE HOLIDAYS
Top rated Nile cruise ships. English speaking egyptologist guides. Explore the best of Egypt with experience by your side. We don't just sell amazing Egypt Vacations; we make your dreams come true.