Awesome Egypt Vacations
Backed by more than 65 years of success, and with nearly a quarter of a million Nile cruise holidays already sold, EgyptVacations.com is a name you can trust and rely on for high quality Nile cruise and stays as well as amazing Nile River cruises. Driven by passion and powered by experience and a quest for perfection, we don't only sell tours and cruises; we bring your dreams to life.
CREATE YOUR DREAM TRIP
SHOULD YOU CONSIDER DELUXE NILE CRUISES THIS YEAR?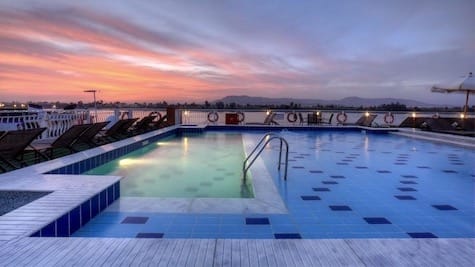 When you hear the phrase "deluxe Nile cruises" do you shrug and think something along the lines of "aren't all Nile cruises also deluxe Nile cruises?" While there is some logic in that way of thinking, it is untrue.
Traveling aboard a modern vessel in order to reach some of the many historic sites that line the Nile's banks, or which are located inland from ports along the shore, is a somewhat exclusive opportunity, but not every such journey is luxurious or "deluxe" in nature.
Certainly, the definition of the term "deluxe" can vary from person to person, but when it is used in the context of deluxe Nile cruises, it means a few basic things: premium accommodations, comprehensive itineraries, world-class services, and everything it might take to enjoy an unforgettable adventure along the celebrated river.
For more than 100 years, travelers have been happily making their way up and down the famed Nile aboard any number of different vessels. From tiny feluccas (which have no cabins and are just for transport), to large wooden dahabiyas that use wind power and tall sails, to large and modern luxury yachts and cruisers, millions have made the journey along the river's waters. Yet, for all of that, not all cruises can qualify as luxury or deluxe Nile cruises.
WHAT A MODERN NILE CRUISE CAN MEAN
For one thing, if you take some time to explore the different options for cruises aboard modern vessels, something strikes you immediately – some are described as "full board" and some are "all inclusive". Typically, the deluxe Nile cruises fall into the latter and include all of your food, drink, land excursions, ground and air transport, and anything else, in the price of your booking.
So, if you want to just book your tour and forget about anything other than your spending money and your airfare to and from your home, it is the deluxe Nile cruises you'll want to choose.
For another thing, the style of boat can really distinguish between a standard cruise and one that can qualify as one of the deluxe Nile cruises.
While it is fair to say that traveling for leisure and onboard any sort of vessel is a bit of a luxury, there are wide variations between the vessels available.
The deluxe Nile cruises provide travelers with staterooms offering large sitting and sleeping areas, private baths, premium linens, gorgeous décor, and even options like small and private balconies.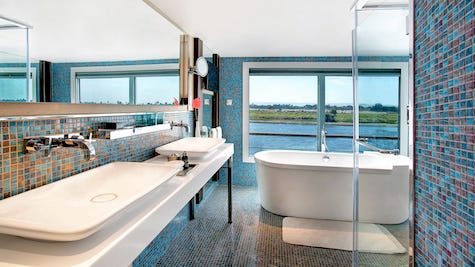 These are elements not so commonly found on standard vessels. In fact, many say that deluxe Nile cruises are like traveling in floating, five-star hotels, which is far from the norm when aboard many other vessels.
And when a traveler opts for one of these more luxurious vessels, it also means they enjoy a long list of amenities and features that not all cruises provide.
THE PREMIUM FEATURES AND AMENITIES OF DELUXE NILE CRUISES
Of course, those amenities are going to vary based on the type and the size of the vessel selected. You can choose a classic dahabiya that will have a very limited number of cabins, meaning fewer passengers, but which provides access to gorgeous interiors, large decks, incredibly attentive crew, and more. Yet, some of the larger yachts and cruisers also offer similar benefits, along with features such as pools, spas, larger dining rooms, and more.
They offer entertainment, but not the stock or standard kind. Your trip may mean you are able to experience authentic Nubian dancing or a night meant to introduce you to the culture of modern Egypt, with specific foods, dress and music. There are no glitz and glamour entertainers on board the deluxe vessels and nothing meant to distract. While on board a deluxe cruise, it is all about the experience, and the boat, crew and itinerary will all be meant to ensure you do really come to understand ancient and modern Egypt a bit more fully than when you set sail.
YOU REALLY EXPERIENCE EGYPT – ANCIENT AND MODERN – DURING DELUXE NILE CRUISES
Interior of Karnak temple, Luxor.
As we just stated: where the deluxe Nile cruises really distinguish themselves, is in the way they help a traveler to experience Egypt; whether you are cruising in the classic dahabiya or a modern yacht.
Because deluxe Nile cruises include these experts, they can also end up including a lot of stops at lesser known locations during the voyage – or at least allow for that expert to point out areas the average traveler might never otherwise discover.
This is because, the deluxe journeys feature the expertise of at least one Egyptologist, renowned archaeologist or historian with in-depth knowledge in Egyptian history. Whether they specialize in a specific location, period or dynasty, or well-known pharaoh, that expert is going to offer lectures, give guided tours at specific sites, and answer your questions on the spot. This makes a visit to almost any location far more enriching and rewarding.
As an example, imagine touring one area of the Valley of the Kings with someone who is well-versed in the different tombs, archaeologists, discoveries, art or anything else of relevance about the area. This will be entirely different from a local guide who is going to take their time to walk you through the sites but offer little insight into specific details. This same guide will be unable to answer all of your questions or deliver a lecture on board the ship before you arrive at the site. This would be true of a lesser-known temple or other site, and it would enrich your knowledge, fire up your interest or enthusiasm, and allow your visit to be more dynamic and unforgettable. Just this alone really distinguishes the deluxe Nile cruises from others.
While it is wonderful to traverse the beautiful Nile in the lap of luxury, it is utterly remarkable to do so in the company of an expert who is often happy to share their enthusiasm about every sight, destination, or detail.
Traveling the Nile is like traveling through time, and particularly the eras of the ancient, Pharaonic Egyptians. Having an expert, or two, on board is a real treat and boosts the overall value of the journey. Of course, the luxury accommodations, hospitality of the Egyptian crew, and the presence of an expert are not where the benefits of the deluxe Nile cruises end.
This is because cruises vary widely in their lengths and the itineraries they follow. You are never limited to just one stretch of the Nile's four thousand-plus miles. Though not all ships can make their way along the entire length of the river (due to the size of cataracts or the heights of some bridges over the water), there are more than 250 vessels capable of offering cruises.
While it is quite common for traditional Nile cruises to run from Luxor to Aswan, the deluxe Nile cruises come in a far more robust range of itineraries.
In fact, you may find it entirely possible to set sail from Cairo and head to Aswan. You may even do a reverse journey and complete the cruise in the enormous and bustling modern city of Cairo, too. It is important to note that a lot of the finest and most deluxe Nile cruises actually include at least one day, but typically more, touring the city before departure. From Cairo you might board your vessel or take a flight to Luxor or Aswan. You could even find yourself spending time on a more extensive land tour, including visits east into the desert and the different natural and man-made oases, before heading back towards the river.
PLANNING YOUR DELUXE CRUISE
What you should take from all of this is simple: The deluxe Nile cruises give you tremendous opportunities for a far richer and more comprehensive visit or exploration of Egypt. It does not even have to be all about the Nile itself alone but can include any number of land excursions prior to or following the river journey.
Of course, the trip to Aswan is not the end of the sailing or cruising. This is because many deluxe Nile cruises allow their travelers to also book a continuing journey all of the way to Abu Simbel – the famed site built by Ramses II and which was spared from the flood waters of Lake Nasser during the building of the Aswan High Dam in the 1960s and 70s.
Yet, it is not Abu Simbel alone that can be enjoyed during the 100+ miles journey down Lake Nasser. There is New Kalabsha, an island used as a new setting for several other structures spared from the flooding, there is the famous Temple of Dakka, Derr Temple, and Wadi el Seboua, among other sites along the way. Noted as some of the most stunning Egyptian Nubian structures, they can be a key part of your extended Nile cruise.
TIPS FOR SELECTING THE IDEAL DELUXE NILE CRUISES
You may not need any further convincing that you should consider one of the deluxe Nile cruises for your visit to Egypt this year or the next. Instead, you may be wondering just how to go about selecting the ideal journey for your goals. This is easier than it seems, even though many are quickly confused as soon as they start exploring the options.
Step one is to simply make a list of the locations that are of the most interest or importance to you. Often, this really helps to clarify where you should start or finish the cruise.
For instance, you might include the pyramids at Giza and the Egyptian Museum – both of which are part of a visit to the Cairo area. However, you might also indicate that you want to see the Valley of the King's, Luxor Temple and Hatshepsut's temple. This is all in the Luxor and Karnak area. If you also wanted to stop at Amarna and even pay a visit to the lesser known pyramids around Maydoum, a cruise from Cairo to Luxor may be an ideal choice.
Yet, if you are also eager to see Edfu and Kom Ombo temples, you would need to sail past Luxor, making a cruise from Cairo to Aswan an ideal choice. Never forget that the idea of a deluxe cruise is also about the options for hotel add-ons and land tours that may be far away from the Nile itself. For example, it is not at all unusual for travelers to wish to see one or more of the oases east of the river, and your cruise could incorporate a few days of travel before you reach the Nile and the ship on which you will embark up or down the river.
So, first things first, get a good map of Egypt (or even one relating to Ancient Egypt) and make note of the locations that you consider "must see" destinations. You can then easily start to narrow down the options based on the primary stops and the length of time each cruise gives to the spots you are most interested in exploring.
Also, give thought to the type of ship you wish to experience. Many people have never heard of the wooden boats known as dahabiyas until they begin to explore options for a cruise. Once they see images of them and hear about their small size, luxurious staterooms and many premium services, they wish to enjoy a sail aboard one of their own. This makes a lot of sense since there is little that compares with sitting on the upper deck of a small and silently sailing ship as it passes the farmers, ancient sites, modern towns and myriad scenes that make up a trip along the Nile.
Of course, if you prefer a pool on the upper deck, a spa and salon, and bigger living spaces, the larger yachts and cruisers may be a better option.
You have many ways to see and experience Egypt, but a deluxe cruise along the Nile is certainly one of the most satisfying. If you are planning a visit of any length, be sure you also include some time on these unforgettable waters.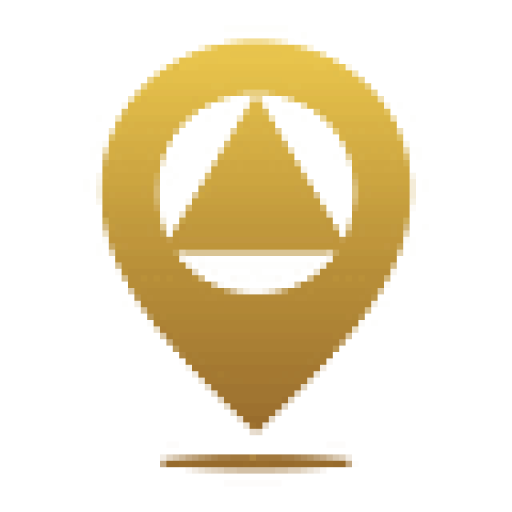 DESIGN YOUR CUSTOM TRIP
Explore Egypt your way
by selecting only the attractions you want to visit
Why Book With Us
Come explore the best of Egypt your way. All Egypt Vacations are customizable.
EGYPT YOUR WAY
All of our Egypt Vacations are fully customizable and can be tailored to meet your own exact needs because it's your vacation, and we believe you should be able to enjoy it your way.
24/7 SERVICE
We cater for a global audience scattered over numerous time zones, so our team of highly experienced travel consultants are standing by 24/7 to answer queries and to offer assistance with tour arrangement.
TRAVEL EXPERTS
With more than 65 years of experience, we believe that no other Egypt tour operator is as well-equipped as we are to provide Egypt Vacations which are as flawless and as rewarding as ours are.
INTERNATIONAL TEAM
Our online travel consultants and on the ground tour guides are fluent in multiple languages, including English; French; German; Italian; Portuguese; Spanish and Arabic.
HIGH QUALITY SERVICE
Personalized high quality services. We are experts in Egypt travel – Since 1955. Dedicated local staff with first-hand experience. Hassle-free travel saving you time, money and energy.
EPIC NILE CRUISE HOLIDAYS
Top rated Nile cruise ships. English speaking egyptologist guides. Explore the best of Egypt with experience by your side. We don't just sell amazing Egypt Vacations; we make your dreams come true.