If you are planning a trip to Egypt you may well be wondering what to do in Cairo, Egypt when you first arrive in the country. Quite understandably, our top recommendations would be a visit to the Giza Pyramids, a visit to the Egyptian Museum in downtown Cairo, and of course, a visit to the city's legendary Khan el Khalili Bazaar.
With the above having been said, there is so much more to Cairo than only the pyramids, the museum, and the city's centuries-old Khan el Khalili bazaar. So, if you're wondering what to do in Cairo, continue reading because in this post we are going to discuss 15 of the best attractions and things to do in Egypt's fascinating capital city.
Classic Egypt Tours
15 of the Best things to do in Egypt's Capital
Most people who visit Egypt enter the country via Cairo International Airport, and for most people the Pyramids of Giza are at the very top of their bucket list of must-see attractions. With this in mind, we'll start our "What to do in Cairo" list with a trip to the Giza plateau to see the famous Giza Pyramids and the Sphinx.
1. The Pyramids of Giza and the Sphinx
This is Egypt's most popular and most visited tourist attraction, and home to the three pyramids and Sphinx which have literally become the face of Ancient Egypt. The largest of the three pyramids is the Pyramid of Khufu, also known as the Great Pyramid. The second largest pyramid is the Pyramid of Khafre, while the smallest of the three is the Pyramid of Menkaura.
Tourists can enter all three of these pyramids, but in order to do so, additional tickets need to be purchased at the site for each pyramid you want to enter. Entry to the pyramids is not included in the general entrance fee.
2. The Museum of Egyptian Antiquities
The Museum of Egyptian Antiquities, also known as the Egyptian Museum, is located across the road from Tahrir Square in downtown Cairo. Many of the museum's artifacts were recently moved to the newly opened Grand Egyptian Museum at Giza but it is still home to one of the world's largest collections of ancient Egyptian artifacts and is still definitely worth a visit. The museum's location near Tahrir Square also makes it a very convenient attraction to visit if you're staying in downtown Cairo.
3. The Grand Egyptian Museum
This newly opened museum is located only a short distance from the famous Giza Pyramids and the Sphinx. It is the world's largest museum dedicated to a single civilization. As mentioned previously, many of the museum's artifacts were transferred from the Egyptian Museum in Cairo, including all the artifacts that were recovered from the tomb of King Tutankhamun.
The Royal mummies which were once on display at the Museum in Cairo have also been rehomed in the new Grand Egyptian Museum. If you are trying to decide on what to do in Cairo, you should definitely consider visiting this absolutely spectacular museum. However, be aware that there is a smart-casual dress code in place at the museum.
4. Khan El-Khalili Market
The Khan El-Khalili Market in historic Cairo is an absolute must for anyone who is wondering what to do in Cairo. With its many lanes, alleyways and narrow streets, this bustling market is a true treasure trove. Whether you are looking for souvenirs, cheap and affordable clothing to wear during your trip, or whether you want to stock up on a wide range of exotic herbs and spices, Khan el Khalili won't disappoint you.
It is also a great place to sample authentic Egyptian street food, have a cup of tea or coffee and watch ordinary Egyptians going about their daily lives. In short, the Khan el Khalili market is definitely one of Cairo's must see attractions.
5. Enjoy a Camel Ride at the Pyramids
Make your visit to the pyramids more memorable than ever by going for a camel ride while you're at the site. At the time of this post being written, the official rate for a camera ride at the Pyramids of Giza was 50 to 100 Egyptian Pounds but the price varies quite drastically depending on your haggling skills. This is another reason why it is best to visit the site with a professional guide supplied by a reputable travel agent. Your guide should be able to offer you advice regarding the cost of riding a camel at the site.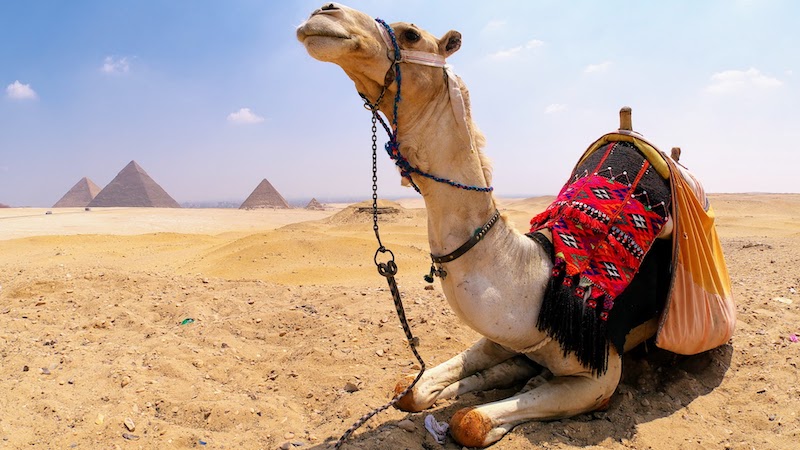 6. Visit the Saqqara Necropolis and the Step Pyramid
The Step Pyramid of Pharaoh Djozer is not actually in Cairo itself. Instead, it is located in the ancient Saqqara necropolis which is about a 50 minute drive from Cairo. Anyone who visits Cairo and has an interest in ancient Egyptian pyramids should definitely make a point of visiting the Step Pyramid which was the first pyramid ever built by the ancient Egyptians.
A lot of people would even argue that the Step Pyramid is far more interesting than the Pyramids of Giza. Above ground, it might not look as massive and as imposing as the Giza Pyramids, but below ground it is a vast complex that covers several square kilometers.
Entry to the pyramid is included in the general admission ticket which also includes entry to the nearby museum.
There is no public transport from Cairo to the necropolis so you will need to make use of taxis or bus tours. Alternatively, consider booking a private tour that includes your own guide, driver and vehicle. Many of these tours will also include a visit to Memphis which was the ancient capital of the Old Kingdom.
7. Enjoy a Tour of the Dahshur Pyramids
The Dahshur necropolis is home to three major pyramids: the Bent Pyramid, the Red Pyramid, and the Black Pyramid. However, only the Bent Pyramid and the Red Pyramid are open to the public. The Black Pyramid is located on military controlled land and is off limits to both locals and tourists.
If you want to go inside one or more pyramids during your trip to the Land of the Pharaohs, you should definitely add the Dahshur Pyramids to your "what to do in Cairo" list. The good news is, you won't even need to purchase any additional tickets in order to enter the Bent Pyramid or Red Pyramid.
The site is approximately a 50 minute drive from Cairo and most certainly worth a visit if you have the time. There is no public transport from Cairo to the necropolis so you will need to hire a taxi, book a bus tour, or book a private tour that includes your own guide driver and vehicle.
8. Saladin Citadel
The Saladin Citadel is a massive fortress that was constructed during the rule of Salah El Din during the 12th century to protect the city against invading European crusaders. This imposing Citadel served as the seat of the Egyptian government for more than 700 years before being replaced by Abdeen Palace during the rule of Khedive Ismail.
The area is home to a number of museums, including a military museum and a police museum. Besides the museums, there are also a number of ornate mosques, including the Mohamed Ali Alabaster Mosque which towers above the complex and is one of the most recognizable landmarks on Cairo's eastern shoreline.
Most visitors spend approximately one to two hours at this site, but allow for some more time if you intend visiting any of the museums. In addition to the museums and the mosques, the Citadel also affords visitors an extraordinary view of the city, and if you visit on a clear day, you will even be able to see the Giza Pyramids in the distance.
9. Islamic Cairo
Islamic Cairo, also often referred to as Old Cairo, is a part of the city which is well worth exploring. In particular, we highly recommend visiting Al Muizz Street which is immensely popular between locals and tourists alike. The area is well known for its friendly street vendors selling some of the very best street food you will find in Cairo. We highly recommend that you sample some of this affordable and delicious street food, but be sure to purchase your food from street vendors who are busy with a steady flow of customers.
Al Muizz Street is also overflowing with awe-inspiring centuries-old Islamic architecture, making it a great part of the city to visit for architecture buffs, and especially those who are fascinated by centuries-old Islamic architecture.
10. Cairo's Famous Mosques
Cairo is often referred to as the city of 1000 minarets, and for good reason. After all, the city is home to literally hundreds of mosques. Here are seven of the most ornate and most breathtaking mosques to visit while you are in Cairo:
Muhammad Ali Alabaster Mosque
Mosque of Amr Ibn Al-As
The Ibn Tulun Mosque
The Mosque-Madrassa of Sultan Hassan
The Al-Rifa'i Mosque
Sultan Hassan Mosque
The Al-Hakim Mosque
NOTE: Women are required to cover their hair, neck and shoulders when entering a mosque. They should also wear a pair of long slacks or a dress that covers their legs to at least below the knees. Male tourists should also refrain from wearing short pants and sleeveless tops when visiting mosques.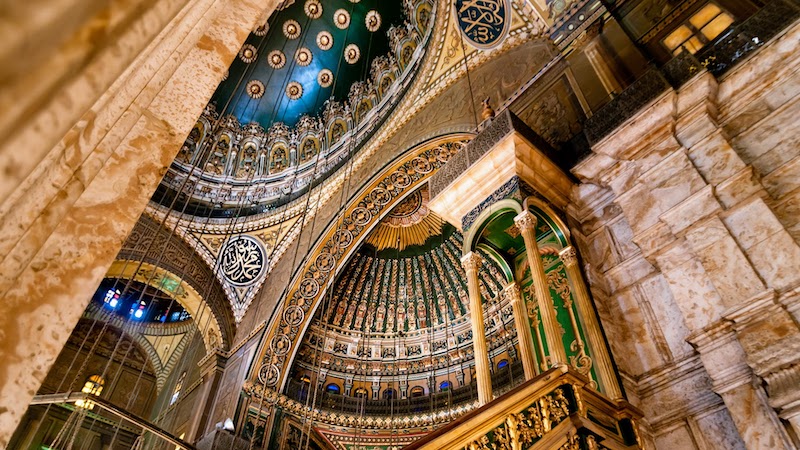 11. Coptic Cairo
Coptic Cairo is an historic Cairo district and Christian neighborhood located in a part of the city which is known as Old Cairo. The area is home to several ancient churches and other important religious sites, including the Greek Church of St George, the Babylon Fortress, the Coptic Museum, and the Hanging Church which is probably Egypt's most famous Christian church. Visiting Coptic Cairo's religious landmarks gives visitors a perfect opportunity to get a glimpse into early Christianity in Egypt. The Hanging Church, in particular, is definitely worth a visit.
NOTE: There is no dress code for visiting churches in Egypt, although it is more or less expected that you dress conservatively.
12. A Felucca Ride on the Nile
Feluccas are traditional Egyptian sailboats that have been carrying passengers and cargo on the Nile River in Egypt for centuries already. Going for a felucca ride on the Nile offers you the opportunity to admire Cairo's skyline from a completely different perspective.
A one-hour or two-hour for felucca ride on the Nile in Cairo can be a thoroughly enchanting experience, especially early in the morning, later afternoon, or early evening. If you want to go for a felucca ride on the Nile while you're in Cairo, your best bet would be to arrange this through a well-established travel agency or through the hotel where you are staying. This might not be your cheapest option but you will have a far more rewarding experience.
13. Nile River Dinner Cruises
What to do in Cairo at night after the sun goes down? For a truly enchanting experience, consider going for a Nile River dinner cruise. Seeing the bright lights of Cairo from the quiet waters of the Nile at night, while enjoying an excellent dinner is an experience not soon forgotten. There are a number of different companies that offer dinner cruises, with some being considerably better than others.
Some dinner cruises only include a buffet meal, while others also include an extensive menu, along with some onboard entertainment such as belly dancing shows. Once again, we would recommend that you book your dinner cruise through an established Egypt tour operator in order to avoid disappointment.
14. Tanoura Dance Shows
Tanoura dance is a traditional Sufi dance that dates back to the 12th century. Tanoura Dance shows are popular throughout the Middle East and especially in Egypt. To attend one of these shows while you are in Cairo, you will need to head to the Wekalet El Ghouri Arts Center. At the time of this post being written, the Tanoura Dance troupe were performing at 20h30 on Mondays, Wednesdays and Saturdays,
Advanced booking is not required but we recommend getting to the venue at least 1 hour prior to the performance starting. These shows are immensely popular among locals and tourists alike, and as a result, the venue is almost constantly packed, and especially during the tourist high season. If you are wondering what to do in Cairo at night, be sure to add a Tanoura Dance show to your bucket list of must do things.
15. Al Azhar Park
Al Azhar Park is listed as one of the world's 60 greatest public spaces, and for good reason. Development of the park cost around 30 million US dollars and was funded by Aga Khan IV, a descendant of one of Cairo's old Fatimid Caliphs. Creating this vast and wonderful park was a monumental undertaking. Before development started, the area was nothing more than a huge mountain of garbage. Besides the garbage, roughly 80,000 truckloads of rubble and soil also had to be moved and then replaced with a 0.5 to 2 meters layer of good quality topsoil.
Al Azhar Park has been designed in line with traditional Islamic landscaping traditions. Shaded sitting areas, park buildings and interconnecting water channels and fountains at the park are reflective of different periods from different regions in Egypt.
If you're wondering what to do in Cairo other than sightseeing, or if you're simply want to escape the hustle and bustle of this chaotic city, then Al Azhar Park is the place to go. The park, which covers an area of approximately 30 hectares is open every day from 9:00 a.m. to 10:00 p.m. Al Azhar Park really is a slice of paradise in the heart of medieval Cairo and certainly a place which we would recommend visiting, especially if you are a nature lover.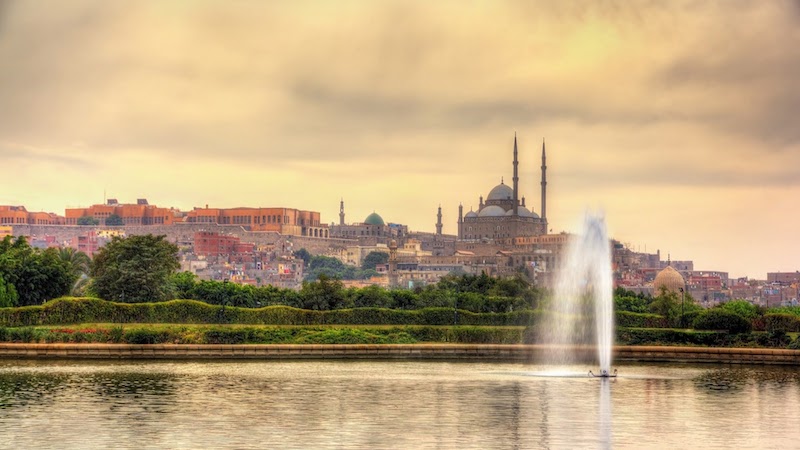 What to do in Cairo – FAQ
In this post we have discussed 15 of the best things to do in Cairo, but if you still have questions, continue reading to find the answers to some of the most frequently asked questions about Cairo…
Enjoy Cairo in the Lap of Luxury
No trip to Egypt is complete without spending a few days in Cairo to experience the city's fascinating ancient history. With that having been said, visiting Cairo can also be an extremely frustrating experience if you decide to just wing it on your own. In order to have a great time in this crazy city, you really do have to plan your trip properly or book a tour package through a reputable Egypt tour operator.
With more than 65 years of experience behind us, EgyptVacations.com has all the expertise needed in order to ensure that we can provide you with a flawless professionally guided travel experience in the lap of luxury that will leave you with lifelong memories.
Contact us now for more information on what to do in Cairo or to begin planning your trip to this absolutely mesmerizing city today.