Welcome to our ultimate guide to Cairo vacations, where we take you on a cultural odyssey through the heart of Egypt. Cairo is a city steeped in history and culture, with its ancient monuments, vibrant markets, and bustling streets. As the capital of Egypt, Cairo is a melting pot of cultures, traditions, and religions, making it an exciting destination for culture buffs who want to explore the city's rich heritage.
In this guide, we will explore the top attractions and hidden gems in Cairo, from the iconic Pyramids of Giza to the lesser-known Coptic Quarter. So, buckle up and get ready to immerse yourself in the fascinating world of Cairo vacations!
Classic Egypt Tours
Getting to Cairo
Getting to Cairo is easy, with multiple international flights arriving at Cairo International Airport daily. If you book one of our tour packages, you will also be met at the airport by one of our tour managers and a driver, and you will then be taken directly to your hotel. Alternatively, you can take a taxi or Uber to your hotel. If you're traveling to Cairo from within Egypt, there are several bus and train services available.
Cairo is divided into two main areas: the chaotic, bustling Islamic Cairo (Old Cairo) and the quieter, more elegant Downtown Cairo. Each area has its own unique charm and attractions. Islamic Cairo is home to the city's most famous landmarks, including the Pyramids of Giza, the Sphinx, and the Egyptian Museum. Downtown Cairo, on the other hand, is known for its stunning architecture, including the famous Tahrir Square and the modern Cairo Tower. No matter which area you choose, you're sure to be captivated by the city's vibrant energy and rich history.
Flight Options and Airlines
When it comes to flights, there are several airlines that fly to Cairo, including EgyptAir, Emirates, Turkish Airlines, British Airways and Delta Airlines, to name just a few. EgyptAir is the national airline of Egypt and offers direct flights from several major cities around the world, including New York, London, and Paris.
As is to be expected, flights to and from Egypt cost more during the peak holiday season from December to February. Also, direct flights almost always cost more than indirect flights, but they are quicker and more convenient. However, if you don't mind one or more stopovers, you can save quite a lot of money.
Cairo International Airport
Cairo International Airport is the main gateway to the city and is located about 15 miles northeast of the downtown area. It is one of the busiest airports in Africa and the Middle East, serving millions of passengers each year. The airport has several terminals, including a new Terminal 2 that opened in 2016, and offers a range of facilities and services for travelers, such as currency exchange, ATMs, lounges, restaurants, and duty-free shops.
Transportation options from the airport to the city include taxis, buses, and metro. Taxis are available outside the terminals and can be hailed or booked in advance. There are also several bus lines that connect the airport to various parts of Cairo, including the 356 and 400 buses. The metro has a station near the airport, and passengers can take Line 3 to reach downtown Cairo.
NOTE: It is advisable to confirm the fare before getting into a taxi.
Visa Requirements
Visa requirements for Cairo vary depending on your country of origin. Many nationalities are eligible for a visa on arrival, while others must apply for a visa in advance. It's essential to check the visa requirements well in advance of your Cairo vacation to avoid any last-minute surprises.
For most tourists, a single-entry tourist visa is usually sufficient, and it's valid for 30 days. You can apply for a tourist visa at the Egyptian embassy or consulate in your home country or online through the official Egypt e-Visa website. As is the case with a visa on arrival, an Egypt e-Visa is not available for all nationalities. As of the time of writing, a 30-day single entry tourist visa cost $25.
It's also worth noting that visitors to Egypt must have a valid passport that is valid for at least six months after their intended departure date from Egypt. Failure to comply with this requirement may result in you being denied entry into the country.
Accommodation
When it comes to accommodation options in Cairo, there is something for every type of traveler. From luxurious hotels to budget-friendly hostels and cozy vacation rentals, Cairo has it all. Those seeking a lavish experience can opt for high-end hotels like the Four Seasons or the Nile Ritz Carlton, which offer stunning views of the Nile River and top-notch amenities.
For a more affordable stay, hostels like My Hotel Hostel or Wake Up! Cairo Hostel offer comfortable and convenient options for backpackers and solo travelers.
Vacation rentals are also becoming increasingly popular in Cairo, with options ranging from apartments to entire villas. Airbnb is a great platform to find unique and affordable vacation rentals in the heart of the city. No matter what your budget or preference is, Cairo has a plethora of accommodation options to suit your needs.
If you are planning to book one of our tours, you need not worry about booking any accommodation, because 4-star and/or 5-star accommodation is included in all of our travel packages.
Tips for Booking and Choosing the Right Accommodation
When booking your accommodation in Cairo, there are a few things to keep in mind to ensure a comfortable and enjoyable stay. Firstly, consider the location of the property. Cairo is a large city with heavy traffic, so it's essential to choose a location that is convenient for your itinerary. Look for accommodation options that are close to the main tourist attractions, public transportation, and restaurants.
Secondly, read reviews from previous guests before making a booking. This will give you an idea of the quality of the property and the level of service you can expect. Websites like TripAdvisor are great resources for finding genuine reviews from past guests.
Finally, consider the amenities and facilities offered by the property. Do you need a swimming pool, gym, or spa? Are you traveling with children and need a family-friendly property? Make sure to check the facilities before making a booking to ensure that the property meets your needs.
By keeping these tips in mind, you can find the perfect accommodation for your Cairo vacation and make the most of your time in this fascinating city.
Of course, the main reason why people book Cairo vacations is because they want to experience the city's unique culture and enjoy visiting some of the city's spectacular attractions. Continue reading to find out which Cairo attractions should be at the top of your own bucket list…
Top Attractions
Pyramids of Giza & the Great Sphinx
The Pyramids of Giza and the Great Sphinx are the most iconic attraction in Cairo, and they are a must-visit for anyone interested in history and ancient civilizations. These impressive structures were built over 4,500 years ago by the pharaohs Khufu, Khafre, and Menkaure, and they remain one of the Seven Wonders of the Ancient World. Visitors can also opt to expore inside the pyramids but this requires additional tickets.
The Grand Egyptian Museum
The Grand Egyptian Museum opened in 2021 and is now the largest museum in the world entirely dedicated to a single civilization. Located near the Pyramids of Giza, the museum houses over 100,000 artifacts, including the treasures of King Tutankhamun. The museum offers visitors a unique opportunity to learn about ancient Egyptian history and culture, and it has now become one of the top tourist attractions in Cairo.
Cairo Museum of Antiquities
The Cairo Museum of Antiquities, also known as the Egyptian Museum, is a must-visit attraction in Cairo for history buffs. The museum houses over 120,000 artifacts dating back to ancient Egypt, including mummies, sarcophagi, and beautiful pieces of jewelry. Visitors can explore the museum's different galleries and get a firsthand look at some of the most iconic artifacts from ancient Egyptian history.
Khan el-Khalili Bazaar
Khan el-Khalili Bazaar is a vibrant and bustling marketplace located in the heart of Islamic Cairo. This historic bazaar dates back to the 14th century and is a must-visit for those interested in shopping and exploring local culture. Visitors can find everything from traditional Egyptian handicrafts and textiles to beautiful jewelry and spices. The bazaar is also a great place to try local street food and enjoy the lively atmosphere of Cairo.
Islamic Cairo
Islamic Cairo is a historic district located in the heart of the city and is home to some of the city's most spectacular mosques, madrassas, and other historic buildings. The district dates back to the 7th century and has been the center of Islamic culture and learning in Egypt for centuries. Visitors can explore the district's winding alleyways and discover iconic landmarks such as the Al-Azhar Mosque, the Ibn Tulun Mosque, and the Citadel of Cairo. Islamic Cairo is also a great place to experience local culture, try traditional Egyptian food, and shop for souvenirs. In short, no Cairo vacation is complete with some time spent in this fascinating part of the city.
Coptic Cairo
Coptic Cairo is the oldest part of the city and is home to some of the most important Christian sites in Egypt. It dates back to the 4th century and is known for its beautiful Coptic churches, including the Hanging Church and the Church of St. Sergius and Bacchus. Visitors can explore the narrow streets and alleys of this historic neighborhood and discover its rich cultural heritage. Coptic Cairo is also a great place to shop for religious souvenirs and traditional handicrafts.
Saqqara Necropolis
The Saqqara Necropolis is an ancient burial site located on the outskirts of Cairo and is a must-visit attraction for history enthusiasts. It is home to the famous Step Pyramid of Djoser, which is the oldest pyramid in Egypt and dates back to the 27th century BCE. Visitors can explore the vast necropolis and discover other ancient pyramids, tombs, and temples. The site provides a fascinating insight into ancient Egyptian burial practices and architecture. Visitors can enter the Step Pyramid without having to purchase any additional ticket.
Dahshur Pyramids
Dahshur is a royal necropolis located about 40 kilometers south of Cairo. It is known for its ancient pyramids, which are among the oldest and most historically significant in Egypt. The site contains several pyramids built during the Old Kingdom, including the Bent Pyramid and the Red Pyramid, which was constructed for Pharaoh Sneferu, the founder of the Fourth Dynasty. This pyramid is notable for its unique red limestone exterior, and is considered one of the earliest successful attempts at building a true pyramid. No additional tickets are needed in order to enter these two pyramids.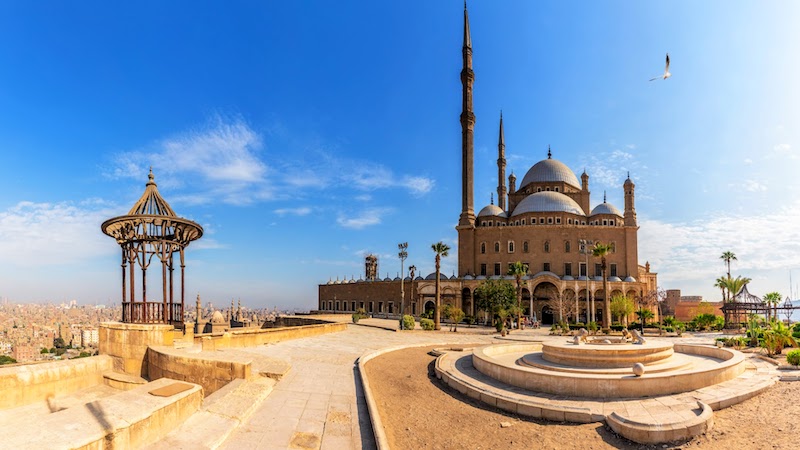 Top Day Trips and Excursions
Memphis and Saqqara half day tours
For those looking for a shorter excursion, a half day tour to Memphis and Saqqara is a great option. Memphis was the capital of ancient Egypt and is home to the Colossus of Ramses II, the largest surviving statue from the ancient world. Saqqara, as mentioned earlier, is a necropolis with several ancient pyramids and tombs. This tour is a great way to get a taste of Egypt's rich history without committing to a full day trip. Visitors can explore both sites with a knowledgeable guide and learn about the significance of these ancient landmarks.
Dahshur half day tours
For those interested in visiting the ancient pyramids of Dahshur, a half day tour is a perfect option. The tour includes a visit to both the Bent Pyramid and the Red Pyramid, where visitors can learn about the history and construction of these impressive structures. With a knowledgeable guide, visitors can explore the pyramid complex and gain insight into the ancient engineering techniques used in their construction. This tour is a great way to experience the wonders of ancient Egypt in a shorter amount of time.
Alexandria full day tours
For those interested in exploring another city in Egypt, a full day tour to Alexandria from Cairo is a great option. Located on the Mediterranean coast, Alexandria is known for its rich history, including the famous Bibliotheca Alexandrina (Library of Alexandria) and the ancient Roman amphitheatre. Visitors can also explore the Citadel of Qaitbay, a 15th-century fortress that guarded the city against invading forces. With a knowledgeable guide, visitors can learn about the city's fascinating past and immerse themselves in its unique culture. This tour is a great way to experience a different side of Egypt and expand your knowledge of its history and architecture.
Nile River cruises
Generally speaking, very few Cairo vacation packages include a Nile River cruise, although some might include a 1-2 hour felucca cruise on the river in Cairo. For a real Nile cruise, you will need to travel to Aswan or Luxor.
If you have the time and budget, a Nile River cruise is a once-in-a-lifetime experience. These cruises typically last 3-4 nights and travel from Aswan to Luxor or vice versa, stopping at various temples and landmarks along the way. Visitors can explore the stunning temples of Abu Simbel, Karnak, and Philae, among others, and witness the ancient ruins and breathtaking landscapes from the comfort of a luxurious cruise ship. Othe attractions include Luxor Temple, Valley of the Kings and more.These cruises also include onboard entertainment and activities, such as traditional Egyptian performances.
Red Sea resorts
If you're looking for a relaxing and luxurious break from exploring the ancient sites of Cairo, consider adding a visit to one of Egypt's Red Sea resorts to your itinerary. Located just a few hours' drive from Cairo, these resorts offer pristine beaches, crystal clear waters, and world-class amenities.
Visitors can go snorkeling or scuba diving to explore the vibrant coral reefs and see tropical fish, or simply relax by the pool or on the beach. Some popular resorts include Hurghada, Sharm El Sheikh, and Marsa Alam. With year-round sunshine and warm temperatures, a visit to the Red Sea is the perfect way to unwind and soak up some of Egypt's natural beauty.
Food and drink
Egyptian cuisine is a delicious fusion of Middle Eastern and Mediterranean flavors. Common ingredients include beans, lentils, vegetables, and spices such as cumin, coriander, and cinnamon. Meat dishes often feature lamb or chicken, while seafood is abundant along the coast.
Traditional dishes include koshari, a vegetarian dish of lentils, rice, and pasta topped with spiced tomato sauce and crispy onions, and ful medames, a breakfast dish of fava beans topped with herbs and spices. Other popular foods include falafel, shawarma, and kofta. Beverages such as tea and coffee are also an important part of Egyptian culture.
Recommended dishes and where to try them
When in Cairo, make sure to try some of the local dishes at some of the city's many restaurants and cafes. For a taste of koshari, head to Abu Tarek in downtown Cairo, one of the most famous koshari spots in the city. For ful medames, try the legendary Felfela restaurant in the heart of Cairo's bustling Tahrir Square.
For a more upscale dining experience, head to the iconic Naguib Mahfouz restaurant in Khan El Khalili, where you can try a variety of traditional Egyptian dishes in a beautiful historic setting. And for a sweet treat, don't miss out on Egyptian-style ice cream, known as "booza," which is made with mastic and comes in a variety of flavors.
Best restaurants and cafes in Cairo
When it comes to food, Cairo has something for everyone, and for all tastes and budgets. However, if you like meals to be more than just putting food in your stomach, and you want to enjoy some mouthwatering dining experiences during your Cairo vacation, be sure to try some or all of the following venues:
Abu Tarek – for delicious koshari
Felfela – for traditional ful medames
Naguib Mahfouz – for upscale dining in a historic setting
Zooba – for modern Egyptian street food
Kazaz – for authentic Egyptian cuisine in a cozy atmosphere
Sequoia – for stunning views of the Nile and Mediterranean-inspired cuisine
Cairo Kitchen – for a contemporary twist on classic Egyptian dishes
El Fishawy – for traditional coffee and shisha in Khan El Khalili market
La Bodega – for a fusion of Egyptian and Mediterranean flavors
Osmanly – for Ottoman-style cuisine in a luxurious setting.
Shopping
Cairo is a shopper's paradise, offering a wide range of options to suit all tastes and budgets. From bustling markets to modern malls, Cairo has it all. For a traditional shopping experience, head to Khan El Khalili, one of the oldest and most famous bazaars in the city, where you can browse through a variety of goods, including spices, textiles, and jewelry.
For a more upscale shopping experience, visit Citystars, one of the largest malls in the Middle East, with over 750 stores and restaurants. Other popular shopping destinations include Cairo Festival City, Mall of Arabia, and The District in New Cairo.
The best places to buy souvenirs and gifts
When it comes to buying souvenirs and gifts in Cairo, the city has no shortage of options. One of the best places to start is at the Khan el-Khalili market. Here, you can find a wide range of items, including traditional clothing, scarves, jewelry, pottery, and even spices. After Khan el Khalili, we would recommend shopping for souvenirs and gifts at any of the shopping malls mentioned in the previous section of this post. Of those malls mentioned, the Citystars Mall is probably the best because of the vast number of shops on the premises.
Tips for bargaining and haggling
Start with a lower price: When bargaining, start with a price lower than what you're willing to pay. This gives you room to negotiate and reach a price that works for both parties.
Smile and be friendly: Bargaining is a social interaction, and a friendly attitude can go a long way in getting a good deal. Smile, be polite, and engage in small talk to build a rapport with the seller.
Know the value of what you're buying: Do your research beforehand and know the approximate value of the item you're interested in. This helps you avoid overpaying and gives you an idea of the maximum price you should be willing to pay.
Be prepared to walk away: Sometimes, the seller won't budge on the price. In this case, be prepared to walk away if the item isn't worth the asking price. This can often lead to the seller lowering the price in order to make the sale.
Don't be afraid to ask for extras: When bargaining, don't just focus on the price of the item. Ask for extras such as free shipping or a small gift to sweeten the deal.
By following these tips, you can have a successful bargaining experience and come away with some great deals on souvenirs and gifts.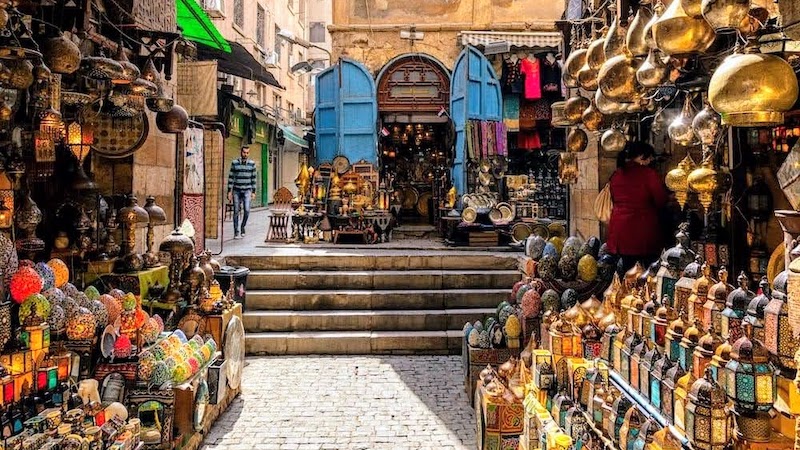 Culture and customs
Whenever you visit a foreign country, it is always a good idea to try and familiarize yourself the culture of the country you are going to be visiting. This is especially true if the country has a very different culture compared to your home country. Below is a brief overview of Egyptian culture, along with some other useful advice that can help to ensure a pleasant and totally unforgettable Cairo vacation:
Overview of Egyptian culture and customs
When it comes to cultural experiences, few places in the world can match the richness and diversity of Egypt. The country's ancient civilization has left an enduring legacy that can be seen in its captivating art, architecture, and religious traditions. Egyptian culture is also shaped by its Islamic heritage and the unique customs of its people.
Visitors to Cairo can expect to encounter a range of cultural practices that reflect Egypt's rich history and traditions. For example, the country's cuisine is a blend of Mediterranean, African, and Middle Eastern influences, with staples like falafel, koshari, and ful medames being popular street foods.
Egyptian culture is also characterized by a strong sense of family and community. Family values are highly prized, and social gatherings and religious festivals are important occasions for bonding and celebration. With Cairo vacations, visitors can witness this firsthand by attending a local wedding or visiting a mosque during Ramadan.
With a bit of cultural sensitivity, visitors to Cairo can have an unforgettable experience exploring the sights, sounds, and tastes of this fascinating city.
Dos and don'ts for travelers
Dos:
Familiarize yourself with Egyptian culture and customs before your trip
Dress modestly, especially when visiting religious sites
Be respectful of local customs and sensibilities
Attend social gatherings and religious festivals to experience Egyptian culture firsthand
Use a guide or tour service to navigate the city safely and efficiently
Don'ts:
Don't display affection in public
Don't disrespect local customs or beliefs
Don't take photos of people without their permission
Don't engage in political discussions or demonstrations.
Tips for respectful behavior
Learn a few phrases in Arabic to show respect for the local language and culture.
Avoid pointing the soles of your feet towards others, as it is considered disrespectful.
When entering a mosque, remove your shoes and dress modestly.
Avoid public displays of anger
Practical information
Best time to visit Cairo
The best time for a Cairo vacation is during the winter months, from November to February, when temperatures are cooler and more pleasant for sightseeing. However, this is also the peak tourist season, so be prepared for larger crowds and higher prices. Spring and fall are also good times to visit, with mild temperatures and fewer crowds, but be aware that sandstorms can occur during these seasons. Summer, from June to August, is hot and humid, so this may not be the most comfortable time to explore the city.
Weather and climate
Cairo has a hot desert climate, with dry and sunny weather all year round. Summers are scorching, with temperatures frequently reaching over 40°C (104°F) and high humidity levels. Winters are much milder, with average temperatures around 18°C (64°F) during the day and cooler nights. Sandstorms can occur, especially during the spring and fall seasons.
Be sure to pack appropriate clothing for the weather, including lightweight, breathable clothing for the summer and warmer layers for cooler winter evenings. It's also important to stay hydrated and wear sunscreen when exploring the city.
Transportation options within Cairo
Navigating Cairo can be overwhelming, but there are several transportation options available. The metro system is a convenient and affordable way to travel around the city, with three main lines that cover most major areas.
Taxis and ride-sharing services like Uber and Careem are also widely available, but be sure to negotiate prices before getting in. For a more unique experience, take a ride on a felucca (traditional sailboat) down the Nile River or hop on a tuk-tuk for a fun and adventurous ride through the city streets.
Safety tips
While Cairo is generally a safe city for tourists, it's important to take some precautions to stay safe while exploring. Avoid carrying large amounts of cash or flashy jewelry, as this can make you a target for theft. Keep your belongings close and be aware of your surroundings, especially in crowded areas.
It's also important to be cautious when crossing the street, as traffic can be chaotic and unpredictable. Visitors should avoid being out on foot at night in dimly lit areas, and especially female travelers.
Cairo Vacations – FAQs
Conclusion
In conclusion, Cairo offers a wide range of cultural activities and excursions for travelers interested in exploring Egypt's rich history and architecture. From half-day tours to nearby pyramids and ancient sites, to full-day tours of other cities like Alexandria, there is something for everyone. And for those with the time and budget, a Nile River cruise is a must-do experience. With knowledgeable guides and attention to detail, a Cairo vacation can be the cultural odyssey of a lifetime.
Don't miss out on the opportunity to explore the fascinating history and culture of Cairo. Book your Cairo adventure today and experience the wonders of the Pyramids, the Egyptian Museum, and so much more. From cultural events to exciting excursions, there is something for everyone in this vibrant city. So what are you waiting for? Start planning your Cairo vacation now!