Discover the mysteries of Ancient Egypt on our exclusive Egypt Private Tour Packages! We provide you with the opportunity to explore and uncover the incredible wonders of one of the oldest and most incredible civilizations in the world. From its breathtaking monuments, to its rich culture, to its vast array of historic sites, Egypt has something to offer every adventure seeker. Our experienced guides will lead you through the breathtaking temples, tombs, and monuments that have captivated travelers for centuries.
Classic Egypt Tours
Choose Egypt Private Tour Packages for an Unforgettable Jouney Through Ancient Egypt
With our private Egypt tour packages, you will get an up-close and personal glimpse of the land that time forgot. Whether you are an avid explorer or simply looking for a new and exciting experience, our Egypt private tour packages have something to offer you.
Let us take you on an unforgettable journey through the heart of Egypt's ancient wonders.
Advantages of Booking a Private Tour Package
Our private Egypt tour packages are designed to cater to all levels of travelers, from the first-time visitor to the most experienced. You'll be able to stay in luxury accommodations and enjoy a host of amenities such as private tours, expert guides speaking your preferred language, personal chauffeurs, and more.
We also offer competitive prices to ensure that you can get the most out of your visit to Egypt. Book one of our private Egypt tour packages today and start your journey of discovery to uncover the secrets of Ancient Egypt!
Types of Egypt Private Tour Packages Available
At Egypt Tours Plus, we appreciate the fact that every traveler has their own unique tastes and personal circumstances. With this in mind, we try to offer flawless Egypt private tour packages to suite all tastes and budgets, from stand-alone tours, to absolutely unforgettable Egypt tours with Nile cruises. You will even find fully customizable Egypt Multi-Destination Tours on our site for those travelers who want to see more than only Egypt alone.
Classic Egypt Tours
Explore the wonders of Egypt with our classic and most popular Egypt private tour packages. These tours will provide you with a comprehensive tour of the country and its many wonders, with visits to many of Egypt's most famous and most cherished sites.
Most of our classic Egypt tours begin in Cairo, with guided tours to the area's top sites such as the Giza Pyramids, the Egyptian Museum, the Step Pyramid of Pharaoh Djoser, the Khan el Khalili Bazaar, and more, before we fly you to Aswan or Luxor for a magical sightseeing Nile River cruise.
Many of our "Classic Tours" also include certain optional activities and tours, such as a day trip to Alexandria or a half day trip to Abu Simbel to see the breathtaking rock-hewn temples of Pharaoh Ramses the Great.
Unforgettable Nile Cruise Holidays
Whether you book one of our Cairo and Nile Cruise Holiday Packages, or whether you book one of our stand alone Nile River Cruises, you will have the opportunity to relax and enjoy a cruise along the Nile, with visits to some of the most famous sites and cities in Egypt, such as Luxor and Aswan.
You will also visit renowned sites such as the Temple of Horus in Edfu and the Temple of Kom Ombo in addition to all the best ancient sites in Aswan and Luxor. And all the while, you'll be able to enjoy spectacular scenery, with luxurious accommodation and sumptuous onboard meals.
Most of the Nile cruises offered on our site operate between Aswan and Luxor, leaving and arriving either at Aswan Port or Luxor Port. Of course, in addition to our Nile River cruises, we also offer a variety of Lake Nasser cruises that combine exceptional sightseeing with a good dose of luxury.
Once-In-A-Lifetime Luxury Egypt Tours
Discover the best of what Egypt has to offer with our exclusive, luxury Egypt private tour packages. Our luxury tours are tailored to provide you with the most authentic, luxurious and unforgettable experiences in Egypt. You can expect a comprehensive tour of the country, with visits to all of the country's most iconic attractions and sites.
Our luxury tours also offer you the chance to stay in some of Egypt's most exclusive accommodations, such as The Grand Hyatt in Cairo and/or the Old Cataract in Aswan, with the chance to enjoy various optional activities and excursions such as a hot air balloon ride over Luxor or a felucca ride on the river at Aswan.
Exploring Egypt with our luxury private tour packages is like embarking on a treasure hunt, where the rewards are as precious as all the ancient artifacts and sites you uncover during a once in a lifetime Egypt tour in the lap of luxury.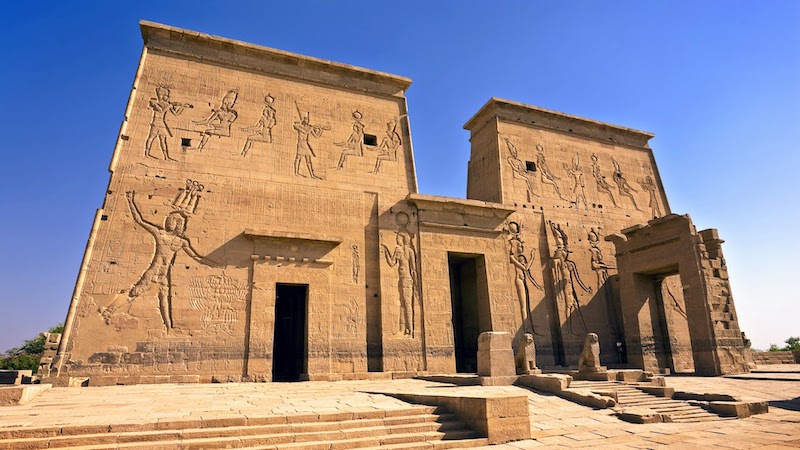 Key Features of our Egypt Private Tour Packages
When you book one of our Egypt private tour packages, you can expect a level of service and quality that is guaranteed to exceed your expectations, from the day you arrive in the Land of the Pharaohs, until the day we bid you farewell. Below, are just some of the key features you can expect when you book one of our fantastic Egypt vacation packages:
Meet and Greet Services & Airport Transfers
On arrival at Cairo International Airport, you will be met by your designated tour manager who will welcome you to Egypt and then escort you to your hotel in one of our clean and modern air-conditioned vehicles, driven by one of our experienced drivers.
If your chosen tour itinerary includes transfers to and from other cities, you can expect the same high level of customer service as well.
Professional Tour Guides
No matter which one of our Egypt private tour packages you choose, you will be accompanied by our expert tour guides throughout your trip who will provide you with a comprehensive overview of Egypt's history and culture, as well as informative and engaging commentary about the many different sites and monuments you visit.
Deluxe Local Transportation
Our deluxe transportation services will ensure your comfort and safety on the road. All of our vehicles are well-maintained modern air-conditioned vehicles that are regularly serviced, and come with professional drivers who are experienced in dealing with the local traffic conditions.
When you travel to Egypt with us, all your transportation needs are taken care of to help ensure that your trip is as hassle-free and as stress-free as it possibly can be.
Excellent Hotel Accommodation
Our Egypt private tour packages offer a range of luxurious accommodation options, including 4 star and/or 5 star hotels in Cairo and any other cities you visit during your stay. If your chosen tour package includes a Nile River cruise, you can be sure that we will have booked you onto a 5 star cruise, such as the Royal Lotus Nile Cruise, the MS Royal Lily Nile Cruise, the MS Salacia Nile Cruise, or the absolutely luxurious Oberoi Zahra Nile cruise.
If you click on the "Price" tab on any one of our Egypt tour packages, you will be able to see the accommodation options available.
Benefits of our Egypt Private Tour Packages
1. Personalized Itinerary:
Our private tour packages in Egypt are designed to give adventure seekers the ultimate exploration experience. Our knowledgeable guides will guide you along your journey, providing you with all the necessary insight into Egypt's ancient culture and sites. Whether you're looking for a fun-filled family getaway, a romantic adventure for two, or an unforgettable solo journey, we have something for everyone.
With our personalized packages, you'll have the freedom to tailor your trip to your own interests and preferences. So what are you waiting for? Embark on a journey of discovery and explore the wonders of Egypt!
2. Flexibility:
With a private tour, you have the freedom to explore at your own pace, adding and removing stops as you desire. Whether you're looking for a relaxing day of exploration or an exciting adventure, you can find it with a private tour package.
3. Expert Local Guides:
When you join one of our Egypt private tours, you'll be accompanied by our highly knowledgeable and experienced local guides. They will help you learn about the history, culture, and sites of Egypt, and will offer invaluable advice on the best places to visit and the best things to do.
We understand that your trip to Egypt will be special, and we will do everything possible to make sure that you get the most out of your trip. With our Egypt private tour packages, you can be sure that you'll have an unforgettable experience.
4. No Waiting:
Gone are the days of waiting in long lines or dealing with overcrowded tour groups. With a private tour, you don't have to worry about waiting around – everything is taken care of so you can start exploring right away.
5. Comfort:
We know that comfort is important to you, so we provide high-end vehicles and luxury accommodations for all our private tour packages. You'll have access to comfortable, air-conditioned private transportation, which will take you to the best spots in Egypt.
Additionally, you'll be able to enjoy the convenience and comfort of a luxury hotel or cruise ship.
6. Private Transportation:
Our private transportation services will ensure that you get the most out of your experience. All our vehicles are clean, modern and air-conditioned, with ample space for you and your group. Our professional drivers are friendly and knowledgeable, and will make sure that you arrive safely at all destinations throughout your trip.
7. Value for Money:
Our private tours in Egypt are extremely cost-effective and will offer you the best value for your money. We work closely with our partners to ensure that our packages are the most competitively priced.
Experience the Wonders of Egypt with Our Private Tour Packages
Explore the ancient wonders of Egypt with our private tour packages. With our personalized itineraries, expert local guides, and unbeatable value for money, you can be sure that you'll have an extraordinary journey. So don't wait any longer – book yourEgypt private tour package today and embark on an unforgettable adventure.
Top Sites Included in our Egypt Private Tour Packages
The number and variety of sites you can expect to visit and explore during your trip to Egypt will depend on the itinerary you choose. Here are 6 incredible ancient wonders which we believe to be among the best that Egypt has to offer…
1. Giza Pyramids
The Giza Pyramids are an iconic symbol of ancient Egypt that are thought to have been built over 4,500 years ago. The three main pyramids, known as the Great Pyramid of Khufu, the Pyramid of Khafre and the Pyramid of Menkaure, are located on the Giza Plateau near the modern city of Cairo.
The pyramids were originally covered in smooth white limestone which would have caused them to glisten in the sun. It is believed that they were built as burial tombs for the above -mentioned Pharaohs and their families, although no mummies or remains were found inside them. Today, the Giza Pyramids are one of the most iconic and recognizable monuments in the world, and are a must-see for any traveler visiting Egypt.
2. Luxor Temple
Luxor Temple is an ancient temple complex located on the east bank of the River Nile in Luxor, Egypt. This UNESCO World Heritage Site is one of the most important archaeological sites in the world and is home to some of the most impressive monuments in the country, including the Great Court and the Temple of Amun. The temple was originally built by Pharaoh Amenhotep III of the 18th Dynasty, and it was also expanded by Ramses II and King Tutankhamun.
Visitors to this temple can explore a variety of fascinating structures, including obelisks, sphinxes, and colossal statues.
3. Karnak Temple
Karnak Temple is an impressive ancient temple complex located on the East Bank of the Nile River in Luxor, Egypt. Construction of the temple began during the reign of Pharaoh Senusret the 1st who ruled Egypt between 1971–1926 BCE. The temple is home to a collection of impressive structures, including obelisks, sphinxes, and colossal statues. Visitors can explore the temple complex and admire its incredible remains, which is a testament to the greatness of the ancient Egyptian civilization.
4. Mortuary Temple of Queen Hatshepsut
The Mortuary Temple of Queen Hatshepsut is an impressive ancient temple located near Luxor in Egypt. Built in the 15th century BC, this UNESCO World Heritage Site is one of the most remarkable monuments of ancient Egypt and is a must-see for any traveler visiting the country. This exquisite temple was built on the orders of Queen Hatshepsut , the only true Egyptian female ruler of the ancient Egyptian civilization.
5. Valley of the Kings
The Valley of the Kings is an ancient royal necropolis located on the west bank of the Nile River in Luxor, Egypt. It was the burial site of the kings and queens of the New Kingdom period of Ancient Egypt, and it is home to 62 ancient tombs that are decorated with intricate hieroglyphs and scenes from the afterlife. The most famous tomb at this site is that of Pharaoh Tutankhamun.
6. Abu Simbel Temples
The Abu Simbel Temples are two rock-cut temples located on the western bank of Lake Nasser in Egypt, to the south of Aswan, close to the Sudanese border. Built in the 13th century BC, they were designed to commemorate a battle victory of Pharaoh Rameses II, and also to serve as lasting monuments of Ramses and his beloved wife, Queen Nefertari.
Visitors can admire the breathtaking, colossal sculptures of the Pharaoh and the gods, as well as the intricate hieroglyphic inscriptions covering the walls. This incredible site is a must-see for any traveler interested in exploring Egypt's ancient culture and sites.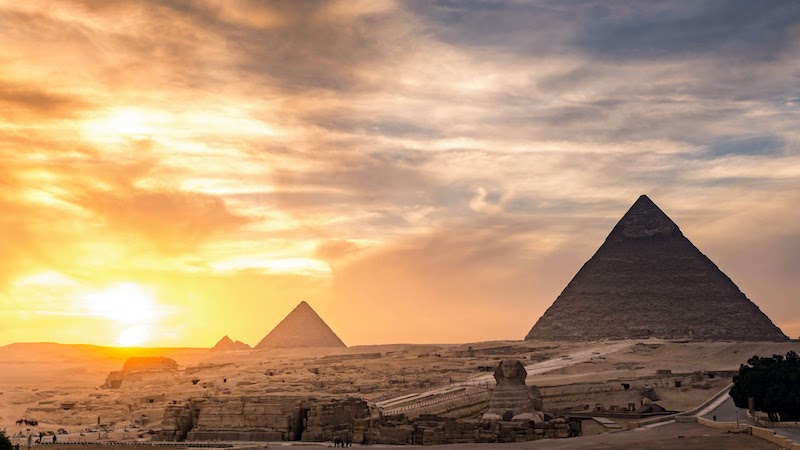 Booking Egypt Private Tour Packages
Booking one of our Egypt private tour packages is as easy as contacting us via "Live Chat" or picking up your phone and calling our toll-free number. However, here are a few points to consider whenever you want to book a travel package:
Benefits of Booking in Advance
Booking in advance comes with a host of benefits. First, you get to book discounted packages and take advantage of better rates. You also get to choose the tour package that best suits your budget and needs. Last but not least, you save yourself the hassle of having to make bookings at the last minute.
Payment Options
At Egypt Tours Plus, we accept payment through a variety of payment methods, including Direct Bank Transfers, Mastercard, Visa Cards.
You can book our Egypt private tour packages at any time, but reservations are only finalized once you have paid the required deposit. The balance can then be paid at a later date, or you can pay the outstanding balance when you arrive in the country.
One of our tour consultants will be more than happy to answer any and all questions you might have concering payment options, deposits, and etc. We can be contacted via email, our Live Chat feature, or via our toll-free telephone number.
Cancellation & Refund Policy
For regular cancellations, here are the corresponding charges that will apply:
10% of the tour price from the date of booking until 61 days before your arrival date.
25% from 60-31 days before your arrival date.
50% from 30-15 days before your arrival date.
100% from 14-1 days before your arrival date.
Force Majeure
At Egypt Tours Plus, we prioritize your safety and wellbeing above all else. That's why we offer a very flexible cancellation policy, should a travel warning be issued from/to your departure country and/or your destination. In such a case, we will refund the full amount paid for the tour package, or offer a future travel credit and voucher that can be used towards travel to any of the destinations we operate tours in within 12 months.
NOTE:
Both domestic and international flights are subject to the airlines' terms and conditions at the time of the booking, and there will be cancellation fees charged according to the airline's policy. In these cases, clients are responsible for any airline cancellation charges.
NOTE 2
Refunds are made using the same payment method used by the customer. No refunds are made in the event that you don't show up for your tour.
Egypt Private Tour Packages FAQs
Pros and Cons of Egypt Private Tour Packages
Pros
Tailored packages to fit your individual needs and interests
Flexibility that allows you to explore Egypt at your own pace
Cost savings with discounts and special offers
Experienced guides to ensure a unique and memorable experience
Safe and reliable transport during your stay
Accessible for disabled travelers
Cons
Egypt private tour packages cost more than group tours.
Private guided package tours are not well suited for backpackers
Potential for scams if you don't book through a reputable tour operator
Conclusion
Egypt private tour packages offer a unique and exciting way to explore Egypt. With customizable itineraries, experienced guides, and cost-savings, private tours are the perfect way to explore this fascinating country. Whether you're an adventure-seeker or just looking to relax and explore, Egypt has something to offer everyone.
Book your Incredible Private Guided Egypt Vacation Today
Are you ready for the holiday of a lifetime; a totally hassle-free and stress-free journey through a world of antiquity and beauty?
If your answer is yes, then contact us right now to begin planning your dream vacation or to book one of our exceptional Egypt private tour packages today.