If you are wondering what to do in Alexandria, this post will give you plenty of tips on what to see and do during your stay in Egypt's second-largest city. It is true that Alexandria cannot compete with places like Cairo and Luxor in terms of tourist attractions, but you can still have a fantastic time in what is often described as Egypt's most European city.
Classic Egypt Tours
The Ultimate Guide to Alexandria
Many tourists visit Alexandria from Cairo as part of a day trip. While it is certainly possible to visit the city's most popular historical sites in the space of five or six hours, this is not enough time to really experience the city's ancient history and unique culture. Okay, let's jump in and take a look at what to do in Alexandria, Egypt:
Bibliotheca Alexandrina
Also commonly referred to as the Bibliotheca Alexandria, this ultra-modern library is today one of Alexandria's most famous landmarks. It is typically the first place tourists head for when they arrive in Alexandria. It's epic design and expansive glass windows really are a sight to behold regardless of whether you have any interest in libraries or not.
Bibliotheca Alexandrina was built in order to replace the world famous old Library of Alexandria which was known as The Great Library of Alexandria, one of the largest and most important libraries of the ancient world.
When Julius Caesar tried to seize Alexandria in 48BCE, he was cut off by a large Egyptian fleet in Alexandria Harbor. In response, he ordered all boats in the fleet to be burned. While all the boats were successfully destroyed, the fire spread to the city and much of the old Great Library was destroyed, including countless books, manuscripts and etc.
Today, the new breathtakingly beautiful Bibliotheca Alexandrina is once again one of the largest and most significant libraries in the world. If you are wondering what to do in Alexandria, be sure to add this famous attraction to your list of must see places.
In addition to the library itself, the site is also home to Alexandria's Antiquities Museum, a manuscripts museum, a science museum and a planetarium. The science museum and the planetarium have clearly been designed with children in mind, so if you're going to be visiting Alexandria with children, be sure to take your kids to these two venues.
The Citadel of Qaitbay
The Citadel of Qaitbay is one of the most visited archaeological sites in Alexandria. Located on Pharos Island, and connected to the mainland by a narrow strip of land near the mouth of the Eastern Harbor, this imposing citadel was built to serve as a defensive fortress. It was built during the 15th century by Sultan Al-Ashraf Sayf al-Din Qa'it Bay.
It was built on the same site as the famous Lighthouse of Alexandria which was listed as one of the 7 Seven Wonders of the Ancient World. It's primary purpose was to help the Egyptians fend off advancing Ottoman forces. However, despite being one of the most formidable defensive strongholds on the Mediterranean Coast, in 1552, the Ottomans finally managed to take control of Egypt.
Later, in 1882, the original Qaitbay citadel was severely damaged as a result of a major British bombardment that was in response to an uprising against British rule. During the late 19th century and early 20th century, the citadel was repaired/rebuilt. Today it has no defensive or military significance, but it remains one of Alexandria's most visited historical attractions.
The Qaitbay Citadel, which is also home to a relatively small Naval Museum, rarely gets crowded, although the same cannot be said of the surrounding area which is immensely popular among locals looking to enjoy the views, a gentle breeze blowing off the Mediterranean Sea, and the area's many cafes, restaurants and ice cream shops.
Montaza Palace and Montazah Gardens
Montazah Palace is one of Alexandria's most popular and most alluring historical attractions. There were actually two palaces built on the site: the Salamlek Palace which was built in 1892, and the larger Al-Haramlik Palace which was built in 1932 to serve as a summer palace for King Fuad I.
Today the larger Al-Haramlik Palace is a museum, while the original Salamlek Palace, which originally served as a hunting lodge has now been converted into a hotel. Montazah Palace (Al-Haramlik Palace) is located in the midst of exquisite gardens which cover an area of around 150 acres. Even if you don't want to visit the museum, the Montazah Gardens, also known as the Royal Gardens, is a great place to go if you looking to escape the hustle and bustle of the city.
The museum is open every day from 8:00 a.m. to 5:00 p.m. As of the time of writing, entry tickets cost 25 Egyptian Pounds.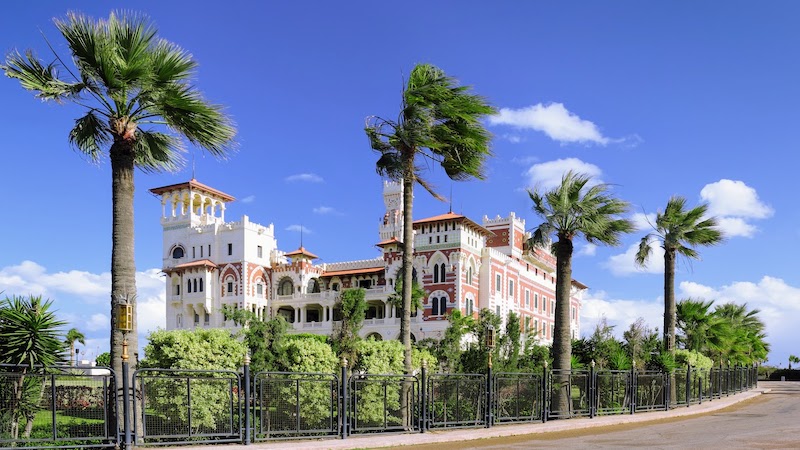 Enjoy a Stroll along the Alexandria Corniche
The Alexandria Corniche is a great place to take a leisurely stroll and enjoy some fresh air while taking in the breathtaking views of the Mediterranean Sea. This long stretch of road follows the coast for around 20 kilometers, and attracts thousands of visitors each year who come for the stunning vistas, beautiful gardens, and excellent restaurants.
While walking along the Corniche you can also visit many of the city's most popular attractions such as Stanley Bridge, which was built in 1882 by English engineer Sir John Woodhead; Khedive Abbas Helmi II Monument which was erected by the Egyptian government in 1931 to commemorate the Khedive; and even the Montazah Palace Gardens.
Some of the most famous landmarks to look out for while strolling along the Corniche are the seriously impressive Abu Abbas al Mursi Mosque, the Paradise Inn Windsor Palace Hotel, and the Steigenberger Cecil Hotel. In it's heyday, the Cecil Hotel hosted many famous people, including Agatha Christie And Winston Churchill.
In addition to sightseeing and enjoying the beautiful vistas you can also sit and relax at one of the area's many laid-back cafes or indulge in a delicious meal at one of the many local restaurants. If you are a seafood lover, then you have yet another reason to visit the corniche.
The Underground Catacombs of Kom el-Shuqqafa
The Kom el-Shuqqafa catacombs are one of the city's most fascinating historical attractions. Dating back to the 2nd century A.D., these underground tombs and chambers are the only surviving examples of Alexandrian funerary architecture and artwork that have survived from that era.
The catacombs have three levels, with each level having its own distinct architectural style. The first level is a mix of Egyptian, Greek and Roman styles, while the second level has more of a Greco-Roman influence, and the third level is predominantly Hellenistic in style.
Visiting these ancient catacombs is an absolute must for history buffs and those interested in Alexandria's past. To visit Kom el-Shu qqafa, you should head to the area near Raml Station. At the time of this post being written, the catacombs could be accessed for a fee of 20 Egyptian Pounds.
Several tour operators offer group tours and private tours that include a visit to the catacombs. As is the case with nearly all historical sites in Egypt, it's best to visit this site with a professional tour guide. So, if you are wondering what to do in Alexandria or what to see in Alexandria Egypt, this is definitely a site that you should consider adding to your list of must see places.
Pompey's Pillar
Pompey's Pillar is a must-see for any traveler visiting Alexandria. Located on the edge of the city, this massive monolithic pillar was once part of a temple dedicated to the Roman gods Jupiter and Serapis. Named after Gnaeus Pompeius Magnus (Pompey) who visited Alexandria in 47 BC, the pillar stands nearly 30 meters high and is believed to have been erected during the reign of Emperor Diocletian in 297 AD.
There is also a small but interesting museum on site that exhibits various artifacts from ancient Egypt as well as a souvenir shop. Visitors can also clamber down some stairs to explore a number of underground chambers.
Explore Alexandria's Underwater Ruins
Unlike Egypt's notorious Red Sea dive sites which are renowned for their vibrantly colored coral reefs and abundance of marine life, commercial dive sites in Alexandria are all about exploring underwater ruins in the city's Eastern Harbor.
The most popular dive site in the Eastern Harbor is an the area that includes the remains of what was once a palace, widely believed to have been Cleopatra's Palace.
In the Bay of Aboukir, located to the northeast of the city of Alexandria, archaeologists also discovered an underwater city that was known as Heracleion-Thonis. Many ancient artifacts were recovered and brought to the surface, all of which are now on display in various museums in Alexandria. However, this area is not open for commercial diving.
If you are a scuba diving enthusiast and you wondering what to do in Alexandria, we would highly recommend that you book a guided dive trip to one or more of the dive sites located in the Eastern Harbor. Underwater visibility in Alexandria is nothing like it is at dive sites on the Red Sea coast, but this reduced visibility only tends to make diving among the runes in Alexandria's Eastern Harbor an even more surreal experience.
The Alexandria National Museum
The Alexandria National Museum is a must-visit for anyone interested in exploring the city's rich cultural heritage. Situated near the ancient Qaitbey Fortress, this modern museum houses an array of artifacts and archaeological finds from ancient Egypt.
Visitors to the museum can learn about the history of Alexandria through its collection of sculptures, coins, documents, photographs, and much more. The museum also contains a selection of Greco-Roman artwork that was discovered in Kom el-Shuqqafa Catacombs as well as items recovered from underwater excavations at Heracleion-Thonis.
The Alexandria National Museum is open daily from 9am until 5pm and admission, as of the time of writing, cost 40 Egyptian Pounds.
Alexandria's Famous Fish Restaurants
Alexandria is renowned for its quality fish restaurants, and if you are a seafood lover, then this is definitely something that should be on your list of what to do in Alexandria. There are a number of popular fish restaurants in the city serving up a variety of local and international dishes.
Abu El Sid is one such restaurant, located near the Mediterranean Sea. This seafood venue has been delighting locals and tourists alike since 1969 and offers an array of fresh dishes that include everything from simple grilled fish to more exotic fare such as shrimps, calamari, crab and lobster.
Fouad Restaurant serves up some of the best grilled fish in town. Located near the shoreline on the western side of Alexandria, this popular restaurant offers fresh seafood dishes that are grilled to perfection.
For a truly unique dining experience, the Fish Market of Alexandria is the place to go. Here you can choose your own freshly-caught fish which will then be cooked up for you according to your preferences.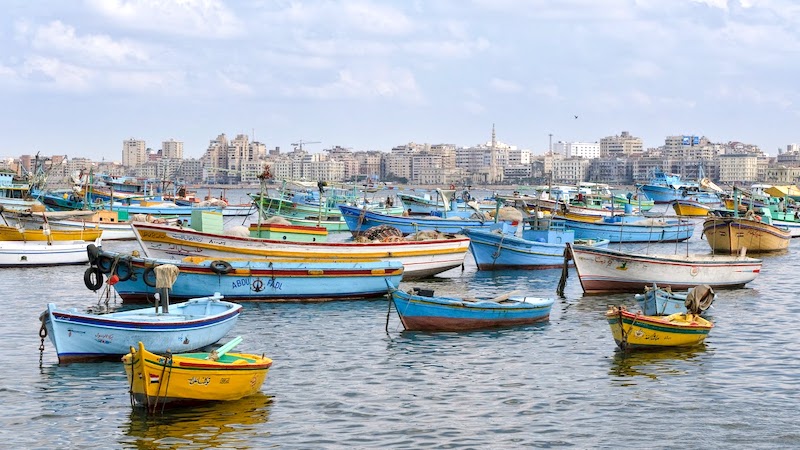 The Royal Jewelry Museum
The Royal Jewelry Museum is the only museum in Egypt dedicated to jewelry. Located in the heart of Alexandria, this unique museum houses a dazzling collection of jewelry that dates back hundreds of years.
The museum's collection contains earrings, necklaces, rings, and bracelets from ancient Egyptian civilizations as well as a selection of more modern pieces dating from the 19th century and beyond. The museum also houses a special section with items that were owned by members of Egypt's royal family throughout its history.
Mahmoud Said Museum
The Mahmoud Said Museum is a must-visit for anyone interested in exploring the city's vibrant art scene. Located roughly 1 km from the Royal jewelry museum, this museum is home to an array of artwork from Egyptian painter Mahmoud Said. The collection includes portraits, landscapes, still lifes and nudes – all created between 1922 and 1950.
In addition to his own work, the museum also houses some of Said's personal belongings, such as books, furniture and photographs. Visitors can also take part in guided tours that explore the history of modern Egyptian art. Moreover, the museum also organizes lectures and workshops which focus on various topics related to Mahmoud Said's artistic legacy.
If you are an art lover and you're wondering what to do in Alexandria, be sure to visit this classic museum.
Visit Aboukir for History and Egypt's Finest Seafood
Located roughly 24 km from Alexandria, Aboukir is a must-visit for anyone looking to explore the history and culture of Alexandria. Here you can find numerous historic sites, including the ruins of Fort Aboukir, which date back to the 18th century. This fort was once used by Napoleon Bonaparte during his campaign in Egypt against the Ottoman Empire.
In addition to its rich historical heritage, Aboukir is also known for its seafood restaurants where you can find some of the finest seafood in Egypt with fresh catches from the Mediterranean Sea served up every day. Whether it's grilled fish, shrimps, calamari or lobster – there's something for everyone here! The beach here is also quite beautiful and is a great spot to relax and enjoy the sun.
What to do in Alexandria – FAQ
In this post we have covered most of the best and most interesting places to visit during a trip to Alexandria. In this next section, we will answer some of the most frequently asked questions that people have about Alexandra:
Conclusion
What to do in Alexandria and is Alexandria worth visiting? As we've seen in this post, there is plenty to see and do in Alexandria. The city also has a special sort of charm which you won't find in any of Egypt's other major cities, so yes, Alexandra is definitely worth visiting during your trip to Egypt.
Start Planning your Dream Trip Today
If you are planning a trip to the Land of the Pharaohs and you would like to spend some time in Alexandria, we can help to ensure that your experience will be both flawless and unforgettable. With more than 60 years of experience behind us, EgyptVacations.com has all the necessary expertise to help you turn your dream vacation into a reality.
Contact us now for more information on what to do in Alexandria, or to begin planning your once in a lifetime trip to Egypt today.