Many people who are longing to visit the Land of the Pharaohs wonder, is traveling to Egypt safe. The truth is, Egypt is by and large a very safe destination for tourists. Of course, just like with most other popular tourist destinations, a little bit of common sense can go a long way in helping you to avoid unpleasant situations during your trip. In this article we will try to address all the questions people have about how to travel safely in Egypt. Okay, let's kick off with one of the most frequently asked questions:
Classic Egypt Tours
Is it Safe for Americans to Travel to Egypt?
Can U.S. citizens travel to Egypt and is Cairo safe for American tourists? Lots of people in the United States wonder, is it safe to go to Egypt as an American? Because the United States has been involved in two major conflicts in the Middle East, and because Egypt is a Muslim majority country, a lot of Americans are concerned about discrimination towards them if they choose to visit.
In truth, the vast majority of Egyptian people have no ill feelings towards American travelers. American travelers are just as well come in Egypt as any other nationality. Egypt is a truly amazing country with so much to see and do, and Americans are welcome to visit this fabulous land and enjoy everything that it has to offer.
Our safety advice for American tourists would be exactly the same as it is for any other nationality, so continue reading to find out how to stay safe in Egypt regardless of your nationality
Is Egypt Safe for Female Tourists
A lot of women who are longing to visit Egypt wonder, is Egypt safe for solo female travelers? The truth is, Egypt is actually very safe, even for solo female travelers. Sexual violence and violence against women does occur in Egypt just as it does in many other countries, but this is something which female tourists don't really need to worry about.
With all of the above having been said, we would recommend that female travelers, and especially those traveling alone, should avoid being out alone very late at night, and avoid very quiet and dimly lit areas at night. This is the same sort of travel advice that we would give to women, regardless of which country they intend visiting.
Last but not least, female travelers, and especially those traveling alone, should avoid wearing very revealing clothes. Wearing revealing clothing is not likely to have an impact on your personal safety, but it will almost certainly attract unwanted attention.
If you are a woman and you are going to be visiting Egypt on your own, you might also want to consider booking a package tour that includes a professional guide and private driver. It is not essential in terms of safety, but it will give you extra peace of mind and also make your trip far more rewarding.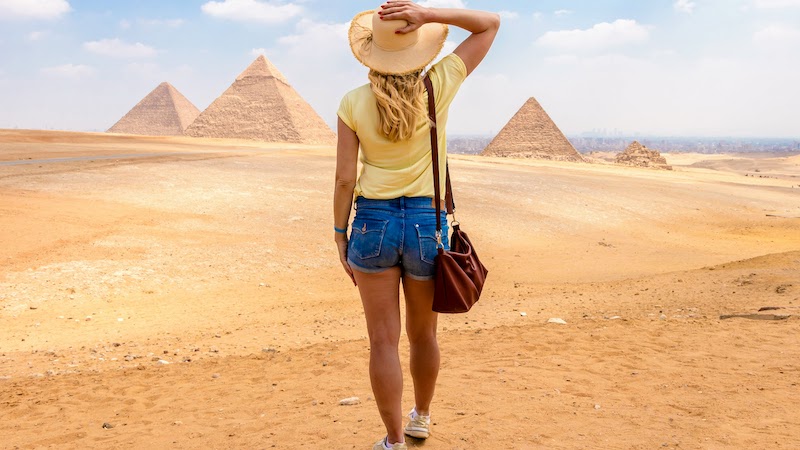 LGBTQ Travellers in Egypt
Is traveling to Egypt safe for people in the LGBT community? Yes but a certain degree of discretion is recommended. Egypt has no laws that specifically ban or criminalize homosexuality, but the Egyptian authorities have been known to use other laws to target people in the gay community.
As is the case in many Middle Eastern countries and Asian countries, public displays of affection are frowned upon, and even more so when it involves two people of the same gender. With this in mind, same gender couples who visit Egypt should be discreet about their sexual orientation. In major cities such as Cairo, there is a gay scene but it is very much hidden and mostly underground. So-called "gay friendly" venues quite often get raided by the police, so it is best to simply avoid such venues while you are in the country.
Is it Safe to Travel to Egypt Alone?
Is traveling to Egypt safe if you are going to be traveling on your own? Yes, but as is always the case, a little bit of common sense can help you to avoid problems.
In all truthfulness, Egypt is probably not the best country to just wing it on your own. Even if you are traveling with friends or family members, you are almost certainly going to encounter scams.
As is the case in many other popular tourist destinations, tourists are often seen as being easy targets by scammers, from taxi drivers to camel handlers and street vendors. For a hassle-free and scam-free experience, we would strongly suggest that you hire a tour guide or book a package tour that includes your own private guides and drivers.
Visiting Major Tourist Sights
At Egypt's most popular tourist attractions, things like pickpocketing and tourist scams are the biggest risk. Be aware of taxi drivers as well. There are many who won't hesitate to overcharge you if they can. Before getting in a taxi, always insist on the driver turning the meter on, or elsewise, agree on a price before you get in.
Pickpocketing is not really a major problem, but it can and does happen at popular tourist sites, and also on public transport during peak hours. Historically, crime rates in Egypt have been surprisingly low, and especially in terms of violent crime. Again, Egypt is a very safe country for tourists but petty crime does occur.
When visiting popular tourist attractions, you should remain vigilant and aware of your surroundings. The chances of becoming a victim of petty crime is lower than it is in many other countries but to be on the safe side, keep your valuables close and your money out of sight.
You should also consider hiring a professional tour guide. A tour guide's main responsibility is to share their knowledge with you when visiting the country's fascinating archaeological sites, but they will also help you to avoid scams and serve as an extra pair of eyes to help you avoid becoming a victim of any petty crime.
Is Traveling to Egypt's Sinai Peninsula Safe
Travel to or in Egypt's North Sinai region is not recommended due to an unpredictable security situation. In fact, some parts of North Sinai are completely off limits due to ongoing military operations and/or a threat of terrorism.
Tourists are generally also advised against traveling in South Sinai. However, the southernmost part of the South Sinai Peninsula which includes places like Sharm El Sheikh is typically very safe, with robust security provided by the Egyptian Security Forces.
The Western Desert
Egypt's Western Desert has been popular among tourists for decades. Unfortunately, many foreign countries have since issued travel advisories advising their citizens to avoid travel in the Western Desert. The Western Desert is home to several oases, many ancient tombs and the remains of many ancient temples. It is also home to two stunningly beautiful areas which are known as the Black Desert and the breathtaking White Desert National Park.
If you want to visit Egypt's Western Desert, we strongly recommend that you book a Western Desert tour through a reputable and well-established Egypt tour operator.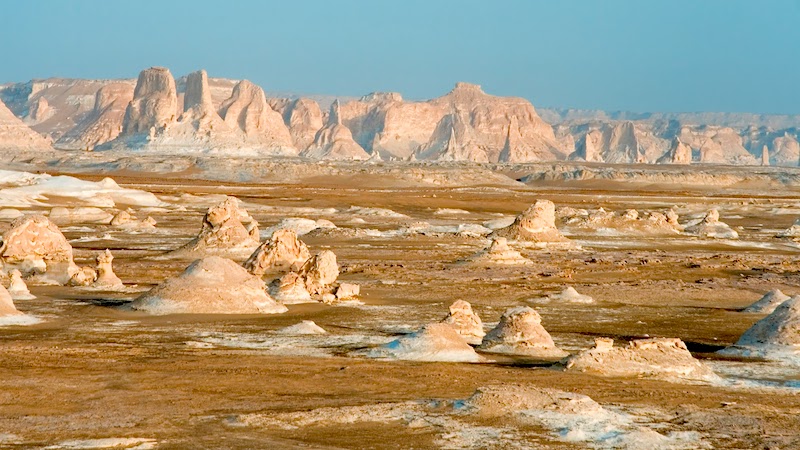 Libya and Sudan Border Regions
In travel advisories issued by many foreign countries, travelers are advised not to travel within 60 km of the Egypt-Libyan and Egypt-Sudanese borders. This is due to a threat of terrorism and a risk of encountering armed gangs, bearing in mind that Egypt's borders with these two countries are porous, making it easy for criminals to cross over into Egypt.
One exception to what's been said above, is the Abu Simbel temple complex which is located roughly 20 km from the Sudanese border. These two massive rock-cut temples are among Egypt's most treasured and most popular ancient attractions and this site is deemed to be safe for tourists.
Religion and Politics
Egypt is a Muslim country and the vast majority of Egyptians take religion very seriously. So, is traveling to Egypt safe for non-Muslims? Absolutely! However, we would recommend that tourists avoid getting into discussions about religion. Tourists should travel to the Land of the Pharaohs to visit the country's many breathtaking ancient wonders and its absolutely marvelous beach resorts rather than getting involved in heated religious debates.
Egypt is home to many fantastic religious sites, both Muslim and Christian, most of which welcome tourists. Feel free to visit these venues, but please remember to show some respect for cultural norms.
Politics is also a subject which is close to the heart of many Egyptians. With this in mind, tourists should also avoid getting caught up in heated debates about Egyptian politics.
Summary – of Essential Travel Tips for Staying Safe
In this post we have tried to cover all aspects of traveling to Egypt In terms of personal safety. Below, is a summary of some safety tips that will help to ensure that your trip to Egypt is a positive experience and address some of the most frequently asked questions about safety when traveling in Egypt:
Tap Water – For the most part, tap water in Egypt is not safe to drink. In some hotels in Cairo and at some of Egypt's Coastal resorts, some hotels may have signs up telling clients that the tap water is safe to drink. You may also see such signs on some Nile cruise ships. However, we strongly recommend that you avoid drinking tap water altogether. Bottled water is plentiful and cheap so there is really no need to take any chances.
Avoid Dark and Deserted Areas After Sunset – While Egypt is by and large a very safe destination for tourists, we would recommend that you avoid very quiet and poorly lit areas at night. To be on the safe side you should rather use taxis for getting from one place to the next after dark.
Avoid Border Areas – As has already been mentioned in this post, tourists should avoid visiting areas within 50 or 60 km of the Libyan and or Sudanese border. Travelers should also avoid the Egypt-Israel land border crossing which would require traveling through North Sinai.
Vaccinations – Egypt has no mandatory vaccination requirements for tourists. However, It is recommended that you discuss vaccinations with a healthcare professional before traveling to Egypt. Things like hepatitis and rabies are prevalent in the country, so it is best to get vaccinated before you travel.
Travel Insurance – Even though Egypt is generally a very safe country for tourists, we would still recommend that all visitors get adequate travel insurance before visiting. Your travel insurance should also include emergency medical evacuation.
Enjoy an Incredible Experience of a Lifetime
Egypt is truly an amazing country to visit and at Egypt.Vacations.com, we know how to make any trip to Egypt and experience that will never be forgotten. If you are still wondering, is traveling to Egypt safe, we can guarantee that it is, so contact us now to begin planning your trip or to book your once in a lifetime Egypt vacation today.