Being one of Egypt's winter months, January is a perfect time to visit Egypt. It has historically been Egypt's coldest month, making it an ideal time for exploring the country's archaeological sites.
December, January and February are Egypt's winter months, so one could say that January falls in the depths of winter. However, don't let that put you off. Egypt experiences very mild winters.
The only drawback of visiting Egypt in January is the fact that it is part of the peak tourist season. It is the busiest time of the year in terms of tourism, which we'll look at in greater detail a bit later. First, let's take a look at what sort of weather you can expect at this time of the year.
Classic Egypt Tours
January Weather in Egypt
As we have already said January is the coldest month of the year in Egypt. Expect cool daytime temperatures during the day and even cooler temperatures at night. Throughout the month of January, temperatures tend to range between 9 and 18 degrees Celsius (49 to 65 degrees Fahrenheit). These are your average highs and lows in Cairo.
As you head further south to places like Abu Simbel, Aswan and Luxor, the days tend to be somewhat warmer while the evenings tend to be somewhat colder. In Luxor, for example, average temperatures range between 7 and 23 degrees Celsius (44.6 to 73 degrees Fahrenheit). These are more or less the same sort of temperatures that you would encounter if you were to visit one of the coastal resorts on the South Sinai Peninsula, such as Sharm El Sheikh.
As you can see from the above figures, you're not likely to get cold when you are out and about during the day, but the evenings are a different matter altogether, and we strongly recommend that you pack in a warm jacket for a trip to Egypt in January.
You may also want to consider packing in a light rain jacket because you may experience occasional rain during your trip in January. However, don't expect any serious downpours or heavy storms. The average rainfall in January is only 0.2 inches.
If you feel that you may need heating in your hotel rooms during your stay, this is something which you should inquire about before you book any rooms. The reason for this being that many hotels do not have heating in their rooms.
Visiting Egypt's Historical Attractions in January
January is an excellent time to visit and explore Egypt's many breathtaking ancient sites. The cooler daytime temperatures that are common during January, are simply perfect for exploring the country's historical sites, such as the Giza Pyramids on the outskirts of Cairo, and places like the valley of Kings and the Karnak Temple Complex in Luxor.
Many of Egypt's outdoor tourist sites provide very little in terms of shaded areas. This is exactly why you would not want to be out sightseeing during Egypt's hot summer months. One of the best things about visiting Egypt in January is that you can visit, explore, and enjoy almost the entire country.
Red Sea Coast and South Sinai Beach Holidays
You can enjoy beach holidays at Egypt's coastal resorts such as Sharm El Sheikh, even during the hottest months of the year. With that having been said, January is an even better time to visit Egypt's beautiful sandy beaches along the Red Sea coastline, or along the South Sinai coastline.
With pleasant weather and daytime highs of around 23 degrees Celsius, January is a perfect time to enjoy beach holidays in Egypt. The weather conditions are simply ideal for enjoying lazy days on the beach and taking a dip in the warm Red Sea waters or in the Mediterranean Sea on Egypt's northern coast, should you find yourself in the city of Alexandria.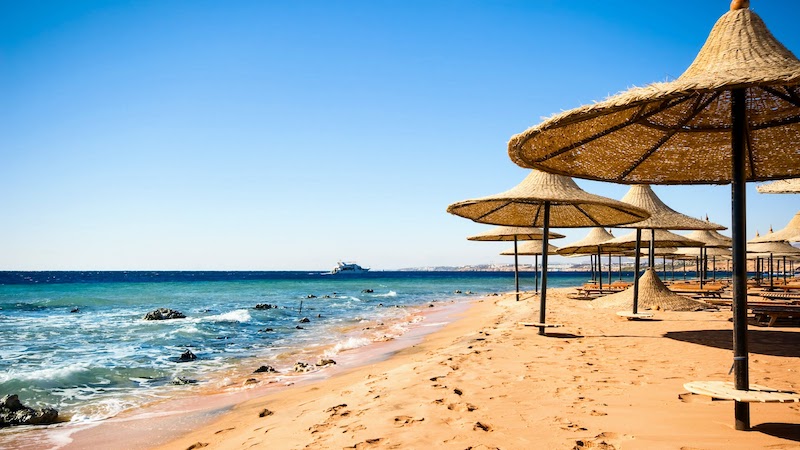 Enjoy the Magic of Nile River Cruises
Is January a good time to visit Egypt for a Nile river cruise? Absolutely! Most mainstream Nile River cruises include professionally guided tours to many of Egypt's top archaeological sites located on the banks of the Nile River between the cities of Aswan and Luxor. As we've already mentioned, January is an excellent time for visiting Egypt's archaeological sites.
One thing to bear in mind is that this is the prime tourist season, so expect your Nile cruise ship to be quite crowded, and also all the historical sites that you will visit during your cruise. This rings true for all of Egypt's major attractions, including the Giza Pyramids and places like the Abu Simbel Temples.
There is a reason why January is such popular time to visit Egypt, and it's not only because of the good weather. While Nile River cruises and major tourist attractions certainly can get very crowded in January, there always tends to be a truly magical atmosphere at this time of the year.
Tourist Crowds and Costs
As we have already mentioned, December and January are the peak months in Egypt in terms of tourism and because of this, one should expect to encounter large crowds of tourists at Egypt's major attractions such as:
Pyramids of Giza
Egyptian Museum in Cairo
Philae Temple in Aswan
Abu Simbel Temple complex
Karnak Temple complex
Luxor Temple
Queen Hatshepsut Mortuary Temple
Valley of the Kings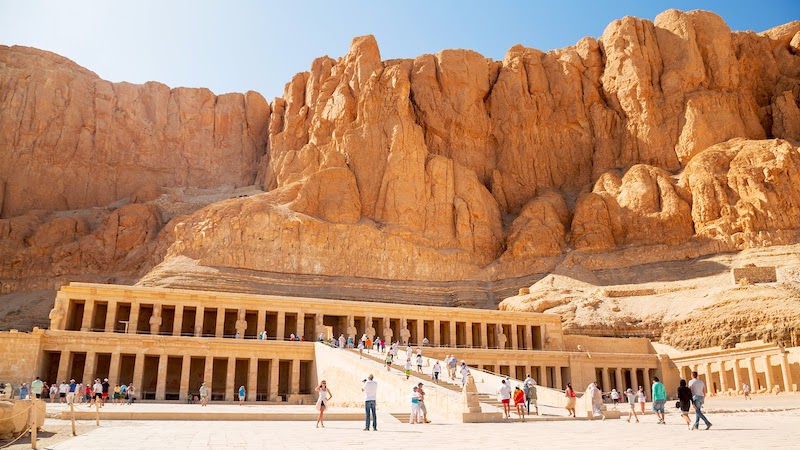 Desert Safari and Camping
Egypt's Western Desert is very popular for 4×4 safaris and overnight camping in places like the White Desert National Park. So, is January a good time to visit Egypt if you want to go camping in the Sahara Desert? In January, daytime weather in Egypt's Western Desert is very pleasant, with average temperatures ranging between 22 and 25 degrees Celsius (71.6 to 77 degrees Fahrenheit). At night, temperatures drop to around 5 to 10 degrees Celsius (41 to 50 degrees Fahrenheit)
Several Egyptian travel agents offer day trips to the White Desert from Cairo. However, day trips to the White Desert are not something that we would recommend. The reason for this being that the average day trip from Cairo to the White Desert covers a distance of approximately 700 kilometers (About 435 miles).
Enjoy a Flawless Trip to Egypt in January
At Egypt Tours Plus, we offer ana epic range of Egypt vacation packages. These are high-quality private guided tours that include your own personal Egyptologist guide, private driver, and deluxe air-conditioned vehicle/s. All of our tours can be customized to fit your needs exactly, or our team of travel specialist can work with you to create your very own unique tailor made tour from scratch.
Is January a good time to visit Egypt? You bet it is, and when you travel to Egypt with us, you can be sure that lifelong memories are guaranteed.
Visit us today to begin planning your dream trip to Egypt in January, or even to book your once-in-a-lifetime holiday today.