Egypt is an exceptionally good place to visit, and any trip to the Land of the Pharaohs is made more memorable than ever if you go for a Nile River cruise that includes guided sightseeing tours.
From timeless ancient monuments like the Giza Pyramids, Karnak Temple and the rock-hewn temples of Ramses II at Abu Simbel, to beautiful sandy beaches and crystal clear waters at coastal resorts like Sharm El-Sheikh, Egypt well and truly has something for everyone.
And, if you are planning a trip to the Land of the Pharaohs, going for a Nile River cruise will make your vacation in Egypt more memorable than ever, with lifelong memories GUARANTEED! Let's take a look at why Egypt is the best place to visit …
Classic Egypt Tours
Magnificent Ancient Monuments
Egypt is famous for its countless ancient archaeological sites, including major tourist sites like the legendary Giza Pyramids, the Great Sphinx, Karnak Temple, Luxor Temple, Philae Temple, the Abu Simbel Temples of Ramesses II, and the famous Valley of Kings, to name just a few.
Besides the above mentioned tourist attractions, there are still countless more ancient sites that one can visit and explore during a trip to Egypt, including the lesser known Dashur Pyramids, the Great Step Pyramid of Pharaoh Djoser, and the countless ancient tombs at Tombs of the Nobles on the west bank of the Nile River near modern-day Luxor.
Unforgettable Nile River Cruises
It is often said that there is no better way to experience Ancient Egypt than by way of a Nile River cruise, and no truer words have ever been spoken. Going on a Nile cruise that includes full board and daily Egyptologist-led sightseeing excursions is one of the most incredible experiences you could ever imagine.
With a good quality Nile cruise from Aswan to Luxor or from Luxor to Aswan, you can expect to visit several of the best monuments of Ancient Egypt, including several of those mentioned previously, as well as others such as Kom Ombo Temple and the Temple of Horus at Edfu, Egypt's best-preserved ancient temple.
Is Egypt a good places to visit if you can't afford a Nile cruise, or don't want to go for a Nile cruise? Absolutely, but to get the most out of your trip, a bit more planning is needed, and if you want to visit all the sites you would visit during a cruise, you will need more time. Regardless of whether you book a cruise on the Nile or not, you can still have an amazing time.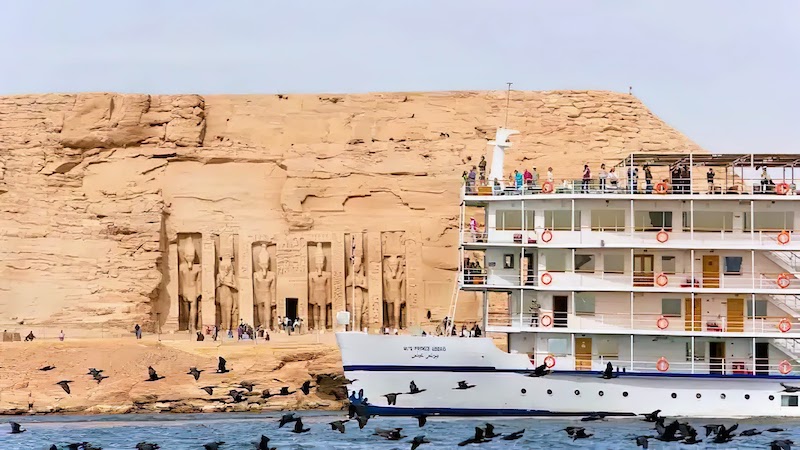 What are the Best Places to Visit in Egypt?
With so many amazing places to visit in Egypt, it is hard to know where to even begin. To make planning a trip to Egypt a bit easier, and especially for those who only have a rather limited amount of time, here are 10 top tourist attractions which every visitor should try to visit during their trip:
The Pyramids of Giza on the outskirts of modern-day Cairo.
The Egyptian Museum in central Cairo.
The rock-hewn temples of Ramses II at Abu Simbel.
The Valley of Kings on the west bank of the Nile near modern-day Luxor.
Queen Hatshepsut Temple, also on the west bank of the Nile near Luxor.
The Colossi of Memnon, located adjacent to Hatshepsut Temple.
Karnak Temple on the east bank of the Nile near Luxor.
Luxor Temple, also on the east bank of the Nile, close to Karnak Temple.
The Temple of Horus located near the modern-day town of Edfu.
Kom Ombo Temple, locate near the town of the same name.
Is Egypt a Good Place to Visit without a Tour Guide?
As most people who have visited Egypt in the past would agree, Egypt is a country that is best explored with an experience guide or guides. Having professional guides accompanying you to the ancient sites you will be visiting will make your trip more rewarding than ever.
If you book a tour or tours through a reputable Egypt tour operator, they will supply guides that are fluent in English, which helps you to bridge the language barrier in a country where very few people speak English, even in a major city like Cairo. More well-established tour operators will also be able to supply guides who are fluent in other languages as well, helping you to have the most incredible time ever during your trip through Egypt.
SCUBA Diving and Snorkeling
Is Egypt a good place to visit for SCUBA diving and/or snorkeling? Absolutely! Egypt's Red Sea coastline is renowned for its many amazing dive sites with abundant marine life and excellent visibility. In fact, some of Egypt's Red Sea dive sites are considered to be among the finest in the world.
Coastal resort towns like Hurghada, Sharm El-Sheikh and Marsa Alam all have a thriving SCUBA diving industry with no shortage of dive boats to take you to dive sites that have pristine coral reefs teeming with marine life of every kind.
Travel to Egypt with Young Children
Is Egypt a good place to visit as a family with young children? Yes, Egypt is a wonderful tourist destination for families who have young children, and especially if your children are over the age of about seven or eight years. You can visit Egypt with children of any age, but most kids over the age of seven or eight will have seen pictures of some ancient Egyptian monuments and may even have heard or read stories about Ancient Egypt, which will make the trip as enjoyable for them as it will be for you.
With the above having been said, parents with very young children should take extra care to protect them from the sun and the heat if you visit during the warmer months from May to September. If you visit during the warmer months of the year and you have very young children, some Egypt tour operators will try to schedule your tours in a way that avoids you being out sightseeing during the hottest time of the day. This is something you should discuss with you preferred tour operator when booking your tour or tours.
Personal Safety during your Egypt Vacation
Is Egypt a good place to visit in terms of personal safety? Egypt is a very safe destination for tourists. Some countries have issued travel advisories warning their citizens of a threat of terrorism, but for the most part, Egypt is very safe with a heavy security presence in all areas where the Egyptian authorities feel it is necessary.
The overwhelming majority of tourists have an amazing time in Egypt without experiencing any sort of crime whatsoever. With that having been said, things like pickpocketing and purse or bag snatching does happen, and when it does happen, it usually happens on the underground Metro during peak hours, and also in other very crowded areas, such as bazaars, shopping malls, and very occasionally, at very busy tourist attractions.
As is always the case, a little bit of common sense can go a long way in helping to ensure you don't become a victim of petty crime. For example, rather than walking around with your purse or wallet stuck in your back pocket, consider using a neck wallet that you can wear under your top. This will help to keep your money and your cards out of sight and out of reach.
All visitors are also advised against travelling to areas on the Sinai Peninsula apart from a few coastal resorts in South Sinai. The rest of the Sinai region is best avoided, and especially North Sinai where there is indeed a very real threat of attack by armed groups. If you book a tour through a reputable tour operator, this is not something you will need to worry about. No responsible tour operator will take their clients to places in North Sinai, at least not until the security situation has improved. After all, they want their clients to have a positive experience and an amazing time.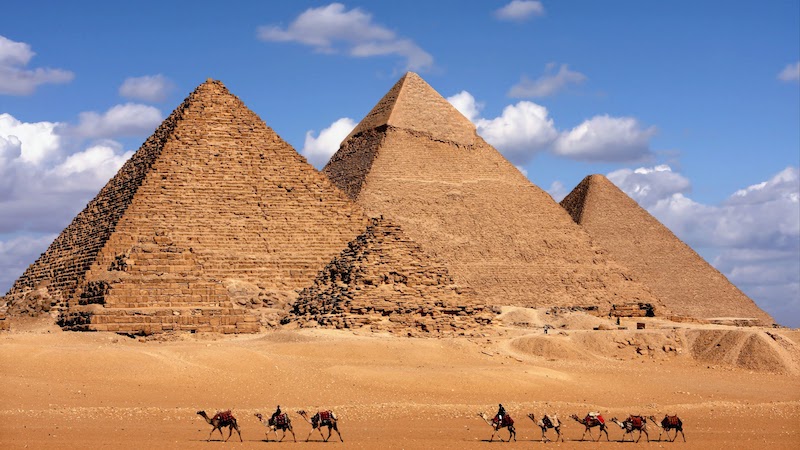 Start Planning your Dream Trip to Egypt Today
Are you dreaming of a trip to Egypt but don't know where to start, or what all to see and do once you arrive in Egypt? We can help. With more than 250,000 Egypt tours already sold, no other Egypt tour operator is better equipped than we are to turn any trip to Egypt into a dream vacation.
At Egypt Tours Plus, we have a spectacular range of professionally designed and crafted Egypt vacation packages, many of which also include 5-Star Nile River cruises. Our tours are all fully customizable so that you can enjoy a trip to Egypt that meets your needs and desires perfectly.
Whether you want to experience an amazing road trip through the Land of the Pharaohs, or whether you want to enjoy a more immersive travel experience with a healthy dose of luxury, our private guided Egypt tours are bound to exceed your expectations.
Contact us now to begin planning your vacation in Egypt, or to book a once in a lifetime dream vacation today.