Apart from the citizens of 10 different countries/territories, everyone who wants to visit Egypt must obtain a valid single entry visa or multi-entry visa, regardless of their nationality.
Egypt is a truly remarkable country, and a hugely popular tourist destination. This is hardly surprising considering the country's countless ancient Egyptian monuments, world famous museums, and beautiful beaches with crystal clear waters.
Do you need a visa to visit Egypt even if you are a citizen of another Arab country? The citizens of several Arab countries can visit Egypt without a visa. Let's take a closer look…
Classic Egypt Tours
Nationalities that can Visit Egypt without a Tourist Visa
As mentioned right at the beginning of this post, only 10 countries and/territories have a special "visa exemption" agreement with Egypt. If you are from one of the following countries/territories, you can visit Egypt visa-free for up to three months unless otherwise stated.
Bahrain
Kuwait
Oman
Saudi Arabia
United Arab Emirates
Hong Kong
Macao
Lebanon – Only when arriving at Borg Al Arab Airport, Hurghada Airport or Sharm El-Sheikh Airport on a charter flight.
Israel – Israelis can visit Egypt's Sinai Peninsula for 14 days if they enter Egypt via the Taba land border crossing or Sharm El-Sheikh International Airport.
Malaysia – Malaysian nationals can visit Egypt for 14 days without a visa.
Nationalities that can Visit Egypt without a Visa under Certain Conditions
The citizens of some additional countries can also visit Egypt without an Egyptian visa, but only under certain conditions:
Afghanistan – Afghani citizens must be 50 years old or above, or below the age of 17.
Algeria – Algerian citizens must be under the age of 15.
China – Chinese citizens must have a return ticket or an onward journey ticket, as well as confirmation of a 4 or 5 star hotel reservations and the equivalent of US$2,000.
Libya – Libyan women can visit Egypt without a visa, but males must be 18 or younger, or 45 or older.
Jordan – Jordanian nationals in possession of a 5-year passport can visit without a visa providing their passports don't have a a Jordanian Reregistration Office stamp.
Lebanon – People who are 16 years old or younger, or 50 years or older can visit all of Egypt without a visa. People of all ages can also visit Alexandria and the South Sinai Peninsula without a visa.
Morocco – Visa-free entry for citizens who are 14 years old or younger.
Sudan – Females can visit without a visa, as can citizens 50 years or older, or 16 years old or younger.
South Sudan – 16 years or below, or 50 years or above, the same as for Sudan.
Tunisia – Children who are 14 or younger don't require a visa for Egypt.
Yemen – Children 16 years or younger and adults 50 years or older don't need a visa for Egypt. The same applies to people traveling from Yemen to Egypt for medical treatment.
More Nationalities that can qualify for Visa-Free Travel to Egypt
Citizens of the following countries can visit Egypt without a visa if they are traveling as part of a group consisting of at least 5 fellow citizens. They must also have return flight tickets, proof of booked accommodation, and a guarantee letter signed by a registered travel agency. This does not apply to female travelers between the ages of 15 and 35.
Azerbaijan
Barbados
Belize
China
Costa Rica
El Salvador
Guatemala
Honduras
India
Jordan
Kazakhstan
Lebanon
Moldova
Nicaragua
Russia
Saint Vincent and the Grenadines
Turkey
So, if you are still wondering, do you need a visa to visit Egypt, then the answer is: if your country or nationality don't meet Egypt's visa-free eligibility criteria as stated in previous paragraphs, then you definitely need a valid tourist visa in order to visit Egypt.
How to Obtain your Egypt Tourist Visa
The citizens of more than 70 countries can obtain a visa on arrival at any international Egyptian airport, and usually also at the Taba land border crossing. The citizens of America, Canada, Australia, New Zealand, the United Kingdom, and all European Union member states can get a Visa on Arrival rather than having to apply for a visa at an Egyptian embassy. The citizens of several other countries can also get a visa on arrival when they arrive in Egypt.
Citizens of the above mentioned countries can also apply for an Egypt e-Visa (electronic visa) prior to traveling to Egypt. This is by far the easiest and most convenient option if you are from a qualifying country.
Visa processing can take up to two weeks or more if you apply for your visa at an Egyptian embassy, while getting a visa on arrival at Cairo International Airport typically involves spending ages in long queues. With a downloaded and printed e-Visa, you can simply make your way directly to the immigration desks at the airport when your flight lands. To see if you qualify for an Egypt e-Visa, simply visit the official Egypt e-Visa portal.
If you are from a country whose citizens qualify for a visa on arrival and/or an Egypt e-Visa, the process is as simple as completing the mandatory visa application form and paying the visa fee. If applying for your visa online, you can pay the visa fee with your credit card or debit card. For a visa on arrival, visa fees typically have to be paid in cash in Egyptian pounds.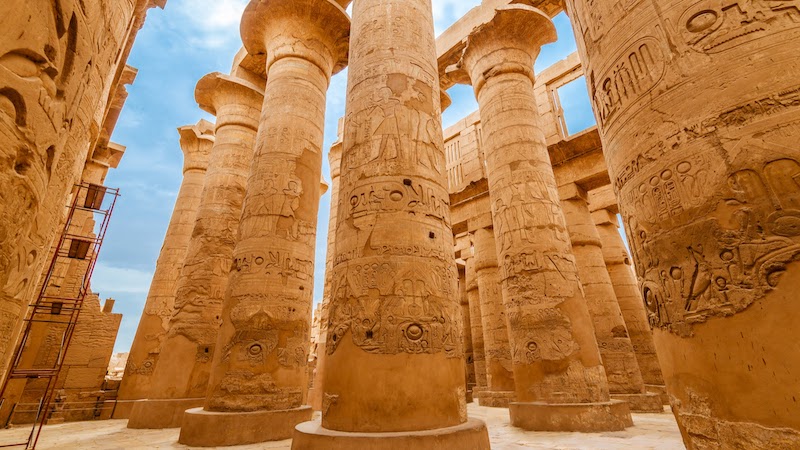 Different Visa Requirements for Different Nationalities
If your nationality or passport prevents you from obtaining an Egypt visa on arrival or an Egypt e-Visa, then you may need to meet several visa requirements in order to obtain a valid visitor visa. These could include having to show proof of onward travel, bank statements or monthly pay slips, a letter from your employer, proof of hotel reservations and a copy of your intended tour itinerary. You may also need to attend a visa interview at an Egyptian embassy.
If any of the above applies to you, you should seriously consider getting in touch with an experienced visa agent.
Transiting through Egypt
Do you need a visa to visit Egypt if you are only transiting through the country? If your stopover in Egypt is less than 48 hours, you don't need a visa. The Egyptian government allows the citizens of most countries who have a stopover lasting from 6 to 48 hours to enter Egypt without a visa for up to 48 hours.
This can be a good thing if you only want to visit a few popular attractions in Cairo, such as the Giza Pyramids, the Sphinx, and the Egyptian Museum.
The Sinai Peninsula
If your nationality and/or visa allow you to obtain a visa on arrival or an Egypt e-Visa, you can also visit Egypt's Sinai peninsula for up to 15 days with the need for a visa. Instead of a visa, you are given a free entry stamp when entering Egypt via Sharm El-Sheikh Airport or via the Taba land border crossing.
The free entry stamp only allows you to visit the Sinai Peninsula and does not allow you to explore other parts of the country. Travel is typically restricted to the southern coast of South Sinai.
NOTE: As of the time of writing, the governments of numerous foreign countries were advising against all travel in or through North Sinai due to an unpredictable security situation.
Check Your Passport Prior to Traveling
In order to meet Egypt's entry requirements, your passport must have at least one blank page, and it must have at least 6 months validity remaining, as from the date of your arrival in Egypt. This is definitely something you need to check before you travel to Egypt, and especially if you intend to get a visa on arrival.
Visit Egypt in Comfort and Style
At Egypt Tours Plus, we have all the experience to ensure that any trip to Egypt will be a vacation never forgotten. We have a spectacular range of Egypt tour packages and 5-Star Nile cruises to suite all tastes and budgets.Contact us now to find out more about our Egypt tailor-made tours or to book your dream trip to Egypt today.