Nile cruises are immensely popular among tourists. If there is only one thing you can do during trip to Egypt, let it be a good Nile cruise between Aswan and Luxor that includes guided tours.
It is often said that there is no better way to experience the wonders of Ancient Egypt than by way of a Nile cruise. At Egypt Tours Plus, we certainly agree, but we also know that Nile cruises are not for everyone.
In this post, we are going to look at what to expect from a cruise on the Nile, the pros and the cons of a Nile cruise, and what your various options are.
Classic Egypt Tours
What to Expect from a Cruise on the River Nile
Can you cruise the Nile River from Cairo to Aswan or Luxor? Yes, but you can expect to spend 12 or 13 nights on board the cruise ship. The vast majority of Nile cruises run between Luxor and Aswan. The most popular river cruises include 3, 4 or 5 nights aboard the cruise boat depending on which cruise you choose.
Most good river cruise itineraries include daily onshore excursions to some of Egypt most famous and most popular tourist attractions in Upper Egypt, including places like Luxor Temple, Karnak Temple, Queen Hatshepsut Mortuary Temple and Valley of the Kings. Whether you book a cruise from Aswan to Luxor or whether you book a cruise from Luxor to Aswan, you can expect to see most of the same sites.
Most mainstream Nile River cruises will also stop at places like Edfu to see the Temple of Horus, and Kom Ombo to see the ancient Kom Ombo Temple complex. Onshore excursions are typically small group tours led by an Egyptologist guide.
Nearly all of the modern Nile cruise ships have swimming pools and a range of amenities such as a gym, a beauty salon, etc. If you book a good river cruise that includes full board, you can expect very clean and comfortable accommodation, along with excellent meals that range from set menus to well-prepared and very generous buffets.
Some Nile cruises also include entertainment in the evenings in the form of belly dance shows, Nubian folkloric shows, etc.
As is to be expected, the quality and prices of Nile River cruises vary quite considerably. For this reason, it is important that you determine what is included and what is not included before you book your cruise. Also be sure to book a cabin which has air conditioning, especially during the hot summer months.
With all of the above having been said, let's go ahead and take a look at the main pros and cons of booking a Nile river cruise.
Pros
Many of Egypt's most famous ancient temples are located on the banks of the Nile River. While all of these temples can now be accessed by road, a Nile River cruise is by far the most practical, most convenient and most relaxing way of traveling from one site to the next.
Many of these ancient sites are also illuminated at night, and the view from the river is simply out of this world. During the day you also get to enjoy spectacular scenery while sailing from one place to the next. Much of what you see, including several rural scenes, has more or less remained unchanged for millennia.
As a general rule of thumb, most days get off to an early start. Despite this, a Nile River cruise can be an incredibly relaxing experience. Another huge benefit of booking a Nile cruise is the fact that you will have a professional Egyptologist guide with you to tell you all about the ancient Egyptian history relating to each of the monuments you visit.
Cons
The biggest drawback of a Nile River cruise is a lack of flexibility. Everything follows a set schedule. The cruise schedule dictates which sites you visit, what you get to see at each of those sites, and how long you get to explore each of the sites you visit.
Most mainstream Nile River cruises follow the same route. This inevitably results in large crowds at the sites which you will visit during your cruise. However, encountering large crowds at these extremely popular sites is unavoidable regardless of whether you visit them as part of a cruise or not. This is especially true during the high season, and even more so during the peak tourist season from December to February.
Another notable drawback of a Nile cruise is the fact that you spend a lot of your time in transit, sailing from one place to the next. Because of this, travelers who don't have plenty of time should consider booking an overland tour or day trips to major attractions which they would like to visit.
Can you Cruise the Nile River with Children?
Yes, most of the modern cruise ships operating on the Nile River these days are child-friendly. However, on some Nile cruise ships, children under the age of seven are not permitted. Couples who are traveling with very young children should keep a close eye on them, especially when out on deck, and when visiting crowded historical sites.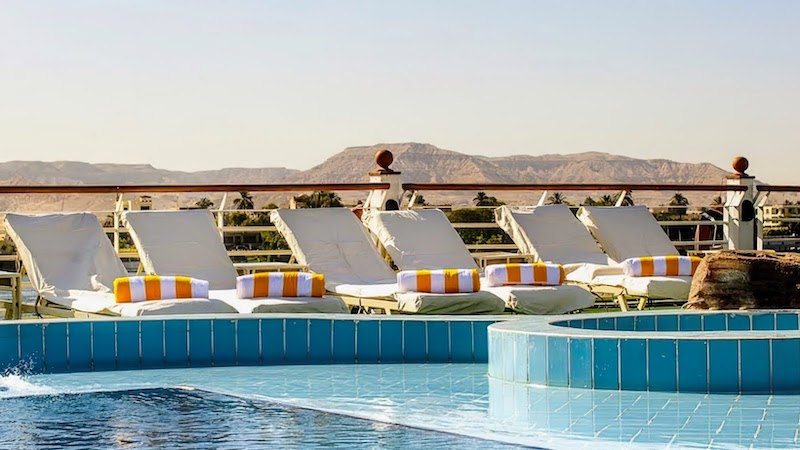 Cruising the Nile with a Disability
Can you cruise the Nile River if you are confined to a wheelchair or if you have any other serious mobility issues? Yes you can, but you should keep in mind that only a very limited number of Nile cruise ships are wheelchair-friendly. If you are confined to a wheelchair or you have some other serious mobility problem, it is very important that you discuss this with your chosen tour operator before you book your cruise.
Nile Cruise Options
Can you only book a cruise on the large passenger ships or can you cruise the Nile River on other vessels as well? Yes you can. There are two other different cruise options you can choose from:
Felucca Cruises
Feluccas are small sailboats which have been used on the Nile River for countless centuries already. Booking a cruise on one of these is your cheapest cruise option. However, don't expect any luxuries or creature comforts. You will be sleeping out on deck in a sleeping bag which you will need to supply. You will also be living off very basic meals for the duration of your cruise.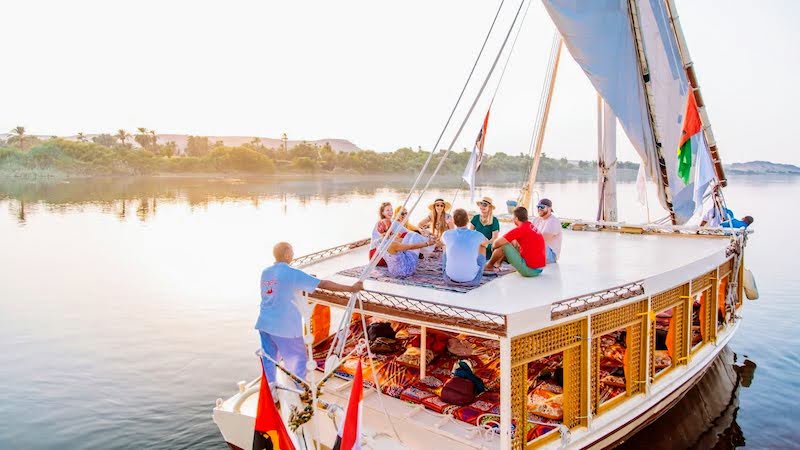 A lot, but not all felucca cruises also do not include admission to any archaeological sites. Instead, you only get to view the historic sites from the river. You also may or may not have a professional guide with you. On the upside, feluccas can tie up at certain sites which are not accessible to the large ships.
Dahabiya Cruises
Dahabiyas are traditional river yachts easily recognized by their twin sails, one at the rear and one at the front. Their basic design and layout has not changed ever since the days when they were used by the Pharaohs. However, many of them have now been refurbished and modified to make them suitable for carrying tourists.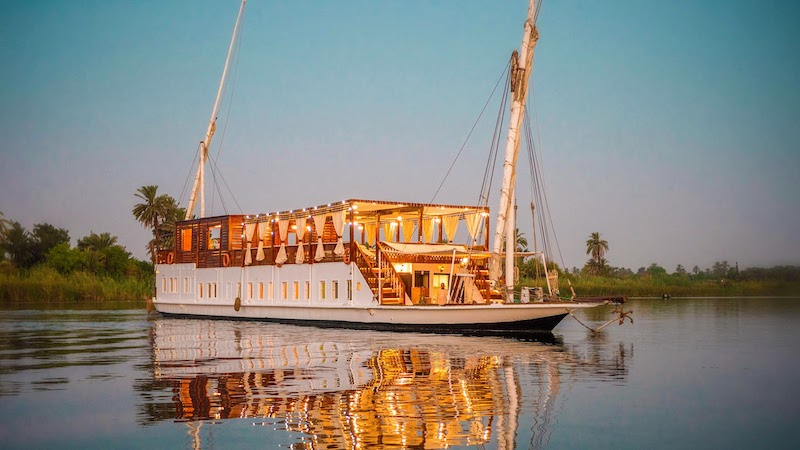 Dahabiyas typically have 6 to 12 cabins with a focus on elegance and luxury. Due to their relatively small size, don't expect the same sort of amenities that one finds on the large cruise ship, such as a swimming pool, a discotheque, etc.
Dahabiya cruises provide a much more private and personal experience compared to the large cruise boats, but they also tend to be somewhat more expensive. Providing you book your cruise through a reputable travel agent, you will also have a professional Egyptologist tour guide aboard to accompany you to the various archaeological sites that you will visit during your cruise. Another great thing about Dahabiya cruises is that you often get to visit historic sites which are not accessible to the larger cruise boats.
Unforgettable Tours of Egypt
At Egypt Tours Plus, we offer a wide selection of bespoke Egypt tour packages to suit all tastes and budgets. Can you cruise the Nile River with us? Absolutely! The majority of our tour packages include a 5-Star Nile river cruise. We also offer a wide range of stand-alone Nile River cruises ranging from 4 to 8 days.
If you are longing to experience the soul of Ancient Egypt, we can help you to realize your dream in comfort and style.
Contact us now to find out more, or to begin planning your once-in-a-lifetime Egyptian adventure today.