Visiting the Pyramids in Egypt
While the three Giza Pyramids on the outskirts of Cairo are Egypt's most famous pyramids, there are also three other pyramids which you can visit during your time in Cairo. These are:
The Step Pyramid
The Bent Pyramid
The Red Pyramid
All three of the above pyramids are only a short drive from Cairo and all three are well worth visiting. The Step Pyramid is located at the Saqqara necropolis, roughly a 50 minute drive from downtown Cairo, while the Bent Pyramid and Red Pyramid are located at the Dahshur necropolis which is also about a 50 minute drive from Cairo.
One of the nice things about visiting these three pyramids is the fact that you will encounter far fewer tourists than you will at the Pyramids of Giza, where you will typically encounter huge crowds, especially during the peak tourist season from December to February.
Classic Egypt Tours
Visiting the Pyramids from Cairo
To visit all six pyramids, you will need to visit the Giza necropolis, the Saqqara necropolis and the Dahshur necropolis. So, how do you get to these sites from Cairo and can you go inside the pyramids at all three sites?
The Pyramids of Giza
To visit the Pyramids of Giza, you can take a taxi from Cairo directly to the pyramids. You can also take a bus from Cairo to Giza and then take a taxi from the Giza bus station to the pyramids. Alternatively, you can take the Cairo Metro to Giza and then take a taxi to the pyramids. There is no public transport to the pyramids at Giza. For this reason, many tourists choose to book group tours or private tours which include transport.
Private tours are the most convenient option because you typically get picked up directly from your hotel at the agreed time for your Giza Pyramids tour. With a private tour you will also have your own tour guide to tell you all about the pyramids and their fascinating history.
Can you go inside a pyramid when you visit the site? Yes, visitors can typically go inside all three of the pyramids at the Giza necropolis. However, a general admission ticket for the site does not include entry to any of the pyramids. If you want to go inside any of them you will need to purchase additional tickets at the site. Tickets for entering the Pyramids only cost a few dollars, so it's not really a big deal unless you are traveling on a very tight budget.
Most tourists, who want to go inside a pyramid while at the site, opt for going inside the pyramid of Khufu. The Pyramid of Khufu is best known as the Great Pyramid, one of the 7 Wonders of the Ancient World. If you are on a tight budget, consider going inside the Pyramid of Khafre or the Pyramid of Menkaura instead since admission tickets for these two pyramids cost slightly less than an admission ticket for the Great Pyramid.
All three pyramids were robbed in antiquity so don't expect to see much when you go inside, other than corridors, empty chambers including burial chambers, and lots of stairs. If you are going to enter any of the pyramids, a pair of comfortable shoes is highly recommended. Also bear in mind that ventilation inside the pyramids is quite poor. It is also not something we would recommend for people who are uncomfortable with confined spaces.
The Step Pyramid of Pharaoh Djosser
The Step Pyramid was the first pyramid ever built in Egypt. By the time the Giza Pyramids were constructed, the Step Pyramid would already have been considered ancient.
There is no public transport available from Cairo to the Saqqara necropolis, so to visit the Step Pyramid from Cairo; you only have two options available to you. You can either hire a taxi, or you can book a tour. In our professional opinion, booking a tour, and especially a private tour that includes a guide and private driver, is by far your best option.
Unlike at the pyramids of Giza, you won't need to purchase an additional ticket to go inside the pyramid. Your admission ticket for the site includes entry to the pyramid which has just recently reopened after a 14-year restoration period. This is a vast pyramid complex where one could spend an entire day exploring the interior and its internal chambers.
The pyramid has six levels above ground and a vast network of tunnels and chambers below ground, occupying an area of several kilometers. While you can explore much of the interior with a general admission ticket, you will need to purchase an extra ticket if you wish to enter the south tomb. As of the time of this post being written, the north tomb was still off limits to tourists.
If you are somewhat claustrophobic, or if you want to avoid unnecessary physical exertion, then this is probably the best pyramid to go inside when you're in Egypt.
If you are feeling adventurous when you visit the Saqqara Necropolis, you can also enter the Pyramid of Unas and the Pyramid of Teti. Above ground, these two pyramids resemble sandy hills, but their interiors and subterranean chambers are absolutely fascinating.
Entry tickets for the Saqqara necropolis allow you to explore all of the site's main structures, and also includes entrance to a nearby museum that is located on the same site.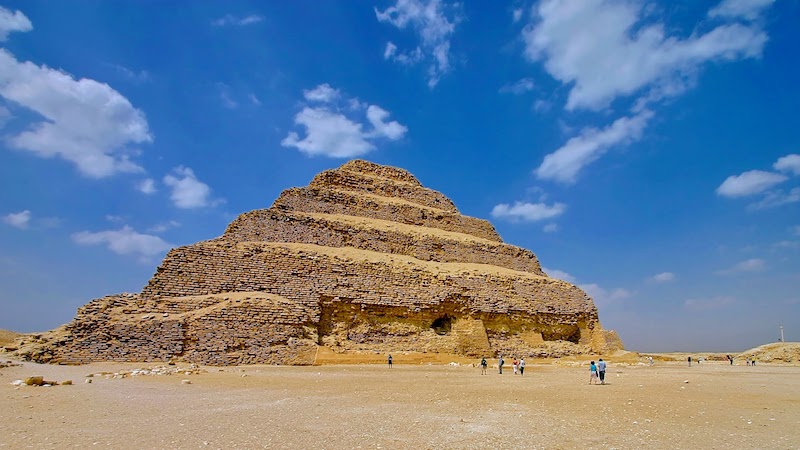 Can You Go Inside the Pyramids at Dahshur?
Absolutely! Entrance tickets to the Dahshur Pyramids include entry to both the Bent Pyramid and the Red Pyramid. Both of these pyramids were constructed during the reign of King Sneferu and are evidence of the architectural development which eventually lead to the construction of the Great Pyramid at Giza. The Red Pyramid was the first true smooth-sided ever built in Egypt. It is also the third largest pyramid ever built, with only the Pyramid of Khufu and the Pyramid Khafre being larger.
As is the case with the Step Pyramid at Saqqara, there is no public transport from Cairo to the Dahshur necropolis. If you want to visit and go inside these two ancient wonders, you will either need to rely on a taxi, or you will need to book a tour. Dahshur Pyramids tours include quite a bit of walking so wearing a pair of comfortable walking shoes is highly recommended.
It is also worth noting that many group tours do not include entry to the pyramids unless most people in the group want to enter the pyramids. If you want to visit this site and go inside one or both of these pyramids, we would once again recommend that you book a private tour that includes a professional guide, driver and vehicle. The Interiors of these two pyramids are far more interesting than the interiors of the pyramids of Giza, and having a guide with you will make your visit so much more rewarding.
Egypt Pyramids Tours
Most tour operators in Cairo offer pyramids tours, both group tours and private tours. Generally speaking, there are three types of pyramids tours available:
Giza Pyramids tours
Giza Pyramids and Step Pyramid tours
Giza, Saqqara and Dahshur Pyramids tours
Can you go inside the pyramids with the above tours? It really depends on what tour you book and who you book your tour through. Many budget options do not include entry to the pyramids, especially in the case of group tours. If you want to go inside these ancient monuments during your tour or tours, this is something you should discuss with your chosen tour operator prior to making a booking.
Summary
If you were wondering, can you go inside a pyramid during a trip to Egypt; hopefully this article has provided all the answers you were looking for. Tourists can enter all of Egypt major pyramids. Just bear in mind that the interiors of the pyramids or warm and humid with poor ventilation. Don't expect any air conditioning and remember to wear a pair of comfortable walking shoes.
Okay, we have looked at how to get to the different pyramids and what to expect when you visit, so let's take a brief look at some frequently asked pyramids-related questions.
Egyptian Pyramids – FAQ
Essential Travel Tips
Can you go inside the pyramids when you visit Egypt? Yes you can, and here are a few tips to make your visit to the pyramids as enjoyable as possible:
Wear light and cool clothing.
Wear a pair of comfortable shoes rather than open sandals if you intend going inside the pyramids.
Wear a wide brimmed hat to shield your face from the sun.
Make sure your mobile phone or your camera has plenty of memory so that you can take advantage of the many fantastic photo ops.
Invest in a good quality insulated water bottle to help keep your water cold. Because of Egypt's heat it is essential to drink lots of water. Also remember that tap water in Egypt is not safe for drinking.
Get adequate travel insurance before traveling to the country.
Consider booking private guided pyramids tours, and especially if you want to go inside the pyramids. This will make your trip more rewarding than ever.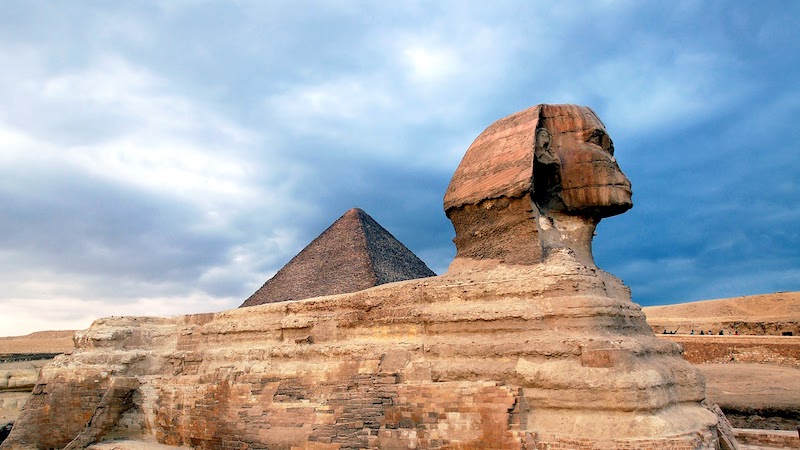 Your Dream Vacation is only a Few Mouse Clicks Away
At Egypt.Vacations.com, we have a spectacular range of high quality private guided Egypt tour packages that are truly flawless in every way. While all of our package tours are flexible and customizable, we also offer tailor-made tours based on the personal preferences and requirements of our clients.
If you are still wondering if you can go inside the pyramids, the answer is, yes you can, and we can turn your dream into a reality, so contact us now to begin planning your once in a lifetime trip to the land of the Pharaohs today.