Nile cruise packages should be flawless in every way; they should provide you with a truly unforgettable experience and fond memories which you can cherish forever. At Nile Cruises Plus, we go above and beyond to offer Nile River cruise packages which are in fact perfect in every way. We strive for perfection because we believe that every single one of our clients deserve only the very best. We understand travelers because we are travelers too, and because we have been offering unforgettable travel packages in Egypt and beyond ever since 1955.
When you book Nile cruise packages you should not have to worry about a thing. You should be able to board your flight to Egypt without a care in the world, knowing that each and every aspect of your cruise package has been honed to perfection.
Nile cruise Packages
Get ready to embark on the ultimate Egyptian adventure, tailored specifically to your preferences. With fully customizable vacation packages, you can explore the very best of Egypt on your terms.

Don't settle for a cookie-cutter tour – design your dream trip today!
What to Expect When You Arrive In Egypt
No matter which one of our Nile cruise packages you book, you can be sure that one of our tour representatives will be standing by at the airport to meet you and to assist you in every way possible. Typically, it will be your dedicated tour managers who will meet you when you arrive. After greeting you and welcoming you to Egypt, you will then be escorted out of the airport, to where one of our drivers will be waiting for you in a clean and modern air-conditioned vehicle.
If your Nile cruise package includes spending some time in Cairo, then you will be driven directly to the hotel where you will be staying while you are in Cairo. On the other hand, if your chosen cruise package only features a cruise, then our tour representative and our driver will take you directly to the place where you will be boarding your cruise ship.
You can also expect this same level of service during any and all transfers throughout you tour. For example, if you book one of our Nile cruise packages which include a few days in Cairo before your cruise, then our tour representative will see you off at the airport in Cairo when you leave for Aswan or Luxor, and another one of our tour representatives and a driver will again meet you when your flight lands.
5-Star Living On the Nile
Regardless of which one of our Nile cruise packages you book, you will be sailing on a beautifully appointed 5-Star cruise ship with all your meals included. At Nile Cruises Plus, we only work with the very best cruise ship operators, so you can expect the same sort of service and the same sort of amenities that one would expect at any good hotel. Most of the cruises we book our clients on also include various forms of onboard entertain, such as Egyptian Belly Dance shows; Galabeya parties; folkloric shows, and etc.
Dahabiya Nile Cruises Packages
While most of our Nile cruise packages feature large and luxurious cruise ships, we also offer a range of Dahabiya Nile cruise packages. Dahabiya boats are essentially river yachts which are instantly recognizable on the Nile River by their two sails, one at the rear and one in front. Dahabiya boats are of course considerably smaller than the cruise ships, and can generally only accommodate around 8 to 12 persons.
Because of their size, they lack some of the amenities fond on the large ships, including things like a swimming pool, but passengers get to enjoy a far more personalized Nile cruise experience. Some of the Dahabiya boats which we book our clients onto will only sail if there are a certain number of passengers, or if a certain number of cabins have been booked.
For example, a particular Dahabiya might only sail if there are a minimum of four people, or if two double cabins have been booked. If you are traveling as a family, this could essentially mean that you and your family have the entire boat to yourself, with the only other people being the crew, and of , your personal Egyptologist tour guide.
In addition to Dahabiya Nile cruise packages being more personal, they also allow you to visit certain ancient sites which cannot be accessed by the larger ships, either because of their size, or because they are simply not allowed to. Naturally, because these boats rely on the wind, passengers also enjoy a greater sense of tranquility, and of course, they are also more environmentally friendly.
Just imagine sailing silently along the Nile just as the sun is beginning to go down; you approach the river bank and your boat gets tied up for the night; you smell the delicious aroma of your dinner being prepared by the boat's resident chef, and then you disembark to enjoy your dinner inside the grounds of an ancient temple. In the evening lights come on, and you are able to enjoy your cocktails or other refreshments of your choice with a beautifully illuminated temple to serve as the backdrop. In short, there is no other experience quite like it.
What to Expect During Your Nile River Cruise
Whether you sail on a 5-Star Nile cruise ship, or whether you chose a Dahabiya Nile cruise instead, some things never change. For example, all meals are always included, and there will also always be one of our Egyptologist tour guides aboard the vessel as well. When you book Nile cruise packages through us, all tours and excursions that take place during your cruise are small group tours. Our Egyptologist tour guide who sails with the vessel accompanies you and a small group of our other clients to all the ancient sites you visit along the way.
Of course, when you get to the various sites, you are welcome to make your own way around but we highly recommend sticking with your group because having an Egyptologist guide with you to explain about the history of the various sites and answer any questions you have, can really make the whole experience so much more rewarding.
Amazing Cairo Attractions
If you browse through our range of Nile cruise packages, you will notice that many, if not most of them, include at least two or three days in Cairo. If you book one of these Nile cruise packages, you will typically have the first day of your tour to yourself to enjoy as you wish. Most people simply aren't in the mood for sightseeing as soon as they arrive in the country, and especially if they have just endured a long flight. We understand this, so we typically don't schedule any activities for the day you arrive.
Your remaining days in Cairo are then spent visiting several of the top Cairo tourist attractions, including the Giza Pyramids and the Sphinx; the magnificent Egyptian Museum, and the Khan El Khalili Bazaar. Quite often, you will also be taken see several more attractions in and around Cairo, such as Memphis which was the capital of the Old Kingdom, and Saqqara, an ancient royal necropolis which is located just a short distance from Cairo, and home to the very first pyramid ever built. The actual number of attractions you will visit depends on the duration of your chosen Nile cruise package.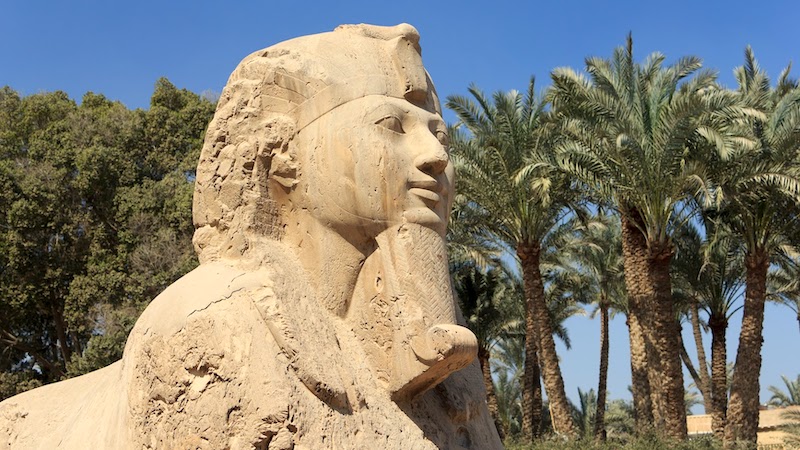 Amazing Nile Cruise Attractions
Practically all of the Nile cruises that feature in our Nile cruise packages, including our Dahabiya Nile cruises, run between Aswan and Luxor, and are available in both directions. No matter which of our Nile cruise packages you choose, you can be certain that you will be taken to see and explore some of the very best Aswan tourist attractions and some of the best Luxor tourist attractions. In addition to these attractions, will also visit a number of others along the way at places like Kom Ombo and Edfu
In Aswan, our Egyptologist tour guide will accompany you to some amazing sites, including places such as the Aswan High Dam; the gigantic Unfinished Obelisk, and the magnificent ancient Temple of Philae. Seeing this ancient temple is a truly mesmerizing experience, and it is almost impossible to believe that the entire complex was moved in its entirety to its current location in order to save it from the flooding of Lake Nasser when the Aswan High Dam was built.
Another mesmerizing sight also awaits you when your cruise ship stops at Edfu, because this is where you will be able to see Egypt's most well-preserved ancient temple, the Temple of Horus. This beautiful temple was at some point abandoned, and as the years passed by, it became completely buried beneath the sand, and it remained that way until it was eventually rediscovered and excavated.
When your cruise stops at Kom Ombo, yet another ancient treasure awaits. This time it's an ancient temple complex that was once dedicated to two different gods. Because it was to serve two gods, it was built in the form of two identical halves so that neither of the two gods would have reason to feel offended. One half was dedicated to Horus, a god with the body of a man and the head of a falcon, while the other half was in turn devoted to Sobek the crocodile god who was believed to be the god of fertility and creator of the world.
In Luxor, you can also look forward to some truly remarkable sightseeing because you will be visiting a number of sites that feature in practically all of our Nile cruise packages. Here you will find yourself strolling not only through ancient temples, but also amongst ancient royal tombs. Be prepared to be amazed as you explore the mortuary temple of Queen Hatshepsut, a vast temple that was painstakingly carved out of rock on the orders of Ancient Egypt's on female pharaoh.
Nearly all our Nile cruise packages also include a visit to Karnak, the ruins of what was once a temple city. Initially there was only one temple at this site, but each successive ruler had additional temples and other structures added. Today the ruins cover an area of more 5,000 square meters, making Karnak the biggest place of worship ever discovered.
Most of our Nile cruise packages also include a visit to the beautifully preserved Luxor Temple, and of course, the very humbling Valley of the Kings, an ancient royal burial ground where more than 60 ancient tombs were discovered. Although Valley of the Kings is referred to as a royal burial ground, it was not only reserved for royalty, in that many of the rock-cut tombs also belonged to other nobles and high ranking officials.
Sadly, virtually all of the tombs were raided by tomb robbers, including the tomb of Pharaoh Ramses, but one managed to elude the grave robbers: the Tomb of King Tutankhamen. King Tutankhamen's tomb was eventually discovered still sealed and intact in the early 20th century by Howard Carter and his assistants. Now, after thousands of years, the mummy of Egypt's boy king still rests in his tomb for all to see.
While King Tutankhamen's tomb is open to the public, admission tickets are not included in our Nile cruise packages because tour operators are no longer allowed to purchase tickets on behalf of their clients. Instead, tourists are required to purchase their own tickets on the site when they visit. Be warned, long queues start forming early in the morning, and only a certain number of tickets are available each day.
If you really must go into the tomb of King Tutankhamen in the Valley of the Kings, then please inform us prior to booking any of our Nile cruise packages so that we can adjust your preferred tour itinerary accordingly.
To Egypt and Beyond
While our most basic and most affordable Nile cruises packages only in include a Nile River cruise between Aswan and Luxor, or a package that includes a few days in Cairo, we also offer several multi-destination packages, including Egypt and Morocco tours; Egypt and Jordan tours; Egypt and Turkey tours, and more. All our tours include a Nile River cruise, and all of them can also be customized to suit the exact needs and requirements of our clients.
Experience the magic; the charm, and the fascinating history of the Middle East with high quality tours that are more than just tours. When you book Nile cruise packages through us, you are booking a magnificent life-changing travel experience through one of the most experienced and most reputable Middle East tour operators in the world.